Illegal dumping of garbage continues: SPTC claims it will no longer be tolerated
Saturday, January 10th, 2015
After several complaints from residents about unsightly garbage across the island, The San Pedro Town Council (SPTC) is at its wits end, and says the illegal dumping of garbage will no longer be tolerated. One of the worst scenes of accumulated garbage is in the Alta Mar Area, where garbage has begun to spill into the streets. Both residents and SPTC are concerned at the serious health risks the mounds of garbage can bring about. SPTC has stated that cleanup efforts across the island will begin promptly and if the culprits insist in illegal dumping, fines will be put in place.
According to the Councilor in charge of solid waste management, Kenrick Brackett, the council is issuing a cease and desist. "We will not tolerate the dumping of garbage wherever residents feel like. There are set dumpsites where people can take their garbage to be properly disposed of. For the past two and a half years STPC has been working tirelessly to try and keep the island clean. We are not going to take a step back and we will not tolerate the dumping of garbage. Garbage is a major issue in San Pedro and it will take the efforts of everyone to clean up this mess," said Brackett.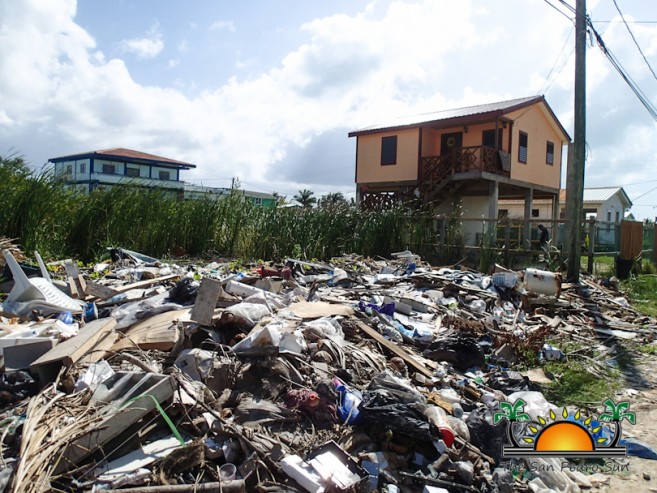 In a previous interview, Mayor Daniel Guerrero stated that the garbage being dumped in the Alta Mar Area in an empty lot across the street from the Ambergris Stadium was by SPTC collectors for sorting and were later to be transported for proper disposal. But that was not the case, as once the garbage was dumped it was never removed. As a result private garbage collectors begun to also dumped their garbage in the same area. Brackett indicated that a warning sign will be placed in all the major illegal garbage dumping areas. If the dumping continues SPTC will be forced to fine culprits. "We are hoping that residents work along with us in solving this issue. First we will be putting up "no dumping of garbage" signs, if that doesn't work then we will start fining individuals. But the only way this can work is if we have the support of everyone. If you see someone dumping garbage call them out or report it to SPTC. We need to deal with the situation now before it gets even more out of hand," said Brackett. In order to prevent the dumping of garbage in the Alta Mar Area, SPTC will be widening the street and then layering hardcore to increase the traffic in the area. Brackett hopes that this will discourage people to dumping their garbage there.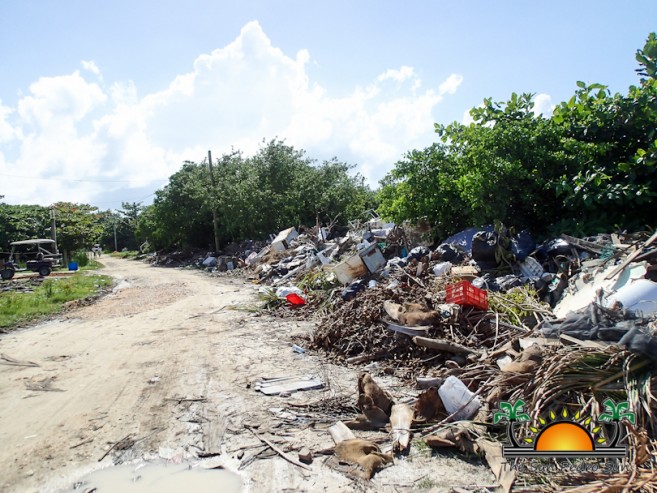 Brackett also discussed the use of household garbage and appliances for land fill. He stated that the practice is unsanitary and can lead to several issues in the long run. "People are somehow under the impression that household garbage and appliances should be used as land fill. While we cannot stop you if it is your private property, take time to consider how unsanitary that idea sounds. Do you really want to build your home over a pile of garbage? When appliances rust or start to disintegrate, chemicals are released and that leaks into our water table. The use of garbage in land fill is pollution in so many levels. Natural products should be used for land fill, like trees, wood material, sea grass and saw dust," said Brackett.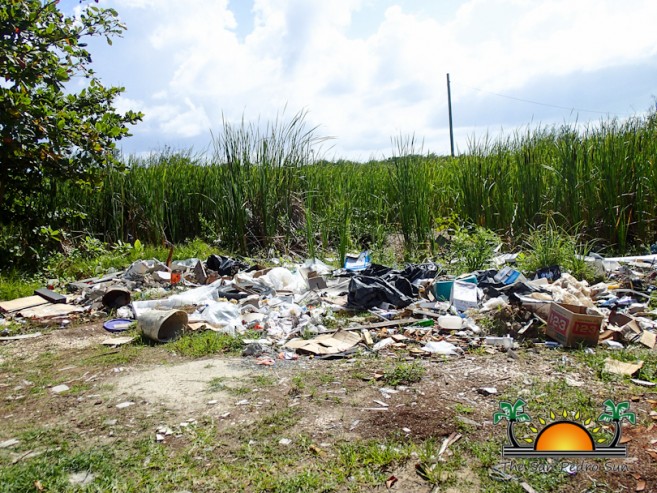 Brackett also stated that the improper disposal of garbage can lead to epidemic outbreaks. Garbage attracts rodents that may carry disease into homes or infect pets. Also these sites act as breeding areas for mosquitos who are vectors of several disease including Chikungunya, Dengue and Malaria. "It's just not healthy to dump garbage anywhere. You don't want to have rodents and pests running or flying around in a residential area where your children play. That's a recipe for disaster," said Brackett.
Residents are encouraged to properly bag and dispose of their garbage. Brackett also encourages residents to report anyone seen dumping garbage along the areas in question.
Follow The San Pedro Sun News on Twitter, become a fan on Facebook. Stay updated via RSS