Puerto Azul Luxury Resort in limbo
Thursday, April 23rd, 2015
The proposed development of the Puerto Azul luxury resort on the Lighthouse Reef Atoll got a lot of media attention when its promoters hosted two Belize government ministers for a gala reception at the Cannes Film Festival on the French Rivera last May, but all is not well with the project, neither financially nor environmentally, says property owner John Mills.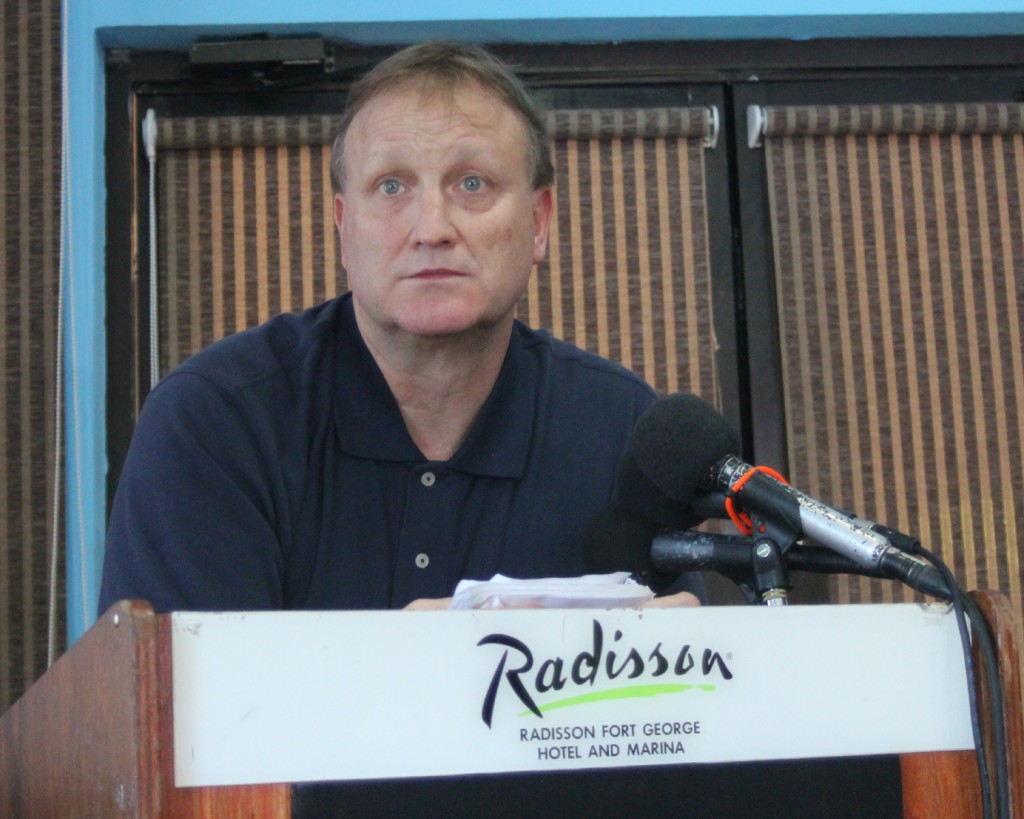 As Mills explained at a press conference at the Radisson Fort George Hotel last Thursday, April 16th, the developers have not yet purchased the property, in which he has US$3 Million investment, and as far as he knew, an Environmental Impact Assessment has not been prepared nor approved for the project.
Mills said he had fallen in love with Lighthouse Reef since he came to Belize 10 years ago and he invested over US$3 Million in Northern Caye Resort to keep it operating when Scotiabank threatened foreclosure in 2006, purchasing the mortgage and keeping the resort open. He said the Puerto Azul developers had signed an agreement to purchase the Caye in March 2013, and he was to receive the first payment on March 2014, and a second payment was due on March 2015, but Mills said he still has not received any payment towards the purchase. So the Puerto Azul developers cannot claim to own the property, since they have not closed the sale.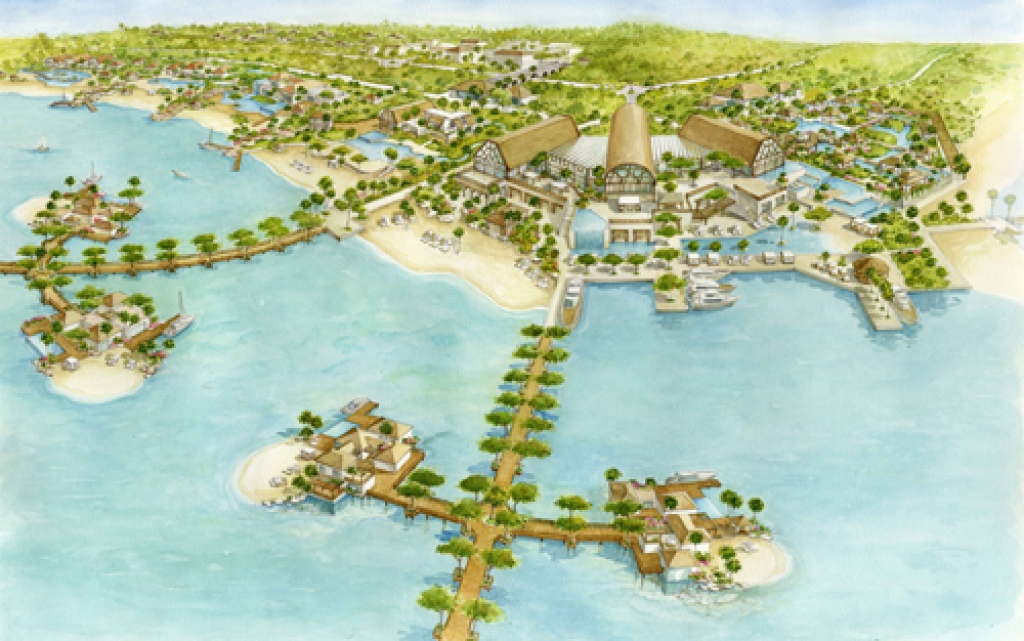 The Puerto Azul International Holding Corporation responded to Mills' alarm with a press release issued the same day, stating that they had signed a purchase agreement with Northern Two Cayes Company Ltd and Lighthouse Reef Resort Ltd, who are the legitimate owners of the Northern Two Cayes at Lighthouse Atoll, and that all encumbrances on the property were to be paid from the closing proceeds of the sale of the property by escrow agent Barrow & Williams. The release went on to say that Mr. Mills is aware of this, and that this had been settled through legal arbitration.
A PowerPoint presentation downloaded from the Puerto Azul website portrays an architect's concept for the development of about 96 to 100 bungalows built on a pier over the water, and also highlights its proximity to the United States: 1,000 miles from Houston and its accessibility: 20 minutes by air from Belize City. It also emphasizes its proximity to the 180-mile long Meso-American Barrier Reef, the World Heritage site –the Great Blue Hole, and the Half Moon Caye national monument marine reserve. The plan proposes to build a 5,400-meters long (three miles) new airstrip capable of landing a Learjet of a Gulfstream jet. None of these ideas sit well with local conservation groups who have sharply criticized the project since they first heard of it.
Mills said he was surprised to learn that Puerto Azul has reportedly already sold 63 time shares for the bungalows and planned to sell 300 times shares with an inauguration scheduled for December this year; since they did not yet own the island. He said he had spoke to one of the principals for the Puerto Azul group, only the day before, and it had been cordial, but Mills said he found the ideas proposed alarming. The principle suggested a golf course might be part of the development, but Mills said the chemicals needed to maintain a golf course would be incompatible with the natural eco-systems, and so this idea would not be a viable option. He said he also learned that the Environmental Impact Assessment (EIA) had not yet been prepared as the developers had only recently hired Tetra Tech to prepare the EIA which would be ready by July.
The project principle seemed to have an open mind about the project, saying they did not want to create a project that would be unpopular and criticized, Mills reported, but the scale of the project as conceived might be more than what could be sustainably managed inside a protected area. Mills said according to what he heard, Puerto Azul was to be an 8-star resort, which he believed would be just too big for the island. He said he was all in favor of the development of the cayes, but in a sustainable manner, on a smaller scale, and that all interested parties such as environmental groups and local fishermen should be consulted, and be a part of the process. He said what he found most alarming was the apparent lack of transparency.
The press release issued by Puerto Azul International Holding Corporation concluded by stating,
"Lighthouse Reef is a key part of all Belize's abundant natural resources and national heritage, Puerto Azul has taken and will continue to take appropriate action through extensive environmental studies and proactive measures to ensure the protection of the atoll and its ecosystems. Currently little is being done to prevent or mitigate the true stressors affecting the atoll. We plan to take a proactive approach to change that."
Follow The San Pedro Sun News on Twitter, become a fan on Facebook. Stay updated via RSS