Renowned Biologist Shawn Heflick studies American Crocodiles in Ambergris Caye
Monday, August 3rd, 2015
Explorer, adventurer, biologist and TV host for Python Hunters on National Geographic Wild, Shawn Heflick was in San Pedro Town studying the American Crocodile population. Heflick is a crocodile biologist, specialist and conservationist biologist who has traveled across the globe conducting research and working on the conservation of wildlife. From Sunday, July 19th to Friday, July 24th, Heflick collaborated with crocodile specialist Dr. Marisa Tellez in studying the behavior, health and habitats of the American Crocodile. Belize is one of the last strongholds for the species, but due to development, the American Crocodile population is starting to face several issues.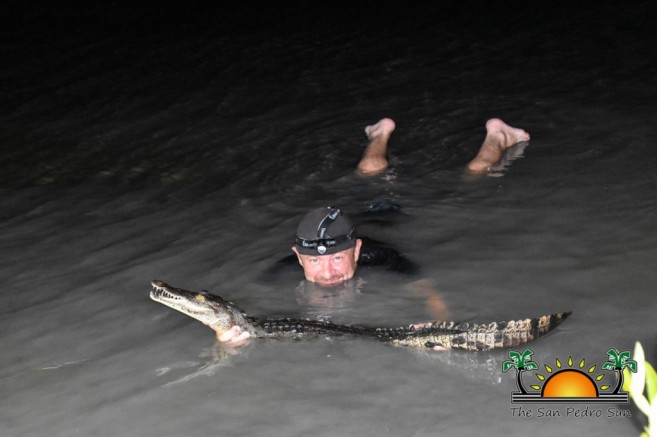 As part of his studies, Heflick visited several areas in San Pedro in search of crocodiles. Observation was focused on the state of crocodile habitats and the health of the species. Heflick identified several problems crocs are facing, especially due to development. According to Heflick, many crocodiles linger close to civilization and this raises many red flags. "In the first days here, we saw quite a few crocodiles, typically at night and they seem to be focused around some resort and construction areas. We believe that this may be because they are being fed by tourists and staff. But this can present many issues for the island with crocodile-human conflict. Belize is very fortunate to have a good population of this species and they should take measures to keep it that way. Feeding wild animals is not the way to go," said Heflick.
He also stated that the increase in mangrove clearing is affecting not only the American crocodile population but the entire ecosystem. Crocodiles are apex predators and are needed to keep the balance within nature. Crocodiles are one of the oldest living creatures to roam the earth and contribute greatly to the balance in marine ecosystems. "If crocodiles are eliminated, then the balance of nature will be destroyed and the entire ecosystem will collapse. When you degrade the mangrove ecosystem, then the whole population will crash." Heflick stated that several hatchlings were found to be emaciated and in very poor condition, that can potentially lead to death. "The hatchlings use the mangroves as nurseries, but if development eliminates these habitats then the hatchlings, have nowhere to go. Apart from the destruction of habitats, the constant development is causing waste, such as garbage and even chemical run off to end up in the area the hatchlings call home. The minute you start filling up land, you are actually tampering with salinity levels, because you are cutting off water ways. People need to be careful on how they develop," said Heflick.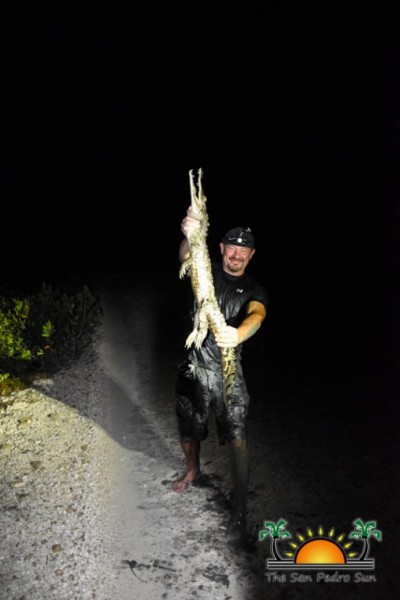 Another issue identified by Heflick is the declining health of the animals. Through testing and previous studies by Tellez, who is the Central American Co-Chair of the International Union for Conservation of Nature and sits at the International Species Survival Commission of the Crocodile Specialist Group, it has become evident that many crocodiles are sickly. "We are seeing several issues with crocodiles' health. Those suffering the most are hatchlings. They are very sick and dying at unprecedented rates. These are the next generation for the species, and if they don't survive, the population will crash. The growth in human population is altering the ecosystem where these animals live and they are suffering the adverse effects," said Heflick. Crocodilians have been one of the longest surviving creatures on the planet and are known to have one of the most resistant immune systems that can live and survive healthily in the worst environmental conditions. Heflick stated that these signs of illness in crocodiles in San Pedro indicate major concerns in the ecosystem that need to be rectified immediately.
Education is one of the major solutions to the issues San Pedro faces when it comes to crocodiles. "If done right, Crocodiles can be a big draw for tourism. People need to live around them, but at the same time not interact with them. The community needs to be educated properly. If they know what is right from wrong then they will then pass that on to tourists. When it comes to educating tourists on the do's and don'ts in relation to crocodiles, signage plays a big role. Trust me, if people see the same message many times, they will eventually get it," explained Heflick. He also stated that conservationists need to work together with locals in order to reach the set goal. "No one can come in and force something on a community. Organizations need to foster a relationship with the community so that they can then educate them on what needs to be done to protect the species. I have traveled all over the world and I understand that in order to get things done, you need to support of the local authorities and community and this can only be achieved if you gain their trust. We need the make the community see how important the American Crocodiles are to their ecosystem so in return, they understand why they need to care for them," explained Heflick.

Heflick recommended that the local government as well as the wider community take action in safe guarding the American Crocodile species before irreversible damage is done. "I encourage everyone to see the forest through the trees. This means you need to back up and see the bigger picture of each and every one of your actions. You need to take into consideration long term gains, and not only immediate gains. Develop in a manner that is safe for the environment. If you preserve the crocodile habitats, you are preserving several other species as well. The government needs to set regulations for developers so as to ensure nature is not destroyed. In the long run it will pay off, because people want to come for paradise. They don't want to come here to see concrete and no nature. The appeal of Belize is its natural wildlife, but work needs to be done to preserve it," said Heflick.
The work conducted by Helfick will add to Dr. Tellez's two year research program aimed at compiling data to use for policy making decisions at the international level regarding American Crocodiles.
On a final note, all residents and visitors are reminded that it is against the Laws of Belize to poach American Crocodiles for meat, teeth, skulls, skin, or to torture or even feed them. Problematic crocodiles can be reported to the San Pedro Police Department, the Belize Forest Department or to ACES at 631-6366 or 623-7920.
Follow The San Pedro Sun News on Twitter, become a fan on Facebook. Stay updated via RSS