Oil spill in Western Belize; Environmentalist continue campaigning against offshore oil exploration
Saturday, March 11th, 2017
An oil spill was reported on Wednesday, March 1st at one of the oil wells in the Belize Natural Energy's (BNE) compound in Spanish Lookout, Cayo District. The leak took place at the Michael Usher Number 1 oil well, and took BNE workers around two hours to contain it. Even though BNE indicated that it did not cause any major environmental damage, oil seeped into a small stream.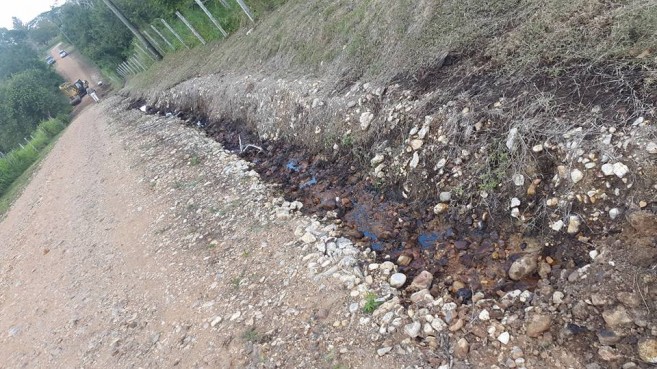 BNE shared with the media that upon reports of the leak, they observed crude oil on the surface of the ground near the Michael Usher well. Production Engineer Bernard Raymond said they quickly shut off the flow of oil in order to prevent a major spill. "No oil went into the environment, we collected most of the oil after the situation was contain," said Raymond. According to him that particular area where the spill occurred only produces about 20% of crude, while the remainder is water. He said the spill response team was able to scoop out layers of top soil that were contaminated with oil water, and they did extract the oil that went into the stream.
Raymond also stated that immediately after they were able to ascertain the level of the spill, the Department of the Environment (DOE) along with the Geology and Petroleum Department and community of Spanish Lookout were informed. "We were happy to have the presence of personnel from DOE, who advised us on the procedures we needed to take in order to reclaim the area," said Raymond.
The oil spill has been contained, but the total amount of oil that was spilled has not yet been quantified.
In the meantime, organizations like Oceana Belize continue to campaign against oil exploration in Belize, particularly offshore. During the fifth anniversary of the People's Referendum against offshore oil drilling Oceana Vice President, Janelle Chanona stated that their position has not changed, and they will continue fighting the cause. "The people of Belize do not want offshore drilling in our waters because thousands of Belizeans depend on coastal and marine resources, and it turns all this into a livelihood issue," said Chanona. "We really need to do everything possible to strike a balance between people and environment." Chanona mentioned that tourism is the prime driver of the Belizean economy and thus, oil and tourism do not mix. She emphasized the importance of having legislation passed to ban offshore oil exploration. "We cannot have our people that are working in tourism all of a sudden switch to work in the oil industry."
Environmentalists continue asking the Government of Belize to ensure that their actions do not compromise the country's natural resources. They call on the leaders of the nation to look at the resources Belize has and to not undermine their integrity, but to use them sustainably so Belizeans can depend on them forever.
They also continue calling on all Belizeans to join in the cause, since an offshore oil spill in Belize would dramatically impact everyone.
Follow The San Pedro Sun News on Twitter, become a fan on Facebook. Stay updated via RSS