Belize Forest Department cracking down on Illegal logging
Saturday, October 7th, 2017
The Belize Forest Department is strengthening public awareness on the logging industry, following the confiscation of illegal Mahogany in the Orange Walk District. On Thursday, September 28th, the Forest Department fined 47-year-old Guinea Grass Village resident, Pablo Valladarez $22,828 for illegal possession of Mahogany. In the wake of this incident, and with the logging season opening on Sunday, October 15th, the Forest Department is launching an awareness campaign to inform the public that any person found engaging in illegal logging will be prosecuted.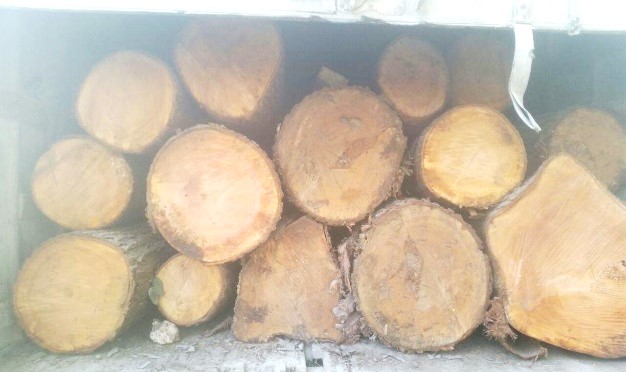 The Mahogany confiscated from Valladarez included 34 unstamped Mahogany logs, equivalent to 1268.8 board feet. Valladarez, along with Catalino Copo, Nelson Mosa, and Aurelio Mai were seen hauling illegally harvested Mahogany on Sunday, September 24th on the Old Northern Highway in the Orange Walk District. While all men were initially charged for "Unlawful Possession of Forest Produce" under the Forest Act of 2000 and its 2017 Amendment, Valladarez pled guilty to the full charges. As a result, Valladarez may face five years imprisonment if he is unable to pay the fine by January 31, 2018.
As the National Tree of Belize, the logging of Mahogany carries strict regulations to ensure viability of the industry. "Our Department is seriously cracking down on this pervasive problem of illegal logging," said Saul Cruz, Officer in Charge, Orange Walk Range, Forest Department. For years, the logging industry has greatly contributed to Belize's economy. However, in the past years, illegal logging has negatively affected the industry. "It is a forest crime that threatens the future of our sustainable logging industry, our environment, the livelihoods of forest-dependent people, and our local and national economy," said Cruz.
In Belize, the logging season runs from October 15th to June 15th of each year. During the closed season, any logging is strictly prohibited. "This ensures safer logging operations, protects forest soils and reduces damage to public roads during the rainy season," says the Forest Department.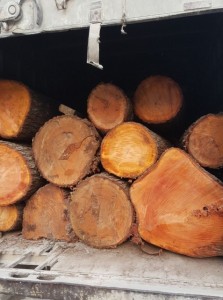 According to the Forest Department, incidents of illegal logging are growing, particularly in the Orange Walk District. Another recent confiscation was made on Juan Reyes of Carmelita Village, Orange Walk District. He was fined for "Unlawful Possession of Forest Produce" on Tuesday, September 19th, after he was found with multiple timber species.
"In order to combat illegal and unsustainable logging, the Department is also instituting stringent measures for planning, processing, and monitoring of logging operations. Consequently, loggers are advised to submit their applications before the deadline November 30, 2017. Following this date, the Department reserves the right to refuse any late applications," says the Forest Department. Furthermore, the public is urged to follow the below guidelines to logging:
1. Any person in possession of specific timber species, such as Mahogany, Cedar, Rosewood, Santa Maria, Pine and others listed in the Second Schedule, may face imprisonment or be fined up to three times the value based on the (a) commercial price, (b) ecological value, and (c) rarity of the timber species.
2. Any person caught with unlawful possession of any forest produce not included in the Second Schedule of the Forest Act may face up to $10,000 in fines and 12 months imprisonment.
3. Any vehicle, vessel or equipment used in the commission of a forest offence will be confiscated and is liable to forfeiture to the Government of Belize.
4. A maximum of $5,000 will be imposed for any counterfeit Forest Department stamps, licenses or the altering of stamps or licenses.
5. Any person found committing the offence of damaging forest roads or waterways, now faces a maximum fine of $10,000.
6. Any person, who obstructs an authorized officer under the Forest Act from carrying out duties, will face a maximum fine of $2,000.
To report forest crimes to the Forest Department call 822-2079 or email [email protected]
Follow The San Pedro Sun News on Twitter, become a fan on Facebook. Stay updated via RSS