Managed Access Program continues to promote good fishing
Friday, October 19th, 2018
Over the past years Belize's marine resources have faced several challenges, including the dwindling of fish stock. Despite many Belizean fishermen practicing sustainable fishing methods, there are still concerns. As such, in 2011 the Managed Access (MA) program was piloted at Glover's Reef Marine Reserve (GRMR) by Wildlife Conservation Society (WCS) in partnership with the Belize Fisheries Department and the Environmental Defense Fund (EDF) to change the 'open access' fishing paradigm in Belize to one of limited entry. The program aims to end open access to resources across Belize's marine ecosystems by licensed commercial fishermen. Open access fishing allows licensed fishermen to harvest marine species (that are not protected by law) unrestrictedly, and this has resulted in overfishing, causing populations of certain species to decline over the years.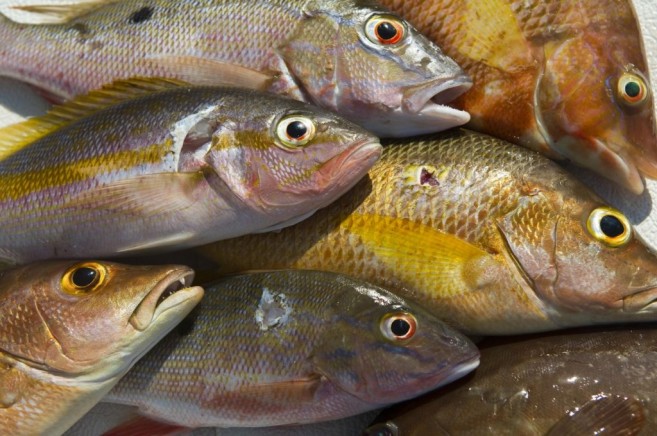 Throughout these years, this program has been very successful. So far it has reduced fishing pressure and the incentive to fish illegally by providing traditional fishers with secured fishing grounds. In the last four years since the MA program was introduced at GRMR, there has been a reduction in illegal infractions from 9% to 4%. Stewardship of the area by fishers has also increased. Based on the success of this pilot project the Government of Belize, through the Fisheries Department is now looking at a national roll out of managed access to all marine areas.
According to Manager of Protected Areas, Shane Young stated that the WCS has already taken the first steps in doing so. As a result, fishing zones were created and fisher folk selected with two areas they would use to fish. "Prior to managed access there was this approach of cherry picking. So, you will have fishers who will only come to Lighthouse Reef to fish for conch for the opening. They will do two trips – harvesting and then you don't see them until the following year. Yet, the stakeholders who fish here will have to stay behind and continue to fish with whatever stock remains," said Young.
Executive Director of Belize Audubon Society, Amanda Acosta stated, "We know who the resource users are now. We have fisher folk who have to have the license that designates them for usage in a particular zone. The vessels also now have to be demarcated for usage in the zone. So, it has helped us in terms of having a list of who are the fishers. Managed access, ultimately, you shouldn't have too much monitoring but the idea is that only you can fish that area too. So, if you don't fish at Lighthouse and it is bad this year, you're assured that next year it should be healthy, because no one else is fishing if you weren't fishing."
Young further stated that this program has been beneficial to some fishermen as they have seen an increase in their catch. "They are seeing the benefits of having that closed access where only they have access to the fishing grounds. But, more so looking at the production and the harvesting. The amount of conch and the amount of lobster that they are delivering, they have seen an increase. Of course there may be some that disagree but a majority of fishermen have said that they have seen a productive lobster season out at Lighthouse reef this year in particular."
The San Pedro Sun reached out to some fishermen here on the island, who stated that they are still struggling with a dwindling fish stock. "I believe that the program should be expanded to the national roll out of managed access to all marine areas, because here on Ambergris Caye we are still struggling with fish stock, especially with more and more fishermen coming up. So we need something like that program to put some order in certain areas where only certain fishermen can go and fish," said an island fishermen.
According to a fisherman of Chunox Village, Eli Tun who has been fishing in areas where the managed access program is implemented he has seen a positive change in his fishing stock. "It works well because they protect it– like right now conch is closed and they protect the conch. Now, when lobster closes they protect it too and so when it opens it is good because you catch a lot of lobster," said Tun.
Through the MA program, licenses are issued annually to fishers according to criteria developed in consultation with fisher representatives. Licenses allow fishers access to specific areas and require them to comply with regulations and report their catch. The MA Committees, which include elected fisher representatives, are integrally involved in vetting license applications and guiding the progress. For more information about this program you can contact Belize Fisheries Department at 224-4552.
Follow The San Pedro Sun News on Twitter, become a fan on Facebook. Stay updated via RSS