3D printed artificial reef installed at Mexico Rocks Reserve in Ambergris Caye
Thursday, November 15th, 2018
Hoping to find more environmentally friendly devices to attract fish, a 3D printed artificial reef, created by island visitor Sam Suchin was installed at Mexico Rocks Reserve, located inside Hol Chan Marine Reserve on Saturday, November 10th. For many years, fish aggregating devices (FAD's), have been used to attract fishes, especially marlin, tuna and mahi-mahi. FAD's are floating devices tethered by rope with buoys and anchored to the water bed with a drum of cement to keep everything in place to avoid drifting.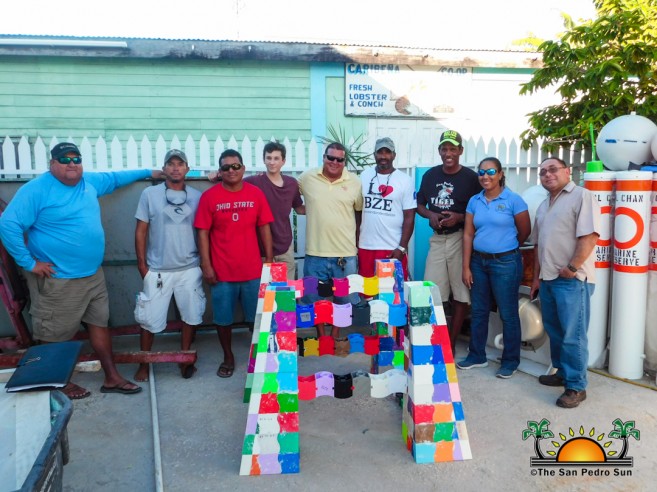 According to Gil Nunez from Canary Cove, he met Suchin while he was vacationing in Belize. Suchin told him that he wanted to print an artificial reef to test out in San Pedro. "I'm always open to finding solutions that are more ecofriendly than the FAD's or the iron objects that people put inside the water to attract fish," said Nunez. More few months after Suchin contacted him again, and told him that he was working on the 3D printed artificial reef. "I thought it was going to take him like a year or more, but he finished it in just a couple months. So I told him to give me some time to speak to everyone that is involved to see what their opinion is." Naturally, everyone was eager to see Suchin's artificial reef, and thus they arranged the dates and time for him to come down to Ambergris Caye with it.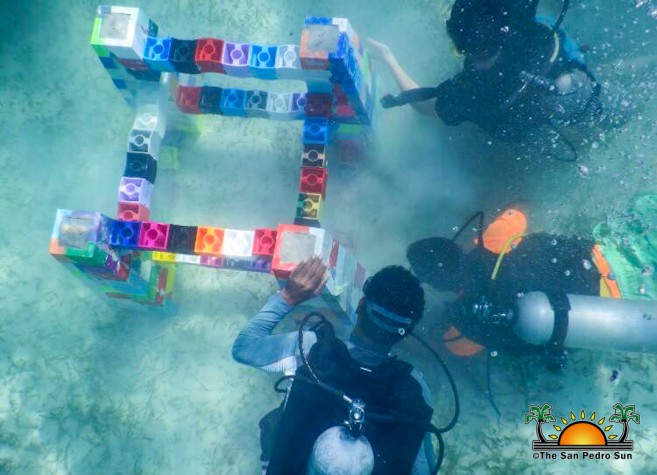 Suchin, who is from Baltimore, Maryland, USA, told The San Pedro Sun that that prior to his trip to Belize, he already had the idea of installing an artificial reef. "When I came here I brought some prototypes of the 3D prints and spoke to Gil about my idea," he said. "The reason I decided to test this project in Belize is because I knew it was the perfect place as people use old washing machines, irons and other toxic material that are not good for the environment in order to attract fish." Suchin further stated the goal of this project is develop a better alternative to attract fish that is more ecofriendly.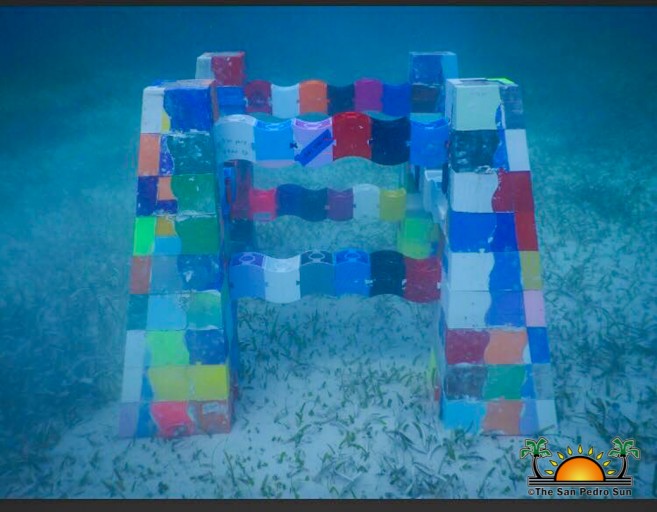 In addition, Suchin has also created a website named Hope 3D for this 3D printed artificial reef prototype, with the mission to improve the world through 3D printing. Hope3D utilizes home consumer 3D Printing to crowd-source projects that improve the world. They wish to assemble a community of makers equipped with 3D printers that will fabricate parts for various initiatives. Suchin is inspired to utilize this type of technology toward solving worldwide medical, environmental, and socioeconomic problems. Suchin's Mother, Andrea told The San Pedro Sun that he taught her son everything, and finished the prototype in just over a month.
The 3D printed artificial reef is now under supervision at the marine reserve, to see if it works and attracts fishes. Special thanks goes out to Hol Chan Marine Reserve, San Pedro Tour Guide Association, San Pedro Fishing Association, San Pedro Tour Operators, San Pedro Town Council and Gaby's Constructions for helping out in the installation of the 3D printed artificial reef at Mexican rocks reserve. Of course, massive kudos to Sam Suchin for his initiative. For more information on this 3D printed artificial reef project and Hope3D you can visit their website at http://www.hope3d.org/ or email Sam Suchin at [email protected] .
Follow The San Pedro Sun News on Twitter, become a fan on Facebook. Stay updated via RSS