Green Turtle Fatally Injured at Mexico Rocks
Thursday, December 17th, 2015
We all know it is illegal to feed the wildlife, be it terrestrial or marine, but it sure is a great way to get a good look at the critters you want to see. Time and again we are cautioned by authorities that this practice is not only unhealthy of the animals but also conditions them to associate man with food, causing them to lose their natural instinct to flee when man is around. For these conditioned animals the sights and sounds of man are nothing more than a dinner bell; and they come running as soon as man arrives. Such is the story for one juvenile Green turtle at the Mexico Rocks snorkeling site, who became so accustomed to being fed by tour operators that he abandoned his natural behavior as a bottom feeder to taking to free water swimming with the fish and sharks. Sadly this surface swimming behavior put the little beggar at risk, and he was fatally ran over by a boat on Wednesday, December 16th.
Decades ago the Mexico Rocks site was a pristine area with gorgeous coral formations, crystal clear water and tons of colorful marine life. Over time the un-managed area became over fished and over utilized, resulting in coral damage, cloudy water and less wildlife. Fortunately, the area was recently added to the Hol Chan Marine Reserve; ensuring that the site would fall under preservation regulations. The area has already seen significant improvements in snorkeling conditions and over the last year, it has again become a popular destination with local tour guides.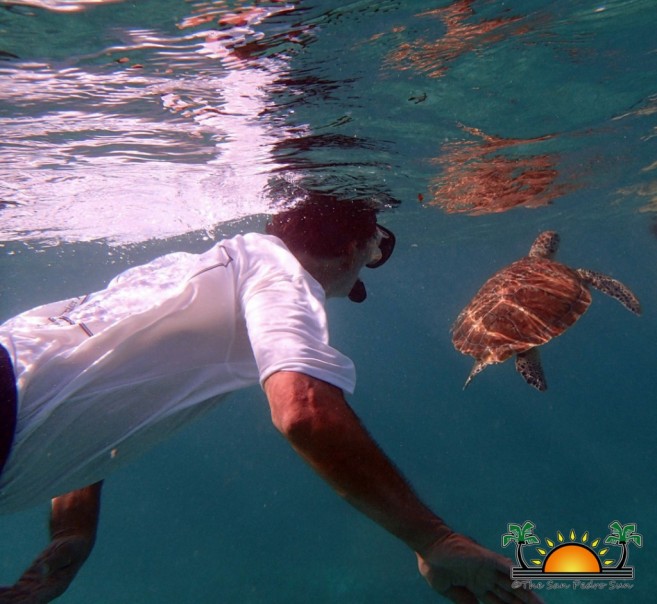 In the meantime the tour operators had initiated the practice of feeding the marine life. This practice is not condoned by reserve management, but tour guides learned that their snorkeling guests were delighted by the close and interactive experience of swimming with teams of tropical fish, nurse sharks and turtles. As of November, Hol Chan marine rangers have been stationed at the site and are now collecting park fees from the tour operators.
In a phone interview with Hol Chan Marine Reserve biologist, Kirah Castillo, the biologist told The Sun that she had cautioned tour guides against this practice as recently as last week at a local meeting. "We try to explain to the tour guides how feeding the marine life can actually endanger them, and sadly this is a prime example. This well-known juvenile Green turtle at Mexico Rocks had become accustomed to surface swimming in attempts of getting feed; ultimately this behavior is what killed him. A boat ran over him yesterday, with the propeller breaking his carapace. We tried to save him but he passed away over the night. Guides are no longer allowed to feed the wildlife in that area, but the behavior of the animals has already been altered; it will take some time for them to realize the food is now gone." Castillo went on the say that snorkelers can still enjoy seeing turtles when they are in a more natural environment and demonstrating normal behavior. "At Hol Chan Marine Reserve snorkelers enjoy the turtles by seeing them on the sea bed where they are grazing on turtle grass. This is their natural behavior, they usually only surface for air."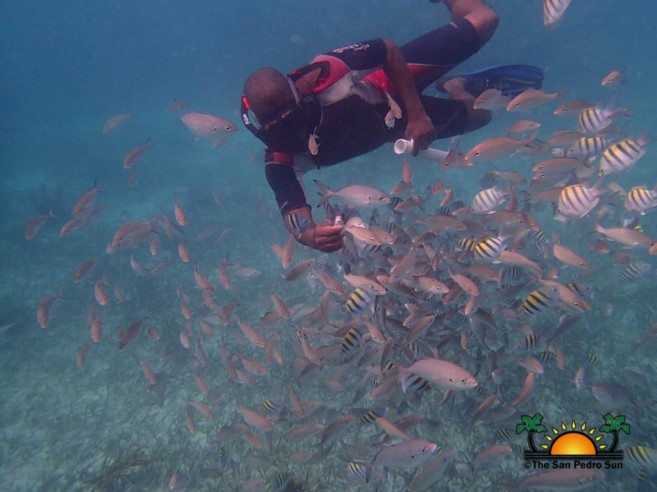 For those of us who grew to know this turtle this news is very sad indeed. Although we got to swim with him due to the illegal feeding, it was a thrill to be in close proximity of such a beautiful creature. I am guilty of enjoying the experience, and sorry that I selfishly ignored the feeding behavior of my tour guide when knowing it was wrong. Let this be a lesson to us all; we need to enjoy our wildlife without irresponsibly endangering them for our own gratification. It is far better to enjoy them when they are just doing their natural thing…RIP sweet turtle…you will be dearly missed.
Follow The San Pedro Sun News on Twitter, become a fan on Facebook. Stay updated via RSS