Marine Spatial Plan discussion held in San Pedro
Monday, June 19th, 2023
Stakeholders from the tourism and fishing sectors attended a community outreach held on Wednesday, June 14th, at the San Pedro Lions Den to discuss the Marine Spatial Plan (MSP). This initiative under the Belize Sustainable Ocean Plan (BSOP) was hosted by the Coastal Zone Management Authority and Institute (CZMAI), who have been spearheading community meetings across the country and inviting the community to participate in the process that aims to bolster biodiversity protection in Belize's seas.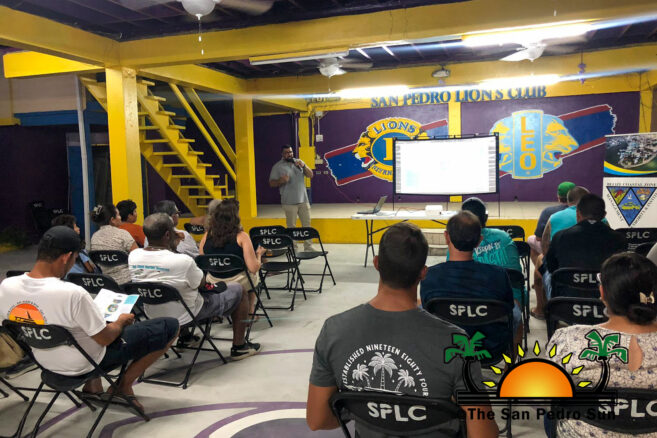 The meeting started at 6:30PM, with the presentations led by Marine Spatial Plan Process's Lead, Samir Rosado, and Stakeholder Engagement Specialist of The Nature Conservancy, Nidia Chacon. Rosado spoke about the MSP, explaining that it is a public process of allocating and analysing the spatial-temporal distribution of human activities in marine areas. Rosado added that this process is important in achieving ecological, economic, and social objectives often specified through a political process.
Rosado explained that the project's main purpose is mapping the sea space and deciding where activities will occur. He noted that activities allowed in or within marine protected areas, including the Exclusive Economic Zones across the country, will have the community's input. Rosado said the plan is to refrain from setting new rules on those using the marine space or reducing their activities, such as fishing or tourism activities. Rosado stressed that the campaign aims to improve stakeholder participation and help protect biodiversity.
Chacon joined Rosado, emphasizing that the overall goal is to enact legislation to enforce the MSP legally. The MSP will also guide sustainable development, designating up to 30% of the country's ocean as what will be known as Biodiversity Protection Zones. The presenter added that such a program goes hand in hand with the blue economy portfolio with a vision to support the sustainable growth and development of Belize's marine space for all Belizeans to benefit.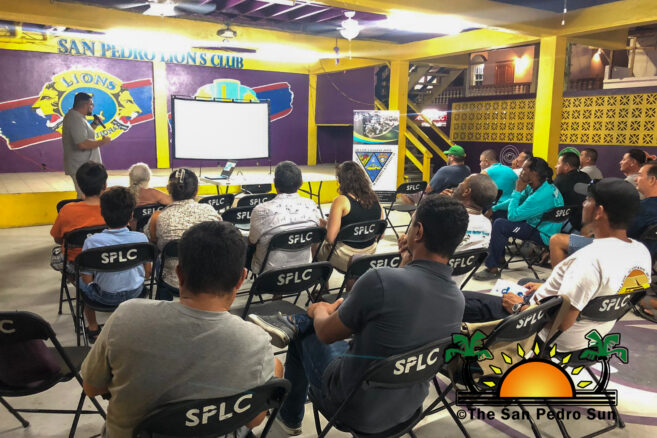 The stakeholders in the meeting had questions about enforcement and the intervention against coastal developments. Rosado could not verify who would enforce the MSP around Ambergris Caye. He said everything implemented under this program will be based on consultations. Attendees also voiced their opinion regarding unsustainable development. They ask them to be more involved when citizens need their intervention in restructuring or stopping developments that could jeopardize the livelihood of coastal communities and the tourism and fishing industries.
The campaign was launched in October 2022 with the CZMAI as the lead agency. The primary responsibility is to develop the BSOP with technical support from The Nature Conservancy and with all relevant stakeholders. A second session is expected for San Pedro stakeholders.
Follow The San Pedro Sun News on Twitter, become a fan on Facebook. Stay updated via RSS