Belize Red Cross San Pedro Branch reports a successful 2016
Friday, January 6th, 2017
The Belize Red Cross San Pedro Branch (BRCSP) was very busy during 2016 as they hosted fundraisers, first aid trainings, blood drives, and even radio and telethons during times of tragedy on the island. BRCSP has taken the opportunity to raise much needed funds year after year in order to continue their work in the community and despite the great challenges in 2016, they are reporting a successful year.
According to the official report, in 2016 five blood drives were organized, collecting 64 pints of blood for the Ambergris Caye blood reserve. The different blood drives were held at Dr. Otto Rodriguez San Pedro Polyclinic II, San Carlos Medical Centre, and the Washington University of Health and Science. By the end of the year, the local branch was able to help nine persons with 19 pints of blood.
Throughout the history of blood drives on the island since 2013, the BRCSP has collected a total of 267 pints of blood and helped 19 persons by using 46 pints of blood.

The other activity that kept members busy was the first aid training. A total of 120 persons received training in first aid/Cardiopulmonary Resuscitation CPR. The participants were all from different institutions across the island, including establishments such as Victoria House, Sandy Point Resorts, San Pedro Fire Department, Rotary Club, Belize Electricity Limited, New Horizon Primary School, Mahogany Bay, Sam's Pharmacy, San Pedro Sailing Club, and Ambergris Caye Elementary School.
In the past three years, a total of 383 persons have been trained in first aid/CPR. As a result, in cases of emergency, two children's lives have been saved by participants who took the training. In an ongoing effort to strengthen the capacity of the branch, three volunteers of BRCSP became first aid and CPR trainers.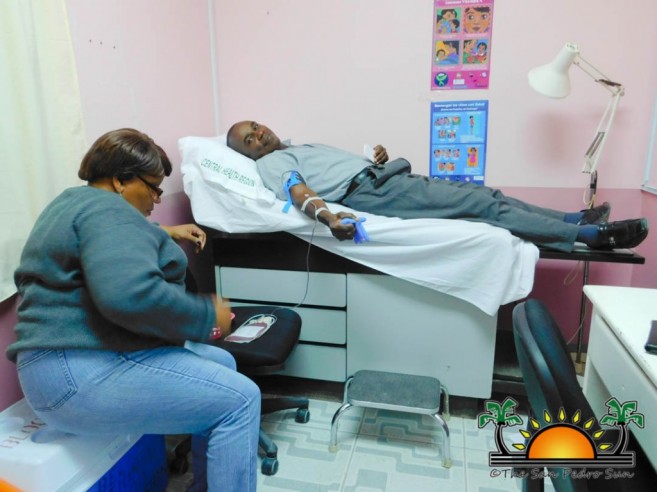 When there were no blood drives or trainings, the local Red Cross assisted in the radio telethons in order to help victims that were affected by the fire that destroyed part of downtown San Pedro in June of 2016, followed by the devastating Hurricane Earl in early August. After assessment of both disasters by the respective authorities, BRCSP worked alongside Belize Telemedia to hand out school supplies to the children of the affected victims. They also vital hosted first aid booths and volunteer vacation groups who came to assist the community during the hardship.
Other events in which the BRCSP was involved included first aid and water station at the Ambergris Caye Elementary School run/walk for Autism Awareness, free dental clinic, San Pedro Lobster Fest First Aid Booth, and the Wheelchair Foundation donation ceremony.

BRSP would like to thank everyone who worked along with them during 2016. Special recognition goes out to The San Pedro Town Council, Coco Loco's, Stella's Smile, Kelly McGuire, Dive Bar, Captain Morgan's, Island Time, CG Esthetic, and Crazy Canuck's.
As they look forward to a great 2017, the invitation goes out to anyone interested in getting involved. Find out more about BRCSP, or to even make a donation, email the organization at [email protected] or [email protected]
Follow The San Pedro Sun News on Twitter, become a fan on Facebook. Stay updated via RSS