Is Sargassum hazardous to our health?
Saturday, September 1st, 2018
Besides aesthetically unpleasant, the Sargassum seaweed and the gases it emits as it rots along the shores has been proven to be hazardous to human health. Not only is it affecting the tourism industry and destroying marine life, but the seaweed can cause respiratory problems due to the high levels of toxic gases it omits when decaying.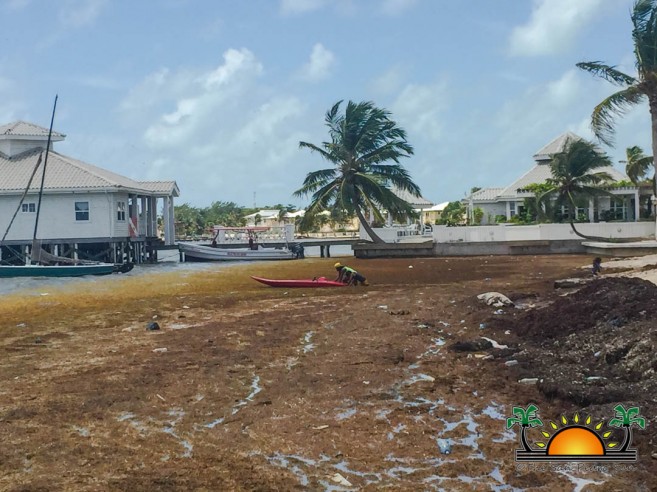 In the water, Sargassum can be harmless to humans, but once it lands on the beach and starts decomposing, it begins to release hydrogen sulfide gas, or H2S. Colorless, poisonous and with an unpleasant rotten-egg odor, the H2S effect is based on how much is inhaled, and for how long. Exposure to very high concentrations can quickly lead to death.
The San Pedro Sun spoke to Eric Najarro, Administrator at the Dr. Otto Rodriguez San Pedro Polyclinic II about the possibility of increased illnesses due to the Sargassum. Although Najarro stated that there is no conclusive evidence that island residents are displaying symptoms of toxicity, he cautioned that inhaling small doses of the gas can trigger irritation of the eyes, respiratory issues and nausea, especially among at-risk people. The groups at risk are asthma patients, elderly people, babies and pregnant women. Certain animals, especially dogs, are also sensitive to the inhalation of hydrogen sulfide. He further cautions to avoid swimming in Sargassum infested waters as it can lead to skin irritation.
One island resident shared that every time she's near the beach, she starts coughing and feeling bad. "My eyes get irritated and I even get a slight headache," she said. In addition to hydrogen sulfide causing health issues to human and animals, the poisonous gas in the air also leads to oxidation of copper, steel and other metals.
The common effects of inhaling low concentrations of hydrogen sulfide (10 ppm or less) are burning eyes, coughing and shortness of breath. Repeated or prolonged exposure at low concentration levels can cause eye inflammation, headaches, fatigue, irritability and insomnia. Exposure to moderate concentration levels of hydrogen sulfide can result in severe eye irritation, severe respiratory irritation (coughing, difficulty breathing, and fluid in lungs), headache, and nausea, vomiting, and imbalance. Effects of exposure to high levels (100 ppm or higher) of hydrogen sulfide can be serious and life-threatening with effects that include shock, convulsions, inability to breathe, rapid unconsciousness, coma, and even death.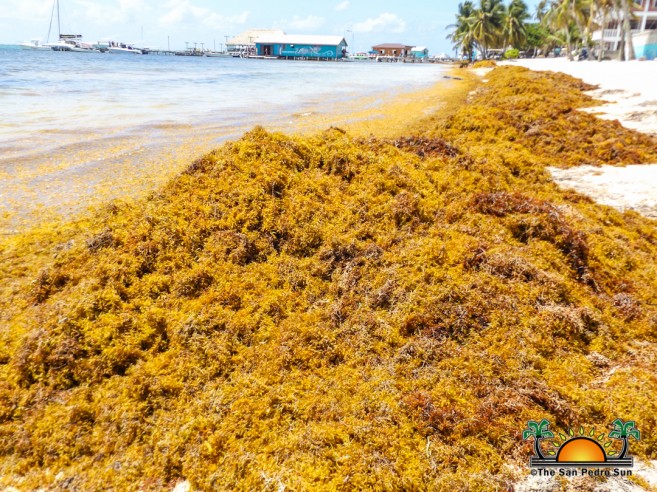 The mass influx of Sargassum seaweed is a supernatural phenomenon, and research is showing that the high nutrient levels in the ocean, due to the inappropriate disposal of industrial waste in developed countries, is causing the seaweed to thrive. The nutrient run-off from industrial and agricultural fertilizers such as phosphates and nitrogen into the sea seems to be causing the Sargassum to grow even quicker. The Sargassum seaweed originates from the Sargasso Sea, which exists exclusively in the Atlantic Ocean (specifically, in the North Atlantic Gyre), and spreads approximately two million square miles. However, the Sargassum affecting Belize and the Caribbean region is believed to be coming from the coasts of Brazil in South America. As it grows larger, currents bring the algae to the Caribbean region, Central America, and even south-eastern Mexico. The super-bloom has been recorded since 2014.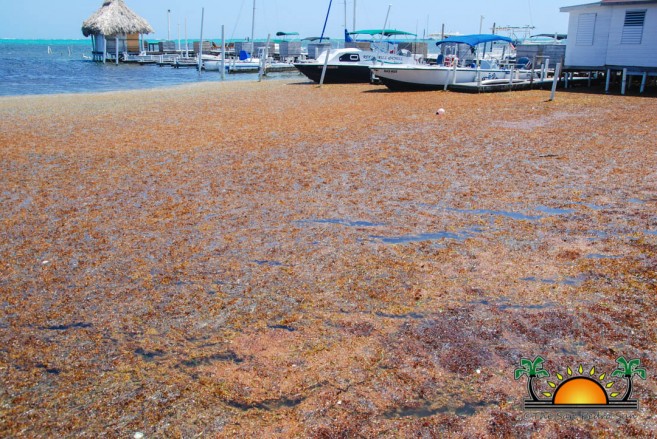 The San Pedro Sun also spoke with John Bodden, Senior Public Health Inspector at the Ministry of Health (MOH), who stated that so far they haven't received any reports from Dr. Otto Rodriguez San Pedro Polyclinic II about the possibility of increased illnesses due to the Sargassum. "Sometimes people tend to relate their symptoms/illnesses to recent issues like the Sargassum," he said. "We are not sure that the symptoms some residents are experiencing is being caused by Sargssum." He further added that the only thing that he can confirm that could possibly be related to Sargassum is skin rash, since people tend to swim in waters filled with excessive amount of the seaweed, which contains bacteria's. Despite no reports of Sargassum being hazardous to ones health, Bodden stated the MOH will look into the situation and try to find a way to investigate if indeed Sargassum is causing island residents to become ill.
Since its arrival to our shores, many ideas and exercises have been implemented on Ambergris Caye to combat the influx. Residents and visitors are cautioned to avoid areas inundated by the seaweed, and to report any change in health to the Polyclinic.
Follow The San Pedro Sun News on Twitter, become a fan on Facebook. Stay updated via RSS