Island resorts test alternatives to tackling the Sargassum epidemic
Wednesday, August 29th, 2018
The business community on Ambergris Caye, particularly those by the beach, is being inundated day after day with large swaths of Sargassum that choke the shores of the island. Several businesses have hired additional staff to keep their areas clean with little success. The unusual bloom of seaweed has thus forced businesses to explore other alternatives to tackle the problem. Some beach resorts have constructed test barriers made of PVC pipes to prevent the floating seaweed from reaching their beaches.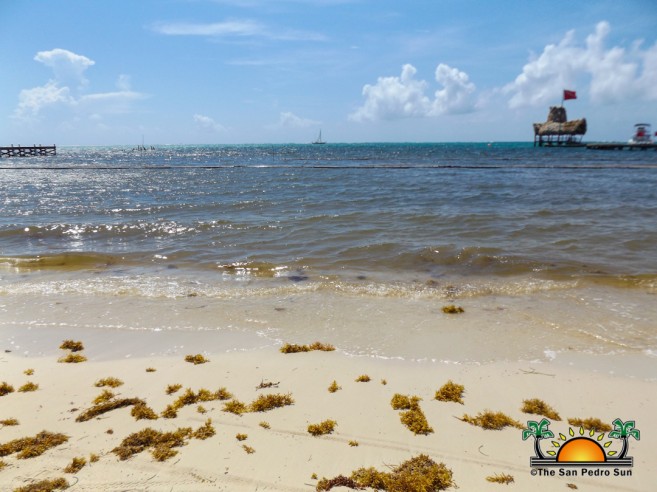 Ramon's Village has been experimenting for the past four weeks, with positive results. Manager Einer Gomez says the barriers seem to be working as expected, and their beach looks much cleaner compared to a few weeks ago. According to him, the barriers in front of the resort's beach consists of four-inch PVC pipes, capped off to create buoyancy and a fiberglass mesh wrapped around the pipes. The mesh falls about 18 inches into the water and does not hit the seabed. Gomez explained that the barriers are held in place by 6' X 6' posts in the seabed.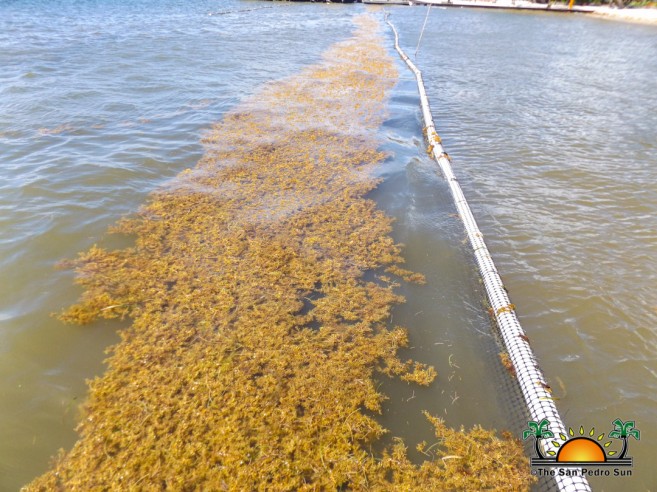 This method is similar to what is being done at other resorts on the island, such as Grand Caribe, and Ramon's customized the set-up to fit what works for them. "There is no real solution to the Sargassum situation, and ours is at an experimental stage," said Gomez. "However, I believe that there has to be a communal effort for the problem to be alleviated." Even though the barriers are doing a good job so far, wind, currents and the change in tides do affect the drift of the Sargassum, and some still manage to make it across the PVC pipes. However, those observations are being taken into consideration when making improvements.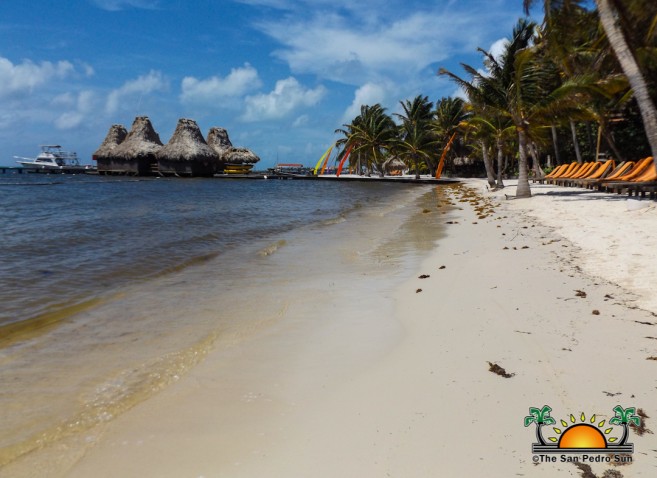 Mexico installed Sargassum barriers near their Caribbean coast, from Cancun to Chetumal Quintana Roo, but they were soon buried by the massive amounts of seaweed rolling in. Despite these results, Mexico is optimistic about the project, and the installation of more barriers will continue. Mexican authorities want to keep the Sargassum from reaching their beaches and hope the barriers help push the seaweed back to the open sea. They do not expect it to affect other regions or marine life, as long as it is kept on the open ocean. The barriers are similar to those used to contain oil spills, just modified to keep the Sargassum at bay.
On Ambergris Caye, the amount of seaweed accumulating along its shores is far less than what is being recorded in Mexico and other parts of the Caribbean. However, it is still beyond total control, and concerned businesses have made a call to governmental authorities to assist with the situation that is growing in severity.
Follow The San Pedro Sun News on Twitter, become a fan on Facebook. Stay updated via RSS