San Mateo residents ask local authorities to address dire street conditions and ongoing use of garbage for landfill
Friday, September 11th, 2020
The Subdivision of San Mateo north of San Pedro Town is known for its limited infrastructure with a big problem with trash. This problem seems to grow in tandem with the community, not only as an eyesore but mounting health conditions that include vector habitat, water contamination, and toxic runoff.
Residents do not want to live in such conditions and are denouncing the local authorities, claiming that their cries are ignored while they continue to live in inhumane conditions among the piling rubbish.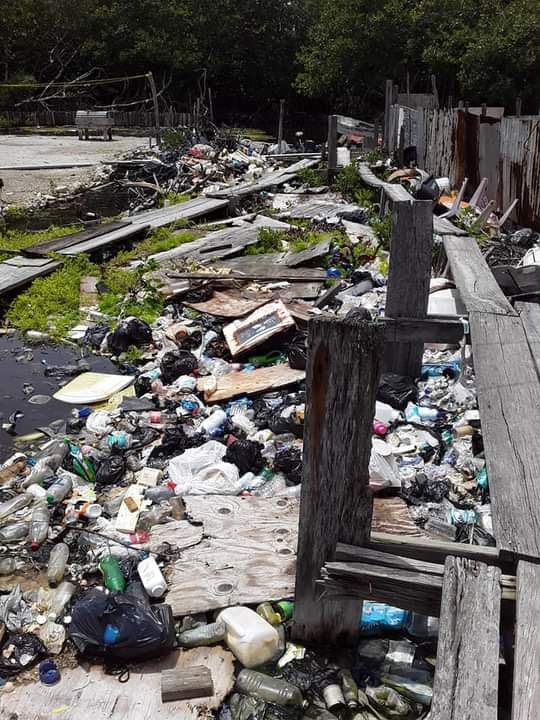 Alfredo Rubio has been voicing his frustration with the situation in San Mateo and continues asking the local authorities for some support. He shared images of residential areas that do not have proper roadways, while in other parts of this subdivision, people live among the unhealthy environment tainted with tons of garbage.
Rubio stated that both Mayor Daniel Guerrero and Area Representative Honourable Manuel Heredia Jr. have been approached regarding the matter. According to him, he was promised a solution by filling some of these areas with material to improve the conditions. Rubio said after sending a letter with the
names of the persons affected by the situation, the response was that other parts of the island had higher priority.
Councilor Severo Guerrero, who apparently leads the area of infrastructure, was also approached. Rubio said Guerrero indicated that there are no finances available to fix roads in the San Mateo area. He added that Heredia committed to addressing the need for road renovations, but nothing
was done. Rubio emphasizes the fact that people remain encouraged to use rubbish as landfill, creating a harbour for diseases and unhealthy living conditions.
Community members willing to help with labour to fix the streets
Although some streets in San Mateo have been renovated, Rubio says it is done in an unfair manner as the areas that really need the assistance are being ignored. He said that all they would like from the
local authorities is assistance with some material to make way to some of the streets and bury the waste that is a tremendous and unhealthy eyesore. Apparently, residents are willing to help with labour to bring improvements to the lives in San Mateo.
The San Pedro Sun made attempts to reach out to Mayor Guerrero and Are Representative Heredia without any luck.
In February 2018, the current San Pedro Town Council unveiled their manifesto ahead of the municipal elections under the motto 'Improving Lives.' One of the items in the manifesto called for proper flood mitigation studies and the implementation of recommendations to minimize flooding. The opening and
connecting of new roads were also announced to improve traffic in San  Pedro. However, many believe little has been done in areas like San Mateo over the last two years.
Follow The San Pedro Sun News on Twitter, become a fan on Facebook. Stay updated via RSS