Island sees increase in Covid-19 cases; 125 deaths nationwide
Wednesday, November 25th, 2020
Cases of COVID-19 in San Pedro Town are slowly increasing, according to a report from the Office of Director of Health Services issued on Monday, November 23rd. Over the past week, the number of active cases on the island jumped from 32 to 38. While there are no recent COVID-related deaths on the island, one patient has been admitted to the Dr. Otto Rodriguez San Pedro Polyclinic II, who cannot be referred to the Karl Heusner Memorial Hospital in Belize City because they have no space in their COVID-19 unit. Meanwhile the mainland is experiencing daily deaths, with a current toll of 125 nationwide.
The cases on the island could see a further increase following the 43 samples taken on Tuesday, November 24th. A total of 15 of these samples were examined via rapid testing, yielding seven positive infections. These tests will be compared with a PCR to make sure they are indeed positive. In addition, Dr. Javier Canul at the Polyclinic reported that they have had cases of Dengue and COVID-19 in more than one patient. He urges islanders to take this as an eye opener and keep their guard up and continue adhering to safe practices.
COVID-19 affecting the elderly and vulnerable
Most of the deaths are the elderly and persons with underlying conditions. COVID-19 is no longer considered a respiratory illness but systematic. Persons with other health issues like diabetes, heart issues, and hypertension are the most vulnerable. The northern district of Orange Walk has the most registered deaths, with 51 fatalities, followed by Corozal with 32 and the Cayo District with 18. The country's fatality rate is now at 2.3%.
Northern Belize with the most active cases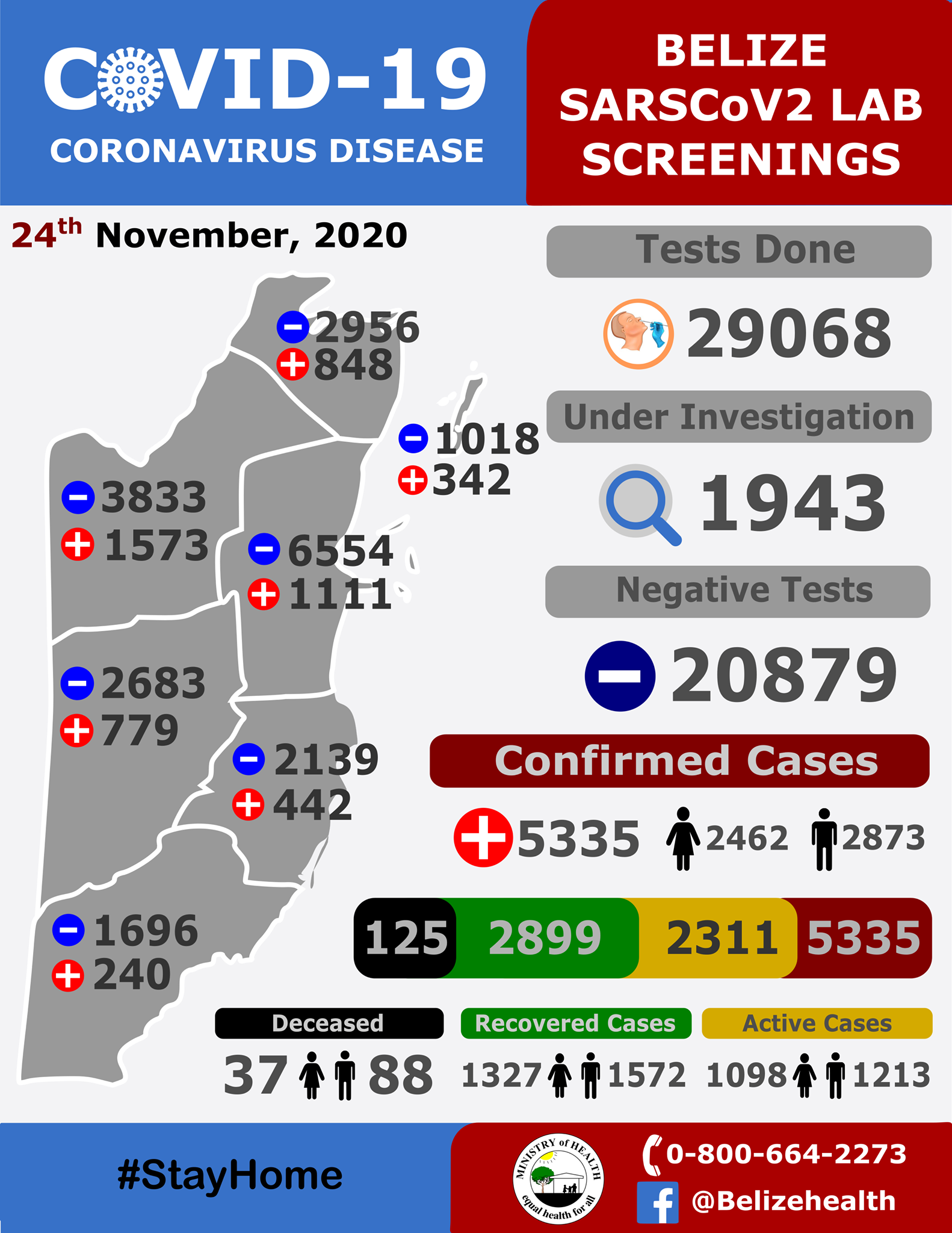 Active cases in Orange Walk lead with over 480, Belize District with more than 460, and the Corozal with over 450. At one point, San Pedro was the epicentre of the pandemic, with hundreds of cases plunging the island into lockdowns. Since then, the virus has been significantly contained, but single infections are reported almost daily. A spike in new cases is expected following the November 11th General Elections. Therefore, islanders are again urged to continue following the health safety protocols wearing masks, proper handwashing, practicing social distancing, and avoiding being in public as much as possible.
Currently, rapid testing continues in San Pedro, but it is only available to symptomatic patients and those close contacts of confirmed cases. This test produces results in approximately 30 minutes. Medical patients needing to travel can also get tested once they present their official doctor's request. Asymptomatic patients seeking a test will be swabbed, and the results could take anywhere from three to seven days to arrive.
The new government is yet to announce any details of new plans regarding the pandemic. The newly elected Prime Minister Honourable John Briceño, who recently tested positive for COVID-19, stated before elections that we need to learn to live with COVID-19. Without elaborating, he said they have a plan on how to deal with the pandemic effectively and efficiently while allowing people to go out and work. Briceño noted that if this is not permitted, people could starve.
The health personnel on the island advises residents that if they have had contact with a positive case and are exhibiting symptoms to visit the Polyclinic for an assessment. Anyone who has been tested is kindly asked to remain in isolation until they have received their results.
For emergencies do not hesitate to call the phone number 671-0911 or 672-0911.
Follow The San Pedro Sun News on Twitter, become a fan on Facebook. Stay updated via RSS