Dr. Marvin Manzanero's future in the Ministry of Health and Wellness remains uncertain
Tuesday, February 23rd, 2021
The contentious position for Director of Health Services (DHS) in the Ministry of Health and Wellness (MOHW) continues to be a hot topic after the current holder of such post, Dr. Marvin Manzanero, has allegedly been ousted from his office. Acting DHS Dr. Melissa Musa-Diaz, who now manages the office, received an unexpected endorsement from the Belize Medical and Dental Association (BMDA).
According to reports, when he returned to work, his office was no longer available, and he subsequently had to locate a new working space. Unofficial reports also indicate that he was offered a lower office as the head of the HIV Unit. If Dr. Manzanero was indeed demoted, a procedure must follow first. Any changes to the DHS post need to go through the Public Services Commission. It is alleged that such a process did not occur.
In a past interview with Minister of MOHW, the Honourable Michel Chebat, he told the media that the technical and administrative team were currently undergoing a thorough Human Resources assessment to place his team members where they best fit. "Dr. Manzanero is always welcome to be a part of our team where his expertise can be utilized," said Chebat.
In a letter dated February 18th sent to the Chebat from the BMDA expressed their satisfaction with Diaz's management of the pandemic as the Acting DHS. According to the letter, the doctors are pleased with the availability of Personal Protective Equipment recently. They said to be satisfied with the quickness in getting COVID-19 results, which has led to patients being isolated, treated sooner, and decreasing cases. The BMDA also pointed out that the medical community now has an active say in the fight and management of COVID-19.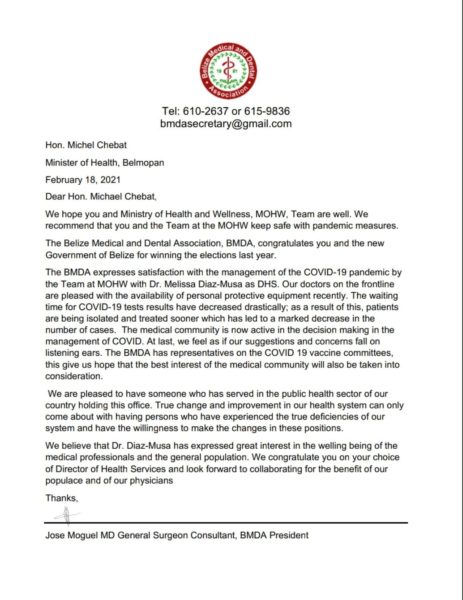 Many Belizeans do not agree with the treatment Dr. Manzanero is receiving from the ministry. Some believe that because the doctor was working under the previous administration, he was replaced. They deemed him as a great contributor to the fight against COVID-19 and deserved to be respected. Dr. Manzanero returned to work on February 15th after an extended sick leave when he tested positive for COVID-19 in early December 2020. After being released from the hospital, the doctor was given a prognosis for a long-haul recovery.
Follow The San Pedro Sun News on Twitter, become a fan on Facebook. Stay updated via RSS