Two businesses robbed over the weekend
Monday, October 24th, 2011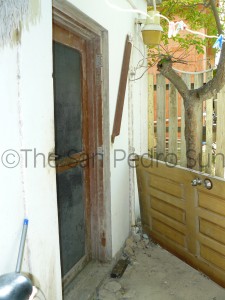 Police are investigating a burglary that occurred over the weekend of October 22nd-23rd at two establishments.
Dianita's Restaurant and the General Sales Tax (GST) office are located adjacent to each other on Coconut Drive, across from the Tropic Air Terminal. According to the owner of Dianita's Restaurant, the establishment was locked for the weekend on Saturday at around 5pm. When they came in to work at about 5am Monday morning, they discovered that they had been burgled.
Apparently, the burglar(s) gained access through the rear door of Dianita's by removing the door from its hinges. Once inside the restaurant, a pair of small earrings and the tip jar, containing approximately $40, were stolen.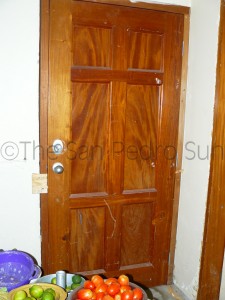 The place was also ransacked.
The burglar(s) then gained access to the GST office via a shared door, which, at the time, was boarded and sealed to keep both businesses separate. The seal was removed, and from the GST office, a laptop valued at approximately $2,000 – $2,500 was stolen. According to a GST employee, the laptop is the only item missing from the office.
No-one has been arrested for this incident, and San Pedro Police continue their investigation.
Follow The San Pedro Sun News on Twitter, become a fan on Facebook. Stay updated via RSS