It takes a community to fight crime!
Saturday, March 28th, 2015
The spike in crime has led San Pedro Police to implement several measures to try and bring back peace and stability to the island. One such measure is reaching out to the community. Retired Superintendent of Police and National Coordinator for the Auxiliary Police Unit, Rudolph Orio invited community members to a presentation on Tuesday, March 24th where steps were made to bridge the gap between police and residents. Religious members, elected officials, concerned citizens and even the business community attended the presentation at Living Word Church to offer their full support to the cause.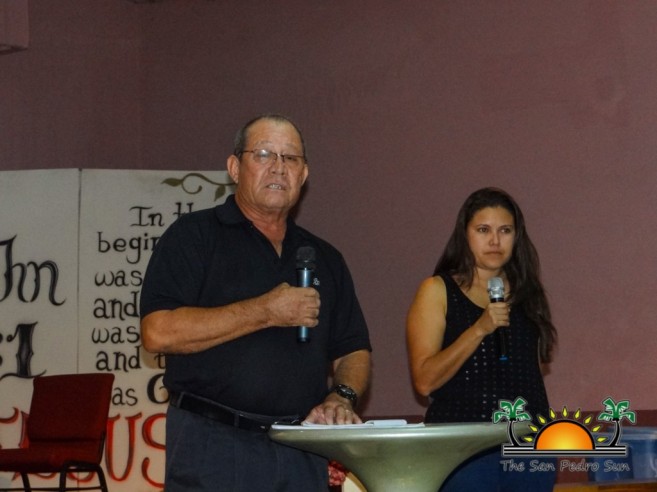 The presentation was regarding the Citizens on Patrol (COP) program and how the community plays an essential role in crime prevention. Before Orio took the stage, Pastor Ian Zaldivar led an invocation for strength to rid the island of crime.
Orio started by stating that the islands of Ambergris Caye and Caye Caulker are in s state of mourning because the recent criminal activity has affected us all. "My friends the community is you, and it is all of you that are suffering. The longer the community stays silent, the more you will suffer, because fear of crime feeds on silence. Gangs and criminals love areas where the community has fear. My advice to you is not to give over to these criminals. Gangs are recruiting children, our children, and it is you that are allowing it because you are not speaking up. We see these things happening, yet we do not voice out our concerns because of fear. If we allow fear to mandate our actions, then we will never achieve a better life for our children," said Orio.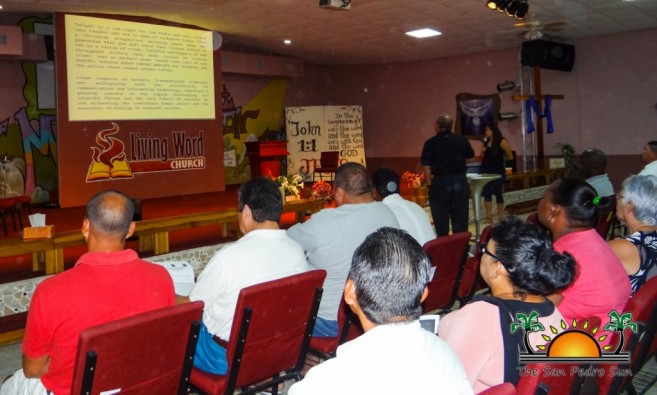 After opening remarks, Orio asked those that are willing to relinquish their fear and fight crime to stand up for the cause. All those in attendance immediately stood, pledging to work hand in hand with the police to rid the island of crime. He proceeded to state that it is also essential for there to a formation of religious leaders fighting against crime. "If we join our experiences together, we can bring a rainbow of experience to the community. It is overtime now that we take out a Spiritual Church Criminal Suppression Unit. This group would support police and government officials with zero tolerance towards gang suppression, youth problems, gambling, school violence and alcohol/drugs detoxification. Our children need counseling and mentoring and that can only come from us adults. We need to give our children positive vibes and guide them to reach a better future and be positive citizens," said Orio.
He continued by highlighting problems that the islands face, and the possible solutions. Orio also stated that elected officials need to make crime prevention a priority and not give a blind eye just because it is 'out of their jurisdiction'. "The community, police, private sector and town council need to unite as one team to reduce crime. Change is the law of life. If you are ready to help then you are the change. The community is an army on its own, an army that can fight crime and expel all those who only want to do evil. The police alone cannot ensure your safety. Crime respects no borders, social status, sex, gender or cultural background. We are witnessing the continued abusing and senseless killing of innocent people. Yet no one stands up to give information about these criminals. If you are not talking then you are protecting them [criminals]. People, it is time for change, break the silence and speak against these criminals that do not care about you, your family or this community," said Orio.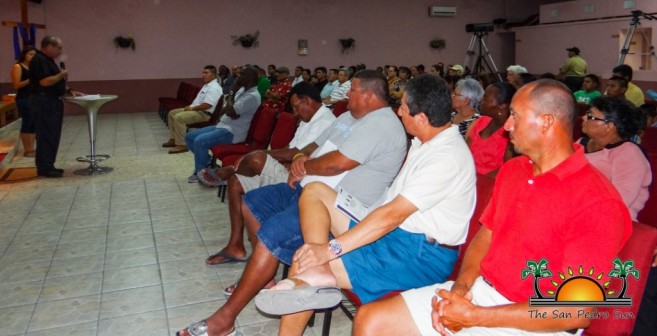 The presentation encouraged residents to join the COP programs, to start a neighborhood watch group, and provide information to the police.
Residents are urged to work along with the police in the fight against crime. The San Pedro Police Station can be reached at 206-2022 or you can visit the station on Pescador drive 24/7. For those who wish to remain anonymous contact Crime Stoppers Belize at 501-607-1484, email [email protected] or the toll free hotline 0-800-922-TIPS (8477). Reports can also be made directly to the Officer of Charge of the Coastal executive Unite, Assistant Superintendent Henry Jemmott at cell number 600-6423 or email addresses [email protected] and [email protected].
Follow The San Pedro Sun News on Twitter, become a fan on Facebook. Stay updated via RSS