Illegal plane landing in northern Belize prompts Mexican authorities to increase border presence
Thursday, October 24th, 2019
After the seventh suspected drug plane for 2019 landed undetected in northern Belize on Sunday, October 20th, Mexican authorities have increased their military presence along the border with Belize on the banks of the Rio Hondo. The illegal aircraft, a Hawker Siddeley 125 jet, with an estimated carrying capacity of 1.5 tons of cargo, was found empty near the community of La Union in the Orange Walk District. Belize authorities say they are working with their Mexican counterparts to deter such activities; however, they admit that because of the lack of resources, such as radar to detect these aircraft when they enter Belizean air space, their efforts will continue facing challenges.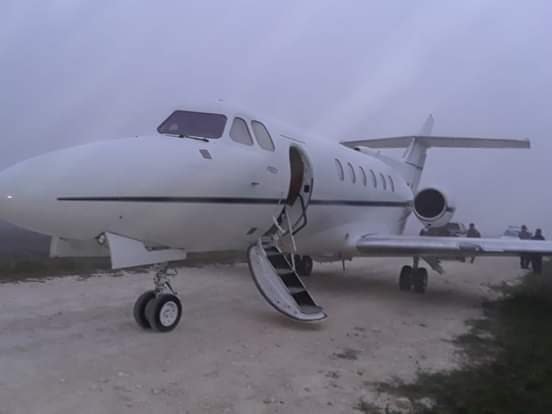 The Ministry of National Security weighed on the matter, which has become too frequent within the past year. In a press release on Sunday, they emphasized that the lack of radar prevents the ability to detect non-authorized aircraft. However, they commended their work as the number of illegal landings is said to be less compared to the same time last year. On Monday, October 21st, the Commissioner of Police (ComPol), Chester Williams, issued a press conference explaining that the police are doing everything they can with the resources they have available.
Williams indicated that the day before the plane landing, they had received information of four aircraft departing from Venezuela. They had no information as to where the planes were going to land. "In these cases, we have to find a way to deploy officers in different strategic locations across the country, and that can be a challenge," Williams said. Another challenge explained was the assembling of a response team. The ComPol stated that he always looks after the safety of his officers, and for a successful operation, they work along with the Belize Defence Force and members of the Special Patrol and Anti-Narcotic Units. Williams added that they continue exchanging information with their Mexican counterparts and is in close communication with them to hear if they intercept the suspected drugs transported in the plane.
The suspected drugs are believed to have made their way to the Mexican side; thus, the deployment of military elements along Mexico's border. The increase in the deployment of troops on the Mexican side is expected to improve surveillance in the area and deter future landings. They will monitor vast areas of jungle, dirt roads, and areas where the river is accessible enough for walking. Meanwhile, in Belize, the Hawker jet will join a fleet of abandoned drug planes kept by the government. According to reports, they are up for sale, but no one has shown any interest in purchasing the confiscated aircraft.
Follow The San Pedro Sun News on Twitter, become a fan on Facebook. Stay updated via RSS