Business owner charged for conducting restricted event; claims to have followed all health protocols
Thursday, February 18th, 2021
Well- known island business owner operating in the popular area of Secret Beach was charged for 'Conducting a Restricted Event' after holding a Valentine's beach activity.  The accused entrepreneur is chef and proprietor of Pirate's Treasure Restaurant and Pirate's Not-So-Secret beach bar Maresha Reid, who is scheduled to appear at the San Pedro Magistrate Court on March 3rd. Reid claims she complied with all health protocols when her business held a Valentine's Day party involving a bikini model contest. However, police say the event violated the current Statutory Instrument (SI) on Public Health Regulations that went into effect on February 1st .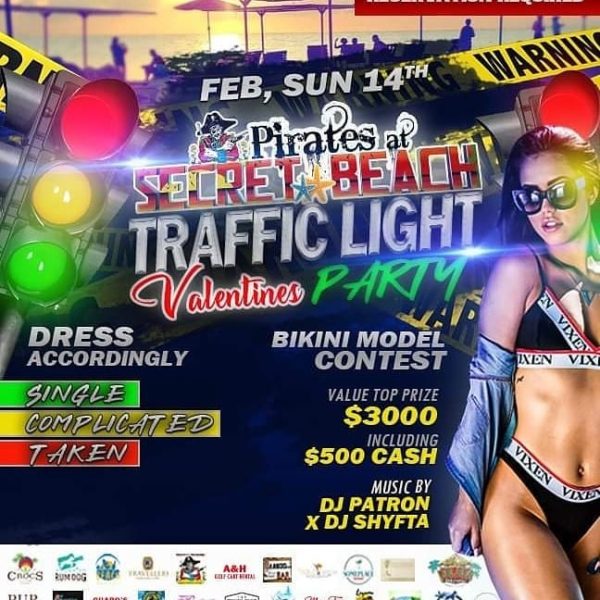 According to the protocol section of SI No.9 of 2021 of Public Health (https://bit.ly/3qzpCF4) regulation nine explains social activity restrictions. Regulation 9.– (1) states that 'for the purposes of preventing, controlling, containing, and suppressing the spread of the infectious disease COVID-19, no person shall host or attend: sub-regulation (b) a recreational or competitive sporting event or under sub-regulation (e) any social event.
A senior officer at the San Pedro Police Station stated that Reid was advised against hosting the alleged restricted event and was aware of the SI restrictions. Reid reportedly sought legal advice and continued with the event.
Reid defends her case
Reid maintains she obeyed the latest COVID-19 Quarantine Regulations requiring establishments such as restaurants to operate at a 50% capacity of persons on the premises. "I followed all protocols," said Reid. "We were very strict, and it all went smoothly." Reid maintains that she is not responsible for persons who were not on her premises as the beach is public property. "Our DJ did a great job reminding everyone to be seated, wear masks, and practice social distance." The event included bikini contestants who modeled wearing a mask.
Reid explained that the event had been advertised weeks before, and to maintain order and not violate any restrictions, reservations were required. There were check stations and signs encouraging social distancing, reserved tables were marked, security, and no bar service. She added that anyone not adhering to the safety protocols would not be entertained.
Reid believes that she was singled out because other establishments nearby clearly broke protocols, and they were not penalized. Reid was apprehended and said she had to spend a short time behind bars before being charged. She feels disappointed with the police treating her as a criminal and affirmed that police were around the area all day and all safety protocols were followed, but 48 hours later, unexpectedly, she was in trouble with the law.
Police state they enforced the law, and Reid will have the opportunity to legally fight her case at the island's Magistrate Court next month. It will be up to the Magistrate to decide whether Reid broke any regulations or if the police acted wrongfully.
Follow The San Pedro Sun News on Twitter, become a fan on Facebook. Stay updated via RSS