Meet your San Pedro Town Councilor Candidates- Part III
Thursday, February 5th, 2015
With the municipal elections right around the corner, The San Pedro Sun would like to take the opportunity to present the Councilor Candidates to the San Pedro Town public. As such, five questions have been issued to all candidates in an effort to learn more about them. In this issue, we feature responses from two candidates from The People's United Party (PUP) and two candidates from The United Democratic Party (UDP).
Gualberto "Wally" Nuñez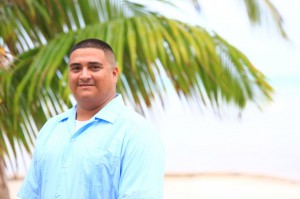 Representing Party: People's United Party
Why are you running again?
My reason for running again is because I can see the development of our island not going as planned or as promised by this administration. I see the need of proper management of the public funds and making keen decisions on what are the priorities in which those funds should be invested. Myself, as being the only elected representative of the opposition, have tried to influence the Town Council on coming clean with its finances. I have asked my fellow Councilors and the Mayor to obey the law and report their finances, as is required; but sadly this has fallen on deaf ears. Where are the quarterly reports to the public's money? Where is the audited financial report that was promised? Where are the PUBLIC town council meetings? If there is nothing to hide, then why hide everything from the public?
Which portfolio (s) have you held? What would you consider your greatest accomplishments within those portfolios?
My portfolios as council member are as follows: NEMO, Neighborhood watch, community protection and safety and drug awareness.
As an elected councilor with these portfolios on hand, I honestly have done my best with all assigned portfolios with little or no help from the council. We had drug awareness campaigns with local and national organizations, I have a great relationship with the police and I have been part of the NEMO group since day one with trainings and events. With respect to neighborhood watch which involves the police, neighborhood leaders and business people, we have been working tirelessly to make an effort in alleviating crime on the island. We have made several attempts to obtain support from our political leaders at a national level, to no avail. With that in mind, we have come up with a new initiative creating a group called the People's Coalition of San Pedro. This is the first movement of its kind which aims to directly get the mayor and the area representative to commit themselves with this group regardless of political affiliations to alleviate crime on the number one island of the world. I have been garnering signatures from those in our community to prove to both the mayor and minister that the people want action to be taken in respect to crime on the island and to pressure them to use their administrative power to get things done to help better police our community.
Do you believe that you have worked well with the council members of the other party? Do you have any examples of such?
As stated during our campaign for the previous election I would have rather worked with candidates of my own party; as we had plans which were more feasible and realistic, unfortunately that did not occur and I have worked to make the best of the situation as I have the interest of the entire public at heart. I honestly believe that I have worked with this council with the best of my ability given the resources made. I have worked together with councilor Gaby Nunez on several events pertaining to drug awareness and the youth, as well as on the special constable program with the police, and with councilor Kenrick Bracket for NEMO. I have shown during this past term that I can work with the opposition and should this occur again I can continue working with them.
Based on your campaign platform/or that of the slate you ran with, do you feel that campaign promises have been kept? Yes/No? Please explain.
Being part of the opposition and the only opposition member on the board, it is clear that the ruling party will want to follow their manifesto promises. If we look back to their manifesto and go one by one, anyone can see that it was not followed and nothing that they promised was followed through. Accountability and transparency has been one of their "priorities" and yet we have not seen any attempts to be transparent with the town council budget. We were promised a 24 hour hospital and a new school, none of which has been achieved despite 7 years in power at a national level and 12 years at the local level. Is this the continuity they are campaigning on? A promise to continue failing the island?
How would you grade your performance over the last term? A-F? Why?
I personally suggest that you take their past UDP manifesto and grade their performance. We have copies available to whomever may need them. My intentions as council member has always been there and worked with my respective portfolio at the best of my abilities, however, I know that the present council has intentionally neglected assisting my portfolio or to put other councilors to do what I was supposed to in order for me not to get the credit for it. This has never bothered me so long as the good works were completed. This is not about who gets credit for anything, it's about our people and putting people first is and always will be in my agenda.
Omar Guerrero

Representing Party: People's United Party
Why are you running, and what makes you a good candidate?
I am running because for the past 12 years there has not been respect to the people of Ambergris. There has not been an audit report, no accountability and transparency, but local government and local government.
Which portfolio would you like to fulfill and why?
I would like to deal with infrastructure. Biggest concern is streets, to open streets. Also to give special attention to development of new subdivisions for example San Pablo, San Pedrito 1 and 2, Eliot's subdivision, Escalante, San Marcos and San Diego.
If the opposition party should win most seats, how do you plan to work with them?
Yes, I would work well with them because it about making the community better and we can only do that united. In the past, the only time I had different members was when Mr. Heredia was a member of the town council. When we inherited a debt of over $250,000 which had to be repaid and was built up under his term.
Should you win, what would be your top three priorities for our community?
Back then we didn't have as many problems as we do now. I hope to focus on specific projects that I see that are needed in the community and to accomplish them.
Do you have any final comments for the electorates?
I have served twice as councilor and have served in sports. I spearheaded the Ambergris Stadium, pioneer of the five-aside. Build the five aside courts, in different occasions and different locations. Did numbers to prove that cobblestone streets were expensive at first but were cheaper in the long term. We did dozens of tournaments for football, basketball, volleyball, softball and darts. We spearheaded tournaments for juniors, seniors, ladies leagues and of course little leagues.
Flora Ancona

Representing Party: United Democratic Party
Why are you running, and what makes you a good candidate?
I was born and have lived all my 63 years on this island fully experiencing and actively participating in every progressive change we have seen. I love home and I've decided that I want to live life to its fullest, and the moments I feel most alive is when I'm serving others. Being part of our town council will allow me another medium to continue assisting my community.
Which portfolio would you like to fulfill and why?
I do not come seeking any particular position and it is ultimately the mayor's decision on how he can use me best. I have worked with humanitarian organizations, organized missionary projects along several religious groups, and been part of NEMO, worked with the Poly Clinic, served in school committees, served in the Trade Licensing Board, worked with the police as a Justice Of the Peace and been active in celebrating island culture and tradition. I am familiar with many of the town's affairs and ready to serve where I'm assigned.
If the opposition party should win most seats, how do you plan to work with them?
Yes, I like the plan that our UDP government has for this town and am excited to be a part of the team seeing them through but ultimately I am here offering myself to serve the people. And as a good servant I must do my best to look past party colors, social status, race, beliefs and see people for the special, unique beings they really are. When elected I'm eager to give my all to anything that is beneficial for San Pedro.
Should you win, what would be your top three priorities for our community?
As the woman in our slate, I will definitely voice the female point of view to the council. The issues affecting our San Pedranas is a strong priority.
To better compete in the tourism industry, we must strive to keep our product unique. I strongly believe that we do that by maintaining our Belizean traditions alive and that is something I will enjoy participating in also.
As the current contact for emergency evacuations that happen at night, I am well aware of the medical needs we have and would like to see these services improved.
Do you have any final comments for the electorates?
I would like to remind everyone that your voice is important, so on March 04 come out and vote. This is our home and if we all do our part it will always continue to flourish. Participate in our municipal elections and, as a member of this family, make your choice count.
Severo Guerrero Jr.

Representing Party: United Democratic Party
Why are you running again?
For the past three years, I believe that we have been a working Town Council following our victory at the polls. I have worked as a councilor ensuring that our town benefits the most from whatever we decide as a group. Although we have done great, there is still much more to be done. For this reason, I decided that three years was too little time to finish what I personally would like to see for my town and decided to once again offer myself as a councilor candidate to continue working for the best for my community.
Which portfolio (s) have you held? What would you consider your greatest accomplishments within those portfolios?
During our three year term, I have maintained Civic Infrastructure and Development in my portfolio. This portfolio is a challenging and demanding area. It basically entails the upkeep and development of the roads within our town. As everyone knows, this town council has invested greatly and heavily on hardcore for all the low lying streets in the area. We have cemented streets and opened new ones. Currently we can also see 4 miles of road up north being cemented. This was a project which we worked along with Central Government to make a reality. Perhaps my greatest accomplishment would have to be the elimination of most of the London Bridges in the San Mateo Subdivision. We continue to strive to fill the roads with organic material, as a base, and then fill up the streets with the appropriate fill. With three more years, I can say that the London Bridges will be a thing of the past in San Mateo.
I have also had Education and Health under my watch. In Education, I was instrumental in working to get three much needed classrooms for San Pedro R.C. School. In Health, I worked closely with the Dr. Otto Rodriguez Polyclinic to help better the services offered to residents as well as the environment in which they were working in.
Do you believe that you have worked well with the council members of the other party? Do you have any examples of such?
The people of San Pedro elected a split council last election. We were elected to serve the people, not a party. As such, I believe I have worked well with Mr. Wally Nunez. He is a personal friend of mine. I have backed him up on his requests and initiatives, which he has presented in meetings, to make our town better. That is what we were elected to do, to serve everyone not just a few.
Based on your campaign platform/or that of the slate you ran with, do you feel that campaign promises have been kept? Yes/No? Please explain.
I feel that we have accomplished most of what we had set out in our campaign. Although not all may be tangible, we have started others that have not yet finalized but are in the works. We strive daily to fulfill what we set out to do but there are limitations which we don't foresee that stall our plans. It's like building a house, although the contractor will give you a time frame of four months to finish it, there can be a prolonged rainy season that will not allow the contractor to finish in the specified time frame. It's the same with some of the plans we had for the town.
How would you grade your performance over the last term? A-F? Why?
I would grade our performance at a B. We have done and continue to do our best but I believe the work of the town is never ending. No town council will be able to do away with all the problems our town faces but as leaders we have to try and work towards that as our goal. As long as we give it our all, like we have been doing for the past three years, residents will see that we have our island at heart. On March 4th, the residents will show their appreciation by returning a UDP Town Council who will continue working tirelessly for them.
Follow The San Pedro Sun News on Twitter, become a fan on Facebook. Stay updated via RSS