Candidates officially nominated for 2015 General Elections
Monday, October 19th, 2015
On Friday, October 16th the 31 constituencies that make up Belize held Nomination Day to officially submit the names of the candidates who will be contesting the upcoming General Elections. With elections scheduled for Wednesday, November 4th, three candidates are now officially in the running for Area Representative of the Belize Rural South (BRS). Contestants representing the People's United Party (PUP), United Democratic Party (UDP) and the Belize Progressive Party (BPP) appeared before Returning Officer Martin Alegria and Election Clerk Leodan Torres at the San Pedro Town Council (SPTC) where they were nominated by six registered voters of BRS.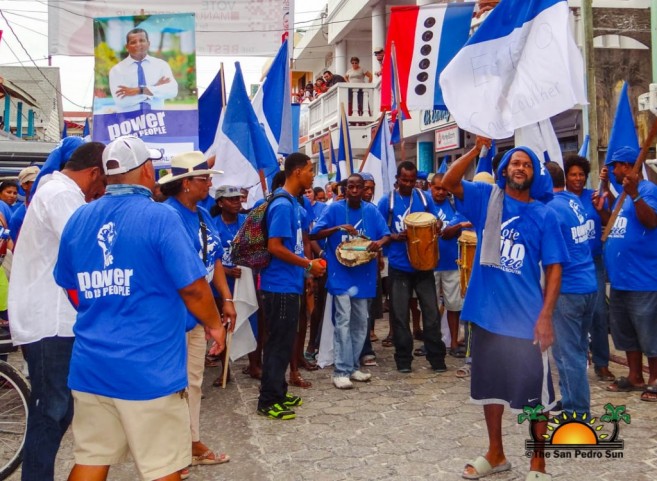 Opening the nomination process was the PUP with Jose "Elito" Arceo as their contesting Standard Bearer. Party supporters gathered from as early as 9AM at the beachfront of the Boca del Rio area. They then paraded across Laguna Drive to Pescador Drive, turning to Barrier Reef Drive where the crowd assembled in front of the SPTC. With a force of close to 250, the PUP did not lack energy as the chanted in support of their party and candidate.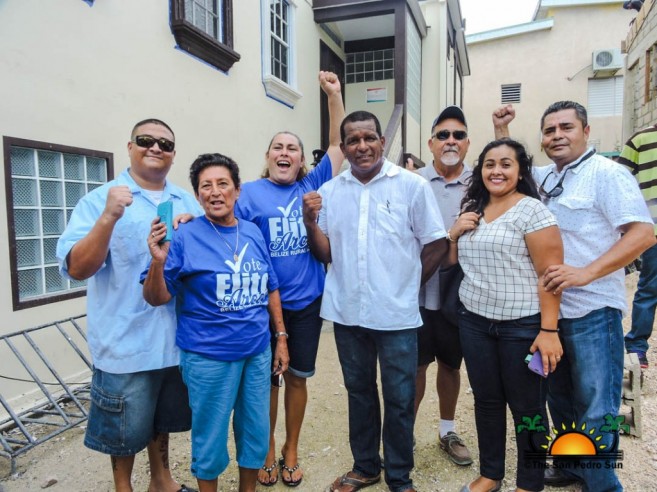 Once inside of the SPTC, Arceo was officially nominated by Gualberto "Wally" Nuñez, Marina Graniel, Edwardo "Giovanni" Solorzano, Ricardo Aguilar, Seleny Pott and Patricia Marin. After the nomination protocol, Arceo emerged from the building as supporters cheered him on. "I am humbled by the support everyone has given us in San Pedro and Caye Caulker. Thank you very much for coming out and supporting the PUP during nomination day. I feel ready and energized to take back this country. A change is coming at this election. People are fed up with the current administration. I urge all voters to come out and support because it is the people who have the power. And remember with the PUP change is coming," remarked Arceo.
Shortly after midday, Standard Bearer candidate for the BBP, Robert "Bobby" Lopez arrived at the SPTC to be nominated. BPP is a new political party, consisting of members from the Visions Inspired by the People, People's National Party, We the People and other independent candidates. While Lopez did not arrive with a large crowd, he was equally enthusiastic and determined as the other candidates. Lopez was nominated by Leilani Lopez Paz, Felipe Paz, Martin Dawson, Luis Cordova and Hilberto Sanchez.

In speaking to The San Pedro Sun, Lopez indicated that the BPP is ready for the 2015 General Elections. "This is my sixth election and I feel good. I continue to stick to what I have set up to do which is to plant the seed of change. Sometimes the harvest takes a while, but God wants to see our persistence, that we are serious and committed. So we will continue to plant the seed of change and when the people are ready for the change we will be ready. This is a historical election, never before in the political history of Belize has there been a formidable third alternative to the two mass parties," said Lopez.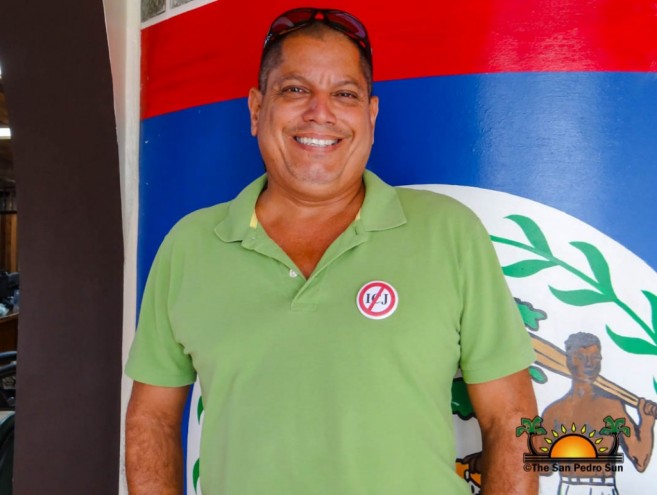 He went on discuss the political state of Belize. "Change starts with you the electorate. 34 years of UDP and PUP since independence have brought us failed systems and structures. We are at a serious junction in our history where we have experienced 17 years with each major party and as such it is time for the electorate to look back at the service that have been given and decide whether they want the trend to continue. Voters, this is an election where you should not vote because of emotion or political affiliation. You should vote by looking at the change and future you want to see in this country. The BPP is bringing a difference. We are bring reformed measurements that need to be put into place. And until those this is done our country will not see a change," said Lopez.
Last to be nominated was the incumbent UDP candidate, Manuel Heredia Jr. He rallied his supporters as they gathered on Barrier Reef Drive to march through the streets of San Pedro. With music playing, party supporters cheered for Heredia. Upon arriving at the SPTC, the crowd of supports gave one more celebratory cheer before Heredia and his nominators made their way inside the building.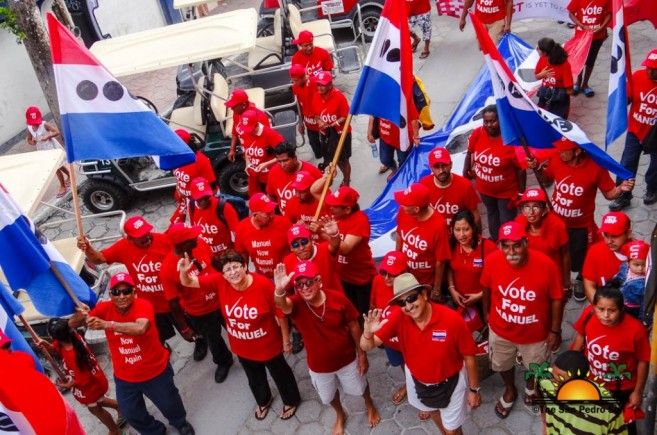 Heredia was officially nominated by San Pedro Mayor Daniel Guerrero, Juana Julia Martinez, Fernando Sosa, Ralph Humes, Maura Marina Fonzalez and Susana Cecelia Flores. In addressing the crowd, Heredia reiterated on the work done by the UDP administration. "I feel extremely happy to have the full support of my family, friends and the community of both Caye Caulker and San Pedro. Let us continue this harmony that we have manifested. Let us make sure that we continue to bring our islands to the highest level, particularly in tourism. As a whole, under the UDP, the country is being transformed and we want to continue doing this in the future. A lot more is yet to come," said Heredia. He indicated that his party is very well prepared for the upcoming elections. "When it comes to elections, we will bring out the crowd to support. I am confident with my people and I know we are heading for another win. The machinery is in place to ensure everything flows smoothly on Election Day. We will achieve our goal and I am grateful to all those who have help me in my election journey," ended Heredia.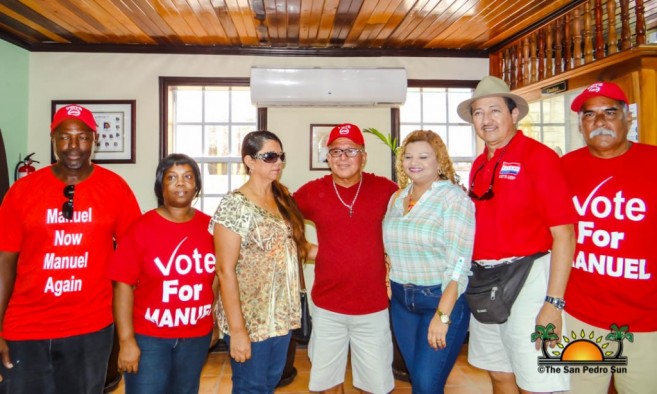 With Nomination Day over, the three candidates will officially appear on the ballot of the BRS constituency on November 4th. Registered votes will be allowed to cast their vote at the designated polling stations from 7AM to 6PM. Residents in San Pedro will be voting at the San Pedro High School, while Caye Caulker residents will be voting at the Caye Caulker Roman Catholic School.
Below is a list of all the official candidates contesting in the 2015 General Elections: Fort George – Said Musa (PUP), Roger Espejo (UDP); Pickstock – Dr. Francis Smith (PUP), Wilfred Elrington (UDP), Patrick Rogers (BPP); Caribbean Shores – Kareem Musa (PUP), Darrelle Bradley (UDP); Freetown – Francis Fonseca (PUP), Dr. Carka Barnett (UDP), Elizabeth Dena (BPP); Albert – Paul Thompson (PUP), Tracy Panton (UDP), Dr. Jose Luis Espat (BPP); Port Loyola – Gilroy Usher (PUP), Anthony Martinez (UDP); Mesoptamia – Berta Vaughan (PUP), Michael Finnegan (UDP); Collet – Yasmin Shoman (PUP), Patrick Faber (UDP), Raymond Rivers (BPP); Lake Independence – Cordell Hyde (PUP), Mark King (UDP); Queen's Square – Anthony Sylvester (PUP), Dean Barrow (UDP), Gary Matus (BPP); Belize Rural North – Lloyd Jones (PUP), Edmond Castro (UDP); Belize Rural South – Jose "Elito" Arceo (PUP), Manuel Heredia (UDP), Robert "Bobby" Lopez (BPP); Belize Rural Central – Dolores Balderamos Garcie (PUP), Beverly Castillo (UDP); Corozal North – David Castillo (PUP), Hugo Patt (UDP), Hector Palomo (BPP); Corozal South East – Florencio Marin Jr. (PUP), Evan Cowo (UDP), Edna Diaz (BPP); Corozal Bay – Gregorio Garcia Jr. (PUP), Pablo Marin (UDP), Roy Rodriguez (BPP); Corozla South West – Ramiro Ramirez (PUP), Dr. Angel Campos (UDP), Lucilo Teck (BPP); Orange Walk North – Ramon Cervantes (PUP), Gaspar Vega (UDP), Onofre Vellos (BPP); Orange Walk East – Josue Carballo (PUP), Elodio Aragon Jr. (UDP), Dr. Javier Reyes (BPP); Orange Walk South – Abelardo Mai (PUP), Guadalupe Magana (UDP), Hipolito Bautista (BPP); Orange Walk Central – Jon Briceno (PUP), Denni Grijalva (UDP), Phillip De La Fuente (BPP); Cayo North – Julius Espast (PUP), Dr. Omar Figueroa (UDP); Cayo North East – Orlando Habet (PUP), John August (UDP); Cayo West – Dr. Lesbia Guerra (PUP), Erwin Contreras (UDP); Cayo Central – Daniel Silva (PUP), Rene Montero (UDP); Cayo South – Michel Chebat (PUP), Ralph Huang (UDP), Andrew Williams (BPP); Belmopan – Patrick Andrews (PUP), John Saldivar (UDP), Charles Leslie Jr. (BPP); Dangriga – Anthony Sabal (PUP), Frank Mena (UDP); Stann Creek West – Rodwell Ferguson (PUP), Walter Garbutt (UDP), Milton Palacio (BPP); Toledo West – Mike Espat (PUP), Juan Coy (UDP), Estevan Assi Jr. (BPP); Toledo East – Oscar Requena (PUP), Eden Martinez (UDP), Wil Maheia (BPP)
Please help support Local Journalism in Belize
For the first time in the history of the island's community newspaper, The San Pedro Sun is appealing to their thousands of readers to help support the paper during the COVID-19 pandemic. Since 1991 we have tirelessly provided vital local and national news. Now, more than ever, our community depends on us for trustworthy reporting, but our hard work comes with a cost. We need your support to keep delivering the news you rely on each and every day. Every reader contribution, however big or small, is so valuable. Please support us by making a contribution.
Click to Donate
Follow The San Pedro Sun News on Twitter, become a fan on Facebook. Stay updated via RSS