Leader of the Opposition, Honourable John Briceño visits Ambergris Caye
Friday, May 26th, 2017
The Leader of the Opposition and the People's United Party (PUP), Honourable John Briceño, was on a working visit in San Pedro Town, Ambergris Caye on Thursday, May 18th to address various issues affecting the island, including preparations for next year's municipal elections. During a one on one interview with The San Pedro Sun, Briceño spoke about his party's priorities for the well-being of all Belizeans, stressing on education, health and jobs. The leader of the PUP later met with residents at a public meeting, where he further discussed his party's plans for the island and the country.

As part of his countrywide tour, Briceño is focusing in visiting all nine municipalities in view of the upcoming town council elections in March of 2018. He believes that in order to lead well, it is important to visit each community and listen to their challenges and see how people are living. The issues he sees in San Pedro Town are problems that need immediate attention. "San Pedro is a fast growing community, and there needs to be a balance in its development," he said. "There is the need for an environmental friendly approach, proper Environmental Impact Assessments for future project, in order to avoid catastrophic long-term consequences to the island." He blamed corruption for certain projects that have breached environmental laws. As a former Minister of Natural Resources, he believes that there needs to be a balance in the country's development. "We need to realize that our natural resources are the greatest assets of this country. If we lose them, many livelihoods will be affected."

Briceño then touched on the issue for proper medical health facilities and said that San Pedro is long overdue for a hospital. "A former PUP administration opened the first clinic on the island, and undoubtedly with the growth the town has experienced and the economic role that San Pedro plays in the country, it is about time the island gets a hospital," said Briceño. "Maybe not a tertiary level, but secondary where they can do small surgeries and continue stabilizing persons on major cases before they are transported to the mainland." This is an important necessity for the area, where thousands of tourists visit, and according to him it is an urgent priority as is education, which he is taking note of.
The need for children to have access to suitable education is also a priority. Briceño, said that due to the growth of the island's population there is the need for more schools. "We certainly need another primary school, followed by a future high school as well," he said. "The PUP believes that if we cannot provide Belizeans with a decent education, we are condemning them to perpetual poverty, so it is important to have enough facilities in every municipality," said Briceño. He also added, that education should be free of cost from pre-school all the way to sixth form, and that there should be options at vocational schools for students who may want to learn a trade of their choice.

Additionally, he stressed on the current issues of land distribution. According to him, every deserving resident in Belize Rural South and across the nation has the right to land. "The government has the moral responsibility to give to those that need, particularly our poor people." Briceño spoke of the right for Belizeans to have access to proper housing as well, consisting of standard homes with the basic needs for poor families. He further elaborated on the need for jobs. "All Belizeans must have access to a decent job, so that they can look after themselves and their families," he said. "But we know that the government cannot provide all the jobs, thus, we have the private sector involved, so there can be a balance. While, they make a profit they provide jobs, however again with an environmental friendly approach so there is no negative impacts on our resources." According to him, there are around 150,000 Belizeans who make less than $10 dollars a day. He pledged that his party is ready to work with Belizeans to address these situations affecting the poor of the country.
Caye Caulker is also included in the PUP agenda, and Briceño is aware of the concerns from the Hicaqueños who believe the government should do more for them. "Under a PUP administration, we would give more attention to the people of La Isla Cariñosa," said Briceño. He emphasized, that his party is all about treating all Belizeans equally, regardless of political affilations. "Our government has always been, and will always be, for all Belizeans," he ended.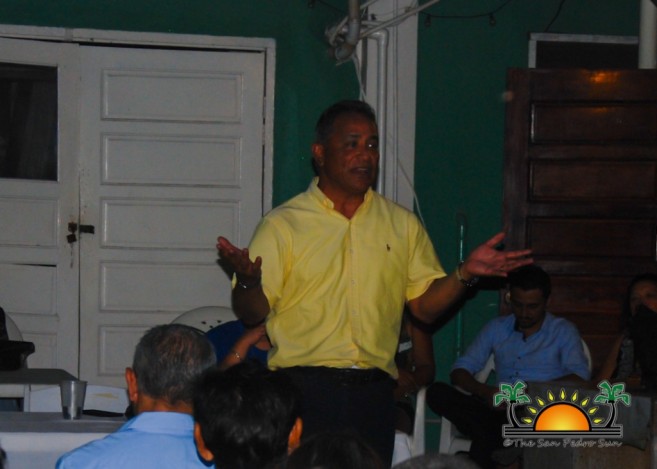 At a public meeting later that day, Briceño addressed a group of supporters encouraging them to support the PUP Belize Rural South Committee on the island, and upcoming members that will be aspiring to create the next town council on the island. He discussed with the attendees the deplorable conditions of some of the streets in town, and referred to the bad housing conditions of many islanders. "For the past 15 years, the United Democratic Party, has governed the island. It's time for a PUP town council to take over and bring fair development to the island," he said. Briceño claims that there is no equality towards the residents of Belize Rural South. "There is no accountability given to the residents on how their taxes are being spent. The PUP is all about transparency, that's why we need both a PUP government and town council in San Pedro Town," he stated. Attendees at the public meeting expressed their desire for a change and pledged their support to the party.
Briceño will continue visiting the other municipalities around the country, sharing the message that the PUP is preparing to once again take the reins of this country. According to them, it all begins with the municipal election and then gradually winning the next general elections and form a new government with new and better opportunities for all Belizeans.
Follow The San Pedro Sun News on Twitter, become a fan on Facebook. Stay updated via RSS