Former PM Dean Barrow answers to the Commission of Inquiry about sale of government assets
Tuesday, February 16th, 2021
Former Prime Minister and Minister of Finance Dean Barrow, along with Financial Secretary Joseph Waight and Head of the Vehicle Care Unit in government, Ruperto Vicente, was questioned regarding the sale of government assets before the 2020 general elections. The proceedings began on Monday, February 15th, and the newly appointed Commission of Inquiry, chaired by Senior Counsel Andrew Marshalleck, along with Marcello Blake and Luke Martinez, representing the business community and unions, respectively, made up the commission.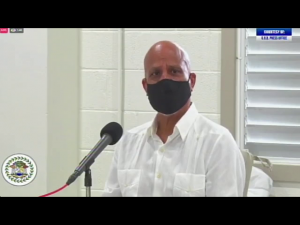 For more than an hour, Barrow was questioned about the alleged irregular sales of vehicles, mostly over October 2019 to November 2020. The former prime minister explained the process when selling government property such as vehicles. He said that the Head of the Vehicle Care Unit, Vicente, would write to the Financial Secretary, Waight to seek approval from the Minister of Finance. Barrow added that government departments and ministries would typically correspond to the said Unit, indicating that a vehicle was disabled and no longer in good conditions and therefore sometimes sold. According to Barrow, this is a political tradition around election time, whereby outgoing ministers, and Chief Executive Officers (CEO) would request to purchase a vehicle assigned to them. However, this time, Barrow said no authorization was given to sell any vehicles due to the pandemic. "We were talking about especially critically circumstances where the finances and pretty much everything else had been ravaged by COVID. The financial secretary, therefore, wrote a letter with my endorsement and blessing to the Cabinet Secretary to say let ministers, CEOs, all know whoever comes next there would be no money for replacement vehicles. So, we will sell to outgoing ministers and chief executives' officers no vehicle," said Barrow.
Sales still took place 
Despite Barrow's declarations, three persons could purchase their assigned vehicle before the general elections. According to reports, former Deputy Prime Minister Hugo Patt could buy a 2020 Toyota Tacoma for $65,000. Barrow claimed that although he supported such a purchase, his formal approval as Minister of Finance was never given. Barrow also defended two additional purchases honoured to former Senator Dr. Carla Barnett and retired President of the Court of Appeal Justice Manuel Sosa.
"Mister Justice Sosa during his entire tenure on the Court of Appeal refused to have any policeman and a driver to be paid for by government," Barrow said. "Those two things over that 21-year period saved the government a great deal of money. It my view, it would have been churlish, mean-spirited in the extreme not to have acceded to the request of Mister Justice. So, I told Joe I certainly support it. Of course, be sure to get a valuation from customs."
In Dr. Barnett's case, Barrow said she was retiring from politics and needed a vehicle in better conditions. Dr. Barnett was described as having served in different areas; thus, she asked to be granted the opportunity for a better vehicle.
Over 100 vehicles sold
During the period October 2019 to November 2020, 112 government vehicles were sold, totalling $300,000. Of this number, about 25 were sold weeks before the November 11th, 2020 general elections. Some of these sales saw a 2016 Toyota Hilux sold for $6,000 and a 2004 Rav4 for $10,000. Financial Secretary Waight confirmed the sales of many other government assets, including motorcycles, ATVs and most of these assets were labelled unserviceable.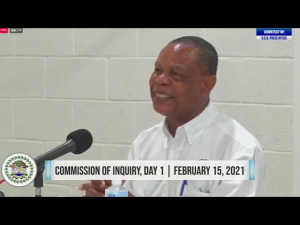 The Head of the Vehicle Care Unit, Vicente, mostly spoke about his role. "Once I get the indication that the vehicle is going to be disposed of the instruction comes to me with the letter, then I prepare the letter seeking approval of both the financial secretary and the Minister of Finance," said Vicente. He denied ever making a sale without adverting to the financial secretary.
Other items brought up during the proceedings involved the sale of air condition units, furniture, and laptops. 
At the end of the inquiry, Chairman Marshalleck shared that the commission will reconvene on February 26th, 2020. There is the possibility of having more witnesses testify as the final list is yet to be finalized. Marshalleck added that based on their investigation, there were errors in the documentation regarding the sales.
Follow The San Pedro Sun News on Twitter, become a fan on Facebook. Stay updated via RSS