Island businessman interrogated by the Commission of Inquiry on dubious land transactions and relation with former Deputy Prime Minister
Monday, March 1st, 2021
Following the installation of a Commission of Inquiry to investigate an alleged "fire sale" of government assets by the previous administration, a handful of persons were questioned during the first session, including former Prime Minister Dean Barrow. On Friday, February 26th, the commission interrogated another group of persons of interest, among them San Pedro's businessman Kevin (Zhourong) Li, who was questioned about his relationship with the former Minister in charge of the Lands Department Hugo Patt, and how he was able to obtain multiple properties within a short time.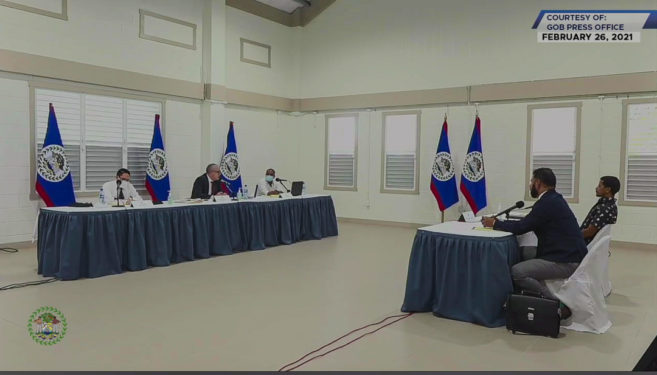 Li was careful in answering the questions by the commission's chairman, Senior Counsel Andrew Marshalleck. Li is said to have obtained several lots in 2020 just before the November general elections. It is estimated that the parcels of land were transferred to him in a short period. It is alleged that some of these were transfers from other individuals, and most of these titles were started and finished in one day.
According to Li, some of these lots were from third parties in need of funds because of the pandemic. Regarding the expedite processes, Li said he was not aware that some titles were issued on the same day. However, Li refused to name the parties he did business with by saying he did not remember most of these persons' names.
The relationship to Hugo Patt
The suspicion about why Li was able to obtain multiple parcels of land within a short time is believed to be his alleged relationship with the Lands Department boss and Deputy Prime Minister (DPM) Patt. The investigation stems from purchasing a late model government vehicle, a 2020 Toyota Tacoma previously assigned to Patt. It is said that monies to acquire that vehicle came from Li, instructing a third party to make such payment on his behalf.
When Patt was questioned, he denied knowing Li and could not recall the transfers of various parcels of land to the island businessman. According to Patt, the ministry of lands processes large amounts of applications. As for the vehicle in question, Patt admitted using an intermediary known as Juvencio Herrera to purchase the Toyota Tacoma on his behalf. The former Minister said he did so because he had personal money issues buying the vehicle for which $65,000 was paid.
The former DPM said he had arranged to pay back Herrera for the loan. Patt also claimed not to know who ultimately purchased the vehicle.
At the end of the day, chairman Marshalleck said to believe a link exists between the vehicle purchased for Patt and Li. He said he sees a clear connection with Li as the financier triggering the suspicious land transfers. On the other hand, the Leader of the Opposition with the United Democratic Party, Honourable Patrick Faber, believes the commission is on a witch hunt. Faber said the commission has failed to show how there was a fire sale of government assets.
Follow The San Pedro Sun News on Twitter, become a fan on Facebook. Stay updated via RSS