Race to THE HOTEL
Wednesday, April 11th, 2012
On Easter Saturday, twelve intrepid members of the San Pedro Youth Sailing program, two in each boat, raced from Caribbean Villas to The Hotel.  Molly Malone's Pub treated them to a leisurely and hardy lunch of hot dogs, mac & cheese, and drinks.  Then they changed crew mates and boats and raced back.
The races were done purely for fun, but served as endurance tests of a constructive sort.  It is about five miles between the two resorts, making these the longest races the young San Pedro crews have been challenged by so far.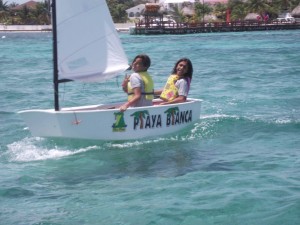 The race north was into the wind, which required the most tactical course changes.  On board the Playa Blanca boat, Kevin Velasquez and Jorge Oliverez led the entire way, only to discover an unlucky way to lose that their sage adult instructors had neither anticipated nor forewarned about:  they ran aground about 5 yards short of the finish line!  Blanca Velasquez and Zizi Ayala skimmed by them in the Playa Blanca boat to win by a nose.  Faith Noel & Lily Hayden aboard Caribbean Villas arrived in 3rd place.
The return south was a downwind broad reach that required finding and sailing the fastest but straightest of straight lines.  Having scooted across the start before the whistle blew, rascals Blanca Velasquez and Jerdon Anderson aboard Playa Blanca decided to visit the reef, instead.  Their experience kept them at a respectful distance from the reef and the race safety boat, Colombelle, pursued and made absolutely sure that they were merely "adventuring a bit wide of the course," as the saying goes.  First across the finish were Faith Noel and Lily Hayden in Caribbean Villas. Stephanie Keating with Kevin Velasquez took second in the Palapa Bar boat. Morgain Jones & Jorge Oliverez in Palo Alto crossed the line in third.
The results for the EASTER SUNDAY RACE are as follows:
Youth sailing returned to conventional racing on Easter Sunday.  The results in the final were:
1st Tiegan Jones in Palo Alto
2nd Kevin Velasquez in Caribbean Villas Hotel
3rd Mitch Sersland in San Pedro Weather
Submitted by Forrest Jones , Press Officer, San Pedro Sailing Club
Photo Gallery
Follow The San Pedro Sun News on Twitter, become a fan on Facebook. Stay updated via RSS