Surprise! Pro Divers Football Club win Mayor's Cup!
Thursday, December 11th, 2014
The Mayor's Cup Five-a-side Football Tournament came to an end on Sunday, December 7th, and in a surprising turn of events, Pro Divers FC won the championship! After last week's thrilling first leg of the semifinals, the four top teams faced off once again on Saturday, December 6th in hopes of earning a spot in the championship match held on Sunday, December 7th. Dorados FC led the entire tournament, but in they end, it was Green House FC and Pro Divers FC facing off for the championship. After 45 minutes of pure adrenaline, Pro Divers took the victory in a most unexpected finale.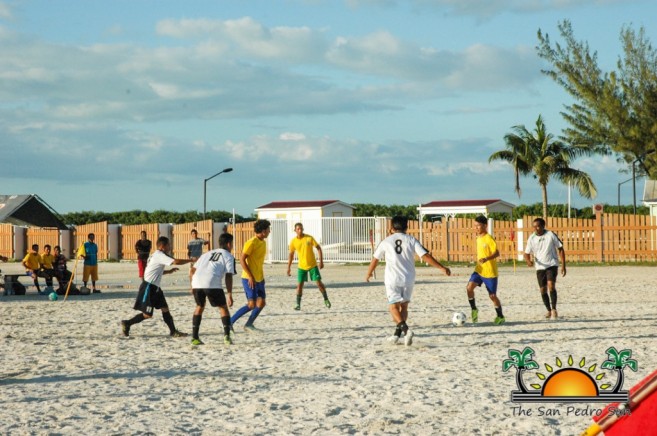 The semifinals were a surprise too, and should have predicted an unexpected finals. The Green House FC, FC Aluminum Fabricators, Pro Divers FC and Dorados FC battled once more in the second leg of the semifinals on Saturday, December 6th. Both Pro Divers FC and Green House FC had won their first match in the semifinals in a 3-1 point game, leaving GC Aluminum Fabricators and Dorados with little hopes of making it to the finals.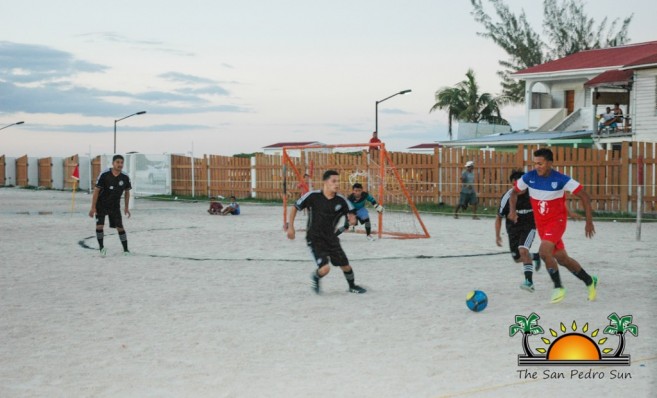 In the first match of the night, Green House FC defeated FC Aluminum Fabricators with a 3-2 score. Dorados FC won the second match of the night against Pro Divers FC in a 2-1 point game. With the semifinals officially over, organizers tallied the four teams' aggregate scores to determine who would compete in the championship match and who had to settle for the third and fourth place match. Green House FC was the first team to advance to the championship match with six points total. Pro Divers FC took the second stop in the championship match with four point. Both FC Aluminum Fabricators and Dorados FC ended up with three points and had to settle for the third place match.
Anticipation grew on Sunday, December 7th as football fanatics came out to the Honorable Louis Sylvester Arena (Saca Chispas) to support their favorite team. The first game of the day was to decide who would take the third place. Dorados FC and FC Aluminum Fabricators were ready to give it their all when the game kicked off. Francisco Noralez scored first for FC's Aluminum Fabricators, but Dorados FC's Jose Chimal quickly retuned the favor to tie the game. With time winding down, Noralez scored the decisive and winning goal. The game ended in 2-1 point victory for FC Aluminum Fabricators.
Despite leading the entire tournament it seemed Dorados FC didn't hold up under pressure and in the end, were eliminated. With the third place winners decided, it was time for the big championship match. Both Green House FC and Pro Divers FC confidently took to the field, ready for the win. Jesse Smith scored the first goal for Pro Divers FC, but Green House FC's Jose Rodas promptly responded with a goal of his own. Tied with one goal each, tensions were on high as time wound down. Both teams fought for the victory, but it was Jason Valladarez from Pro Divers FC who scored goal number two, securing them the first place win! Green House FC had to settle for second place.
Immediately after, awards were issued by Deputy Mayor Gabriel "Gaby" Nuñez. The Best Team Manager award was given to Emiliano Oliva from Pro Divers FC. Venecia del Caribe FC received the Best Sportsmanship award. The Most Goals award went to Mario Chimal from Dorados FC for scoring 11 goals in the regular tournament season. Pro Divers FC's Dwayne Tillett was award both Best Goal Keeper and Most Valuable Player. FC Aluminum Fabricators received $500 and the third place trophy. Second place champions Green House FC received a trophy and $750. Champions Pro Divers FC received the grand first place trophy, $1000, as well as individual trophies for the team members. In addition, all ten teams received certificates of participation.
The tournament organizers, Kenny Witzil and Jesus Lozano, would like to congratulate the champions, Pro Divers FC and the sub-champions, Green House FC. They also acknowledge and thank all the ten participating teams of Mayor's Cup. Jesus Lozano was vocal about his desire to run a successful tournament. "For us it has been a learning experience, a very challenging task to accomplish, but at the same time it is something that we hold very dear to our hearts because it is a sport that we enjoy playing. Our intention was to have something positive and constructive going on. Moreover, it is something that our community needs and we wanted to spark some excitement and fun on the weekends. What better way than to engage in playing football! We gave it our very best and we know that there is ample room for improvement. We express our most sincere gratitude to all those that participated and contributed in making this a reality. We hope that there could be continuity in promoting events like these. It is something very vital and desperately needed within our Belizean communities, we have a lot of talented individuals (youth especially) here in our community, but we need to have the right mechanisms in place so that these skills and talents can be nurtured, showcased and further developed. SPORTS is very ESSENTIAL and we should look into ways in which we can promote it. Organizing and having continuous, all year round tournaments could be a start. I sincerely believe it is something worth discussing and it has a lot of POSITIVE benefits to a community and its residents. Moreover, it serves as a positive alternative that helps engage individuals/families (youth and seniors) in a positive, healthy and fun atmosphere."
Organizers thank Mayor Daniel Guerrero, The San Pedro Town Council, Deputy Mayor Gabriel Nuñez, Gaby's Construction and crew, Roberto Canul Jr., Kent Gabourel Jr., Angie Olivarez, Hector Alamilla Jr., the referees- Everal and Martin, the children who were always assisting- Juanito and Brandon, Julio Requena (DJ Tribal), and The San Pedro Sun.
Follow The San Pedro Sun News on Twitter, become a fan on Facebook. Stay updated via RSS