Mayor's Cup kicks off
Saturday, November 1st, 2014
Football action is back on in San Pedro with the Mayor' Cup five-a-side football tournament. The first round of games in the tournament were held from Friday, October 24th to Sunday, October 26th at the Honorable Louiss Sylvester Arena. The ten participating teams will be facing off in a series of matches that will determine the champions of the Mayor's Cup and receive the coveted first place prize of $1,000 cash, a trophy and individual medals.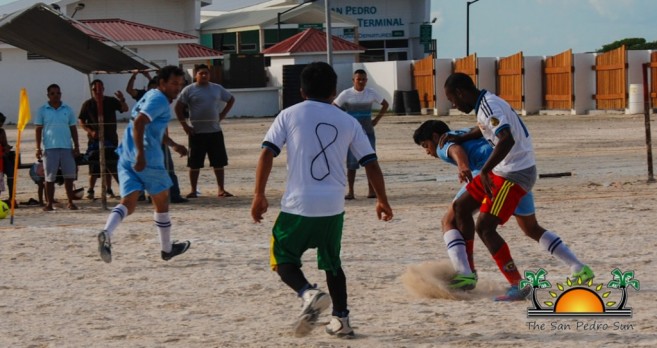 The first game day was held on Friday, October 24th starting at 7PM and saw two matches being played. First to take to the field was Warriors FC versus FC' Aluminum Fabricators. Both team were composed of well seasoned player who definitely played a memorable match but in the end it was FC's Aluminum Fabricators that took the win with a 2-1 score. Next up was Venecia del Caribe FC against Swampedrito Lazy Boys. Don't let the name fool you, the Swampedrito Lazy Boys sure know how to play and easily defeated Venecia del Caribe FC in a 3-1 point game.

On Saturday, October 25th the second game day was held and saw three matches. Kicking of the night at 7PM was Island Pure FC and Eagles FC. Both teams played well but Island Pure managed to out score their competitors in the second half taking the win with 2-1 point score. The second match Green House FC defeated Airstrip Taxi Strikers FC in a 5-1 point game. The last match of the night saw Pro Diver FC facing off Dorado FC. Unfortunately for Pro Divers they couldn't manage to make a single score, so the match ended in a 0-3 win for Dorado FC.

The last game day of the first round was held on Sunday, October 26th starting at 3PM and saw five matches. In the first match Venecia del Caribe FC defeated Airstrip Taxi Strikers FC in a 2-1 point match. The second game was between Swampedrito Lazy Boys and Pro Divers FC.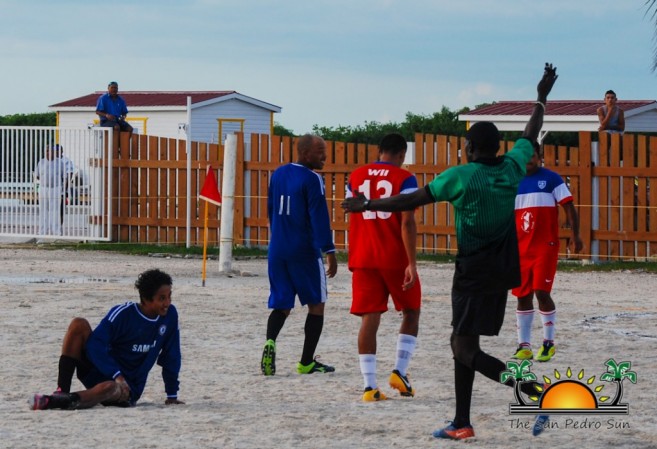 Once again Pro Divers failed to perform and the match ended in a 1-0 win for Swampedrito Lazy Boys. The third game was a grueling match between Eagles FC and Warriors FC. But teams wanted the win but a mistake from the Warriors resulted in a 3-2 win for the Eagles. Green House FC and FC's Aluminum Fabricators faced off in the next match. The game ended in a 2-2 tie. In the last match Island Pure FC suffered a devastating 1-6 loss to Dorados FC.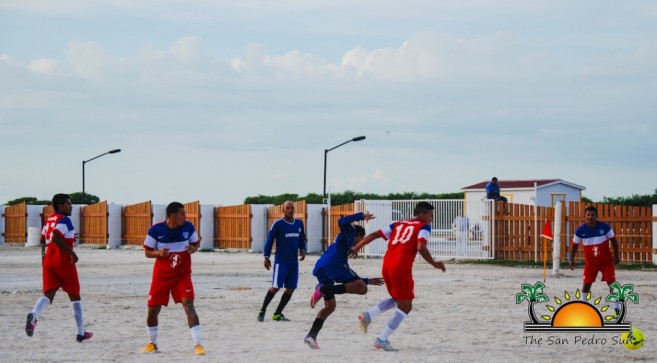 Teams standings are as follows: Dorados FC in 1st with eight points, Swampedrito Lazy Boys in 2nd with six points, Green House FC in 3rd with four points, FC's Aluminum Fabricators in 4th with four points, Eagles FC in 5th with three points, Venecia del Caribe in 6th with the points, Island Pure FC in 7th with three points, Warriors FC in 8th with no points, Airstrip Taxi Strikers in 9th with no points and Pro Divers in 10th with no points.

With the first round over, the matches will only get better. Everyone is invited to come out and support their favorite team. Schedule of the next round of games is as follows: Friday, November 7th starting at 7PM- Island Pure FC versus Airstrip Taxi Strikers FC and Eagles FC versus Pro Divers FC, Saturday, November 8th starting at 7PM- Green House FC versus Dorados FC, Warriors FC versus Venecia del Caribe FC and FC's Aluminum Fabricators versus Swampedrito Lazy Boys, Sunday, November 9th starting at 3PM- Venecia del Caribe FC versus Dorados FC, Eagles FC versus Airstrip Taxi Strikers FC, Green House FC versus Pro Divers FC, Warriors FC versus Swampedrito Lazy Boys and FC's Aluminum Fabricators versus Island Pure FC.
Big thanks goes out to Mayor Daniel Guerrero, The San Pedro Town Council, Deputy Mayor Gabriel Nunez, Roberto Canul, Tito Alamilla, The San Pedro Sports Committee, Kent Gabourel and Angie Olivarez. For more information contact 664-7566 or 607-1543.
Follow The San Pedro Sun News on Twitter, become a fan on Facebook. Stay updated via RSS