Australian Rugby Player Ed Stubbs visits the San Pedro Turtles
Monday, June 22nd, 2015
26-year-old professional rugby player from Australia, Ed Stubbs met up with Rugby Belize founder, Tony Gillings while vacationing in San Pedro Town. Stubbs recently took a leave from his rugby career to recover from injuries and embarked on a tour of Central America. After learning about Rugby Belize and getting in contact with Gillings through a social media outlet, he decided to that on his visit to Belize, he would like to get involved with one of the teams. On Tuesday, June 16th Stubbs took the time to meet up with the San Pedro Turtles, the growing local rugby club. Stubbs expressed delight on the sport being introduced to Belize.

Formerly a member of the Western Force, a rugby union team based in Perth, Western Australia, Stubbs has been playing the sport since the age of five. "Everyone knows about rugby in Australia. It is a big sport. So when I heard that there were rugby teams in Belize, I was eager to check it out," said Stubbs.
Rugby is a style of football that encompasses scoring goals against the opposing team by either running with the ball in hand or kicking it. Rugby Belize aims to promote the growth of rugby seven in the country. "Rugby sevens is similar to rugby only that instead of 15 players per team, there are seven and the game time is shorter. It's a great sport for children and adults. Rugby sevens has blown up in the past years, especially since it is going to be featured in the 2016 Summer Olympic Games in Rio de Janeiro, Brazil. Since I have the experience playing rugby sevens, I thought it would be great for me to share my experiences with those interested in the sport in Belize," said Stubbs.
Very passionate about the sport, Stubbs indicated that rugby is great extracurricular activities fro person of all ages. "You get to meet a lot of new people playing rugby. This is a fun community sport. Children can make new friends with a common purpose. Once you get to know the rules, you can't help but love the sport, rugby is a very positive activity that teaches discipline and is an outlet for violence and anger. In Australia, rugby helps teach school children discipline and respect for those in authority. This is something that can really benefit the Belizean community," said Stubbs.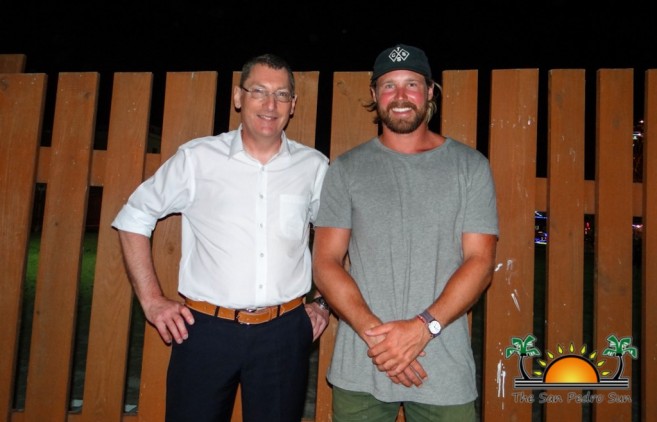 In order to continue promoting rugby in Belize, Gillings recently moved to the country from his homeland, Ireland. While Rugby Belize is still in the process of having the sport officially recognized by the Belize National Sports Council, Gillings did indicate that rugby has gained much interest in the south. "I'm grateful for Stubbs coming down to help promote the sport. The more professional rugby players that come down to Belize to meet those people who are interested in it will help promote the sport. It also gives children the chance to meet a sportsman that they otherwise would never get to meet. Because rugby is so new here every little thing counts and we see that the spark is growing. We have two rugby seven teams that have just formed down in Punta Gorda. We also have teams in Hattieville, San Pedro and Orange Walk. We hope to get recognized soon, but we continue to move ahead. Slowly but surely," said Gillings.
Persons interested in learning more on the sport can visit www.rugbybelize.com or may contact Tony Gillings at [email protected]
Follow The San Pedro Sun News on Twitter, become a fan on Facebook. Stay updated via RSS