3rd Annual Kayak Island Challenge held in Caye Caulker
Friday, April 1st, 2016
Caye Caulker held their Third Annual Kayak Island Challenge on Holy Saturday, March 26th. The competition saw seven brave kayakers take on the challenge, which took them around the entire island and covered a total of 12 miles. At the end of the arduous race, many of the competitors walked away with fabulous prizes.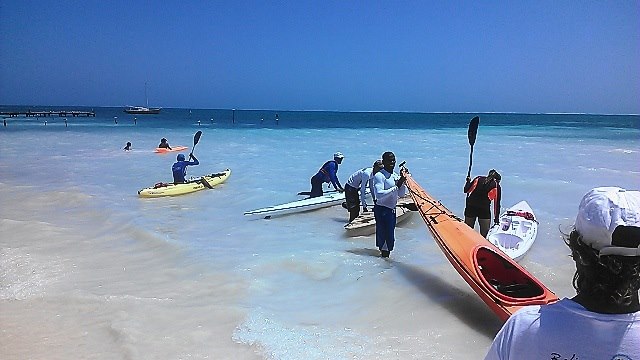 Organized by Robert Blease and the Caye Caulker Tour Association, the race began at 11AM and included three categories: Men's Single, Women's Single and Rudder. The kayakers left from Palapa Gardens located near the Rainbow Restaurant area, up towards the northern part of the island, then made a left turn and kayaked south on the leeward side of the island. At the end of the southern- most point of Caye Caulker, the competitors turned left again, facing the Barrier Reef and returning to the finishing line at Palapa Gardens.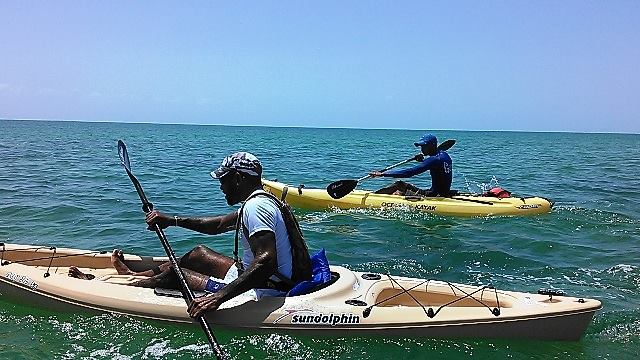 The competition lasted over two hours, and the first to reach the finish line with an exact time of two hours was Chris Guydis from Paddle Stop. He was the only participant in the Rudder Category who used a surf-ski on top of a racing kayak. He was the overall winner and opened a gap of about 21 minutes on the second place overall winner. Guydis picked up a $300 cash prize with a trophy and won all station prizes along the way.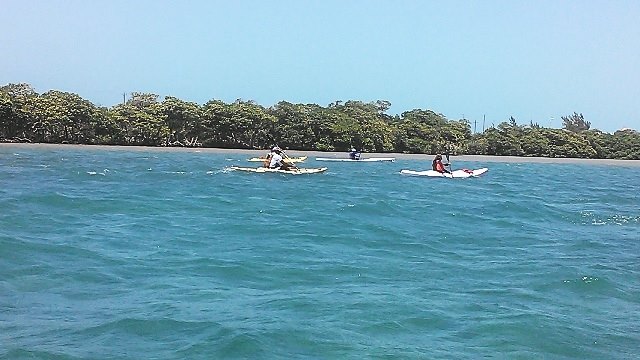 "The surf-ski will most likely be the racing kayak of choice in the near future here in Belize," stated Blease.
The only other single entrance was in the Women's Single Category. Allie Johnstone won that category, picking up $500 cash prize and trophy, and fifth place overall.
The most contested category was the Men's Single, in which there were five participants. At the end of the race, claiming the first place Male and second overall was Steve Arnold, who won $800 and a trophy. Second place Male and third overall was Jerry Rhaburn, he won $400 and trophy. Third place and fourth overall was Kenrick Daniels, who paddled away with $200 and a trophy.
All other participants were recognized for their participation and encouraged to participate in next year's competition.
Organizers of the event would like to thank all the sponsors for making the race possible. They also thank all the participants for their effort and for continuously showing support for the sport.
"I would really like to encourage more young people to get involved in this annual event," said Blease. "It is a good discipline that can mold our future athletes."
Follow The San Pedro Sun News on Twitter, become a fan on Facebook. Stay updated via RSS