BTB and Love FM join forces to host first ever Sea Challenge Kayak Race
Saturday, May 12th, 2018
In seeking to continue highlighting the beauty of Belize and its Caribbean coast, Love FM and the Belize Tourism Board (BTB) have partnered to bring a new sport challenge; the Belize Sea Challenge. The competition will see kayakers compete in a 218- mile race starting from Punta Gorda Town in Southern Belize on Thursday, May 17th, and culminating on Monday, May 21st in Corozal Town, northern Belize. The race features fabulous station prizes and is expected to raise the marketing bar on Belize as the ultimate tourist adventure destination.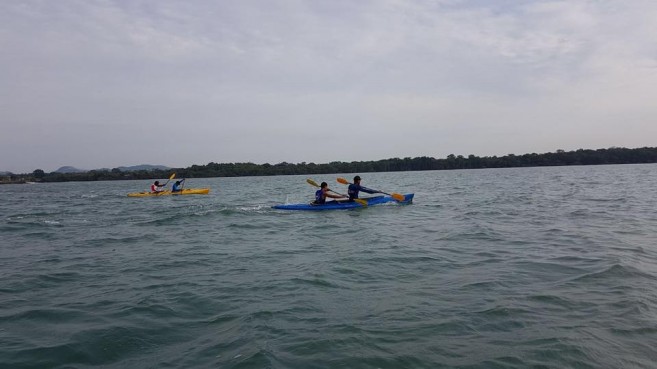 The five-day race will be divided into three categories (male, female, and mixed) and will make overnight stops in Placencia Village, Dangriga Town, Belize City, and San Pedro Town. All kayaks must be double-seated open water sea kayaks, and up to 20 feet long. According to BTB's Director of Marketing and Industry Relations, Karen Pike, this will be an opportunity to focus on Belize's coastal properties. "This will definitely highlight some of our culture, some of our local communities and just give them exposure and know that BTB fully supports them," said Pike. The idea of the race is to also expose Belize in terms of its approach to marine life sustainability. "This will be brought out in the various promotions, something that is very important on a global scale," said Pike.
Teams interested in participating can have up to four paddlers, two of which must start and complete the race each day in order to achieve official ranking and place. The third or fourth paddler will be allowed to enter the race at the changing points assigned. These include Avalon Caye, Monkey River, Riversdale, Hopkins, Gales Point Manatee Bar, Old Belize, St. George's Caye, Caye Caulker, Blackadore Caye, and Sarteneja. The team's captain will be responsible for the actions of his team and communicate with the race committee.
During the five-day race, the first three teams arriving the respective finishing points will receive cash station prizes. The first team arriving at each station will win $1,000, while the second team will receive $500 and the third $250. At the end of the race in Corozal Town, overall winners will be awarded with a trophy and more cash prizes. First place will receive a cash prize of $2,000 and the BTB/ Love Belize grand trophy. The team in second place overall will be awarded $500 and the third place will receive $250.
The deadline for registration is Wednesday, May 16, 2018. A non-refundable registration fee of $500 per team will be charged, and registration forms can be obtained by emailing [email protected] or by visiting the offices of Love FM in Belize City. The registration fee will cover lunch for five days, and water for registered team members during the course of the race. The fee will also include basic first-aid and safety support, toilet facilities at nightly camps as well as access to scores during the race. A $100 late fee will be charged for any registration form submitted after the deadline date.
All registered teams will be required to attend a pre-race meeting at a venue yet to be decided at 4PM. Teams are encouraged to listen to the radio and check their emails for further information regarding the race.
Follow The San Pedro Sun News on Twitter, become a fan on Facebook. Stay updated via RSS