First ever Ball Hockey Caribbean Coconut Cup coming to La Isla Bonita!
Wednesday, February 1st, 2017
The Caribbean Coconut Cup will be the first ever International Field Hockey Tournament to be played in Belize. The event will be hosted on Saturday, February 4th at the San Pedro High School's (SPHS) Angel Nuñez Auditorium, at 4PM. Following the official opening ceremony, Belize's only ball hockey club, the San Pedro Buccaneers, will face the Tropical Knights from Toronto, Canada.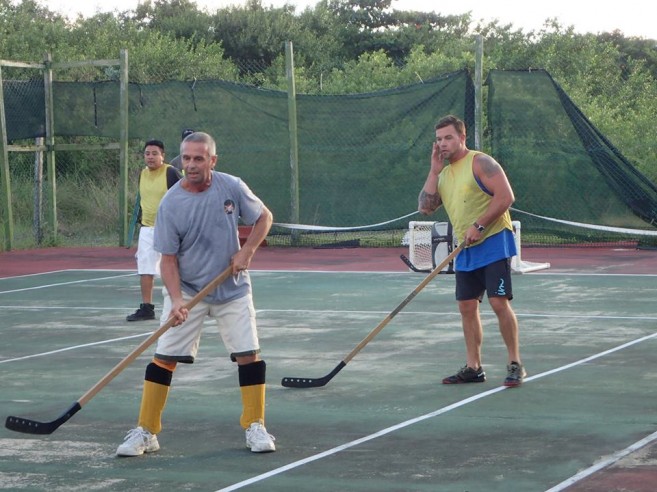 Entrance is free, with food and $4 rum drinks and beer on sale. There will be three teams participating in a 'Round Robin' tournament: the Tropical Knights from Canada (the professionals), the San Pedro Buccaneers SS1 (the young members), and the San Pedro Buccaneers SS2 (the older experienced members).
According to organizer Victor Murphy, this tournament was requested by Withrow Park's Hockey Club. "The Tropical Knights, which is under the Withrow Park Hockey Club, dared to challenge the San Pedro Buccaneers on the ball of hockey. I mean, the winner will take all! We gladly accepted the offer, and extend a very warm welcome to our guests from Toronto. We hope they can experience the warmth of the people and the wonderful sights and sounds that this dream island and the country of Belize has to offer," said Murphy
Due to Superbowl 51 happening on Sunday, February 5th, the finals have been rescheduled for Monday, February 6th at the same venue, starting at 3PM. Murphy invites the community to come out and cheer on their favorite hockey team!
This tournament would have not been possible without the help of the following people: SPHS Emil Vasquez for the use of the venue, Hector Alamilla, Kent Bob Gabourel, all members of the San Pedro Hockey Club for giving so much of their personal time and effort. They thank the following sponsors: the San Pedro Town Council, Lily's Treasure Chest Restaurant, Caye Coffee, Crazy Canucks Bar, Wayo's Beach Bar, Island Tackle Bar, Belikin Beer, and Sandbar. Don't miss this event—it's sure to be a fun one!
Follow The San Pedro Sun News on Twitter, become a fan on Facebook. Stay updated via RSS