San Pedro Veterans to take on Benque Vets FC in semi-finals match
Thursday, September 21st, 2017
After coming out on top during the regular season of the 2017 Over-40 League, the San Pedro Veterans are in the semi-finals looking for the big win. The tournament between eight veteran football teams from across the country is winding down, with only two games left before the anticipated finals.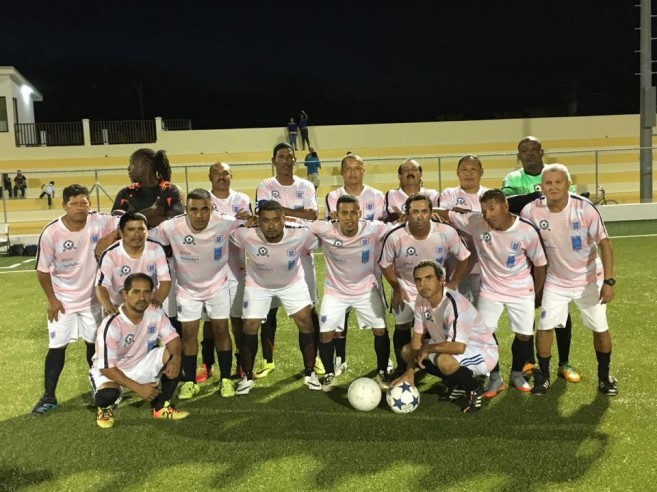 The Over 40 League kicked off back in June 2017, with the San Pedro Veterans registering nine wins, three ties and two losses. At the end of the regular season, the four teams moving on to the semi-finals were the San Pedro Veterans with 30 points, Belize City Kulture Yabra with 26 points, Mango Creek Veterans with 25 points and the Benque Vets FC also with 25 points.
The first round of the semi-finals matches were played on Saturday, September 16th, where the San Pedro Veterans soundly defeated the Benque Vets FC in a 3 to 1 point game. Also taking the win in their first semi-final game were the Mango Creek Veterans, who defeated the Belize City Kulture Yabra 4 to 0.
In the next round, the home team will once again take on the Benque Vets FC at the Ambergris Stadium on Saturday, September 23rd. Everyone is invited to come out and support our football veterans. The game starts at 7:30PM.
The San Pedro Veterans Football Club is made up of Geraldo Ack, Aldon Augustine, Carlos Briceño, Francisco Carmona, Orlando Castro, Javier Chevez, Jose Diaz, Alex Garcia, Florentino Gonzalez, Raul Gonzalez, Christopher Hendricks, Arnold Kuylen, Newton Lennan, Phillip Leslie, Edgar Lima, Virgilio Lloyd, Orlando Pinelo, Alberto Quintanilla, Jose Rodriguez, Ismael Umaña, Clifford Usher and Jarvin Velasquez.
Follow The San Pedro Sun News on Twitter, become a fan on Facebook. Stay updated via RSS