NCL announces first call to Harvest Caye set for November 2016
Saturday, March 26th, 2016
Even after much debate and controversy, Norwegian Cruise Line (NCL) still plans on opening a port at Harvest Caye. It's been over three years since news first broke of the construction of a cruise port on Belize's southern island of Harvest Caye, and even though local tourism stake holders and environmentalists protested its construction, NCL proceeded with the development. Now, NCL has announced that the first call to Harvest Caye will be on November 15, 2016.
The announcement was made on Wednesday, March 16th during a presentation at Seatrade Cruise Global (the world's largest cruise industry event). Both the Minister of Tourism and Civil Aviation, Honorable Manuel Heredia Jr., and the Director of Tourism, Karen Bevans, were present for the announcement made by President and Chief Operating Officer for NCL, Andy Stuart. "Belize is one of the most ecologically and culturally rich gems in the Caribbean, and Harvest Caye will be the perfect destination for guests to experience all that the country has to offer in authentic, unique ways. There is so much to do on the island, from the spectacular seven-acre beach and watersports, to interactive wildlife programs. Beyond Harvest Caye, we will strongly encourage our guests to explore Belize through the spectacular eco-adventure and cultural tours this incredible destination has to offer visitors," said Stuart, during the big announcement of the port opening.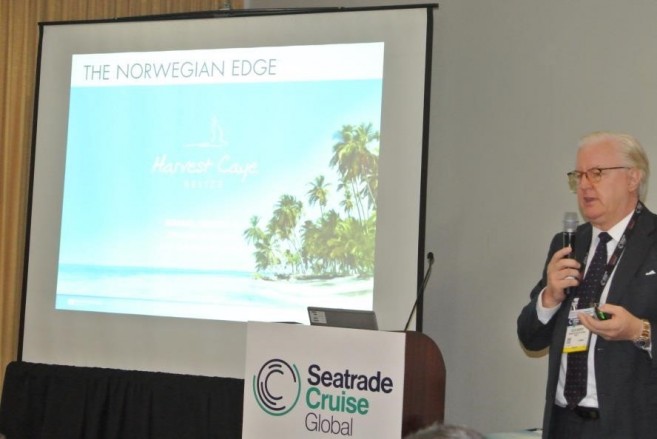 Heredia also spoke at the event, applauding NCL for their continued contribution towards the growth of Belize's tourism industry. "It will be a great destination and we have the entire support of our government for this project. We are looking forward to partnering with them. Artisans, tour guides, and all tourism related jobs will increase in numbers and there will also be an increase in livelihood. We will do whatever it takes to ensure the project will become the pride of the south and the pride of NCL," said Heredia. He ended by commending NCL for believing in Belize and indicating that he is sure that Harvest Caye will be a great destination, having a great impact in the south of Belize.

Adding to the impact Harvest Caye will have on Belize's economy was Senior Vice President of Destination and Port Operations, Colin Murphy. "It's very important to the government and very important to us, that we create as many jobs as possible. We've used up to 200 Belizeans on a regular basis during construction. Once in operation, with people employed directly by us and by the concessions, we're going to employ around four to five hundred people, which is huge for this area, then there is a big multiplier down the line."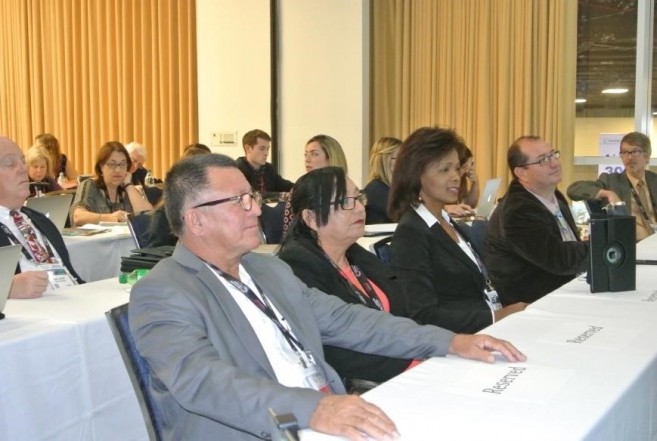 And even though BTB fully supports the project and the designs looks promising, there still remains much concern from locals, not only environmentally but also economically. On the environmental side, the port at Harvest Caye is being described as "Western Caribbean's premier resort-style port". NCL goes on to say "Harvest Caye will feature an authentic Belizean environment that provides easy access to beautiful Southern Belize, coupled with luxurious amenities; a variety of eco-activities; the country's only cruise ship pier for guest convenience and comfort; the opportunity for guests to easily depart to mainland Belize for the adventure excursion or cultural immersion of their choice; and much more".
According to NCL, Harvest Caye will feature a seven-acre beach where guests can opt to rent one of 11 luxurious beach villas for the day, which can accommodate up to 10 guests; a 15,000 sq. ft. pool with a swim up bar, lounge tables and bar stools in the water; 15 canopy pool cabanas; 130 ft. tall lighthouse as the central area for a variety of aerial activities including zip lining, suspension bridges, free fall jumps; five dining and bar outlets, including a two-story indoor/outdoor Landshark Bar & Grill; and a shopping village, which will feature popular name-brand retailers as well as items from local Belizean craftsmen. Guests will also be able to enjoy water sports such as kayaking, paddle boarding and canoeing.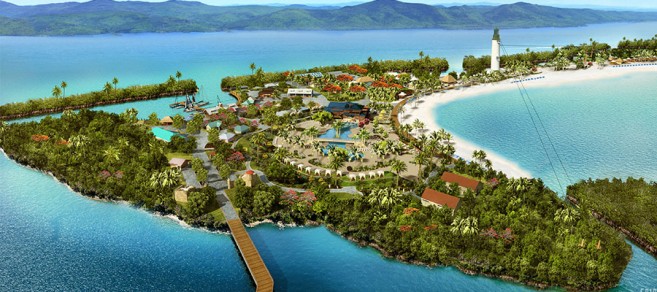 However according to NCL, the island will also promote the preservation of the environment. "Guests with an affinity for wildlife will marvel at Harvest Caye's many opportunities for an up close encounter with this rich eco-destination's local plants and animals. To learn about the native flora and fauna in this stunning destination, guests can participate in manatee observation tours at the lagoon to learn about the gentle giants; get up close and personal with endangered Scarlet Macaws and Toucans, Belize's national bird, in the island's Aviary; wonder at the striking beauty of insects at the Butterfly Garden; and learn more about and view Belize's indigenous reptiles such as boa constrictors at the educational center. Harvest Caye's conservation programs and education efforts were developed by award winning author and wildlife expert Tony Garel, the destination's Chief Naturalist. He will lead many of the island's educational tours and be available to chat with guests about the incredible array of wildlife in Belize. The island's aviary will also house a breed and release program for Scarlet Macaws, in an effort to increase the population of the native birds. Harvest Caye features a cornucopia of native plants and trees that all play a part in the destination's eco-system. To help further the island's conservation efforts, more than 10,000 new mangroves have been planted throughout the island, serving to increase the natural estuary system that serves as a critical habitat for birds, young fish and other marine species," says NCL.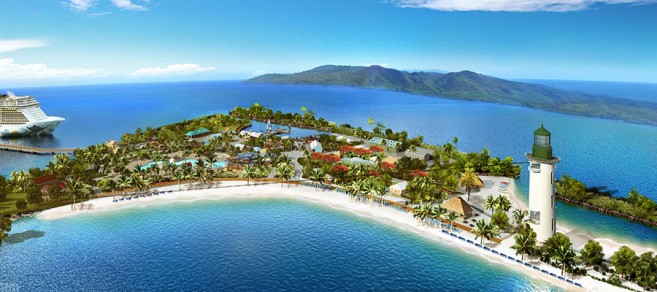 The construction of the port on southern Belize will also result in a reduction of cruise passengers trafficking through the Front Street Tourism Market in Belize City. Local Belize City based tour operators will also suffer from the reduced traffic, resulting in less cash flow for tourism stakeholders in the area.
Once the port is open, NCL's Western Caribbean cruises, and Norwegian Cruise Line Holdings' sister brands Regent Seven Seas Cruises and Oceania Cruises, will all offer calls at Harvest Caye.
Follow The San Pedro Sun News on Twitter, become a fan on Facebook. Stay updated via RSS