Eva Longsworth is the 2016 BTB Taste of Belize Master Chef
Monday, July 11th, 2016
After four long years of hiatus, the Belize Tourism Board's (BTB) Taste of Belize competition was revived, and on Saturday, July 9th, Orange Walk Town hosted a heated series of cook-offs to find Belize's top chef! Focusing on fresh, homegrown ingredients from all corners of the county, including liquors and spices, meats and seafood, fruits and vegetables, the BTB welcomed competitors with ample spirit and creativity to showcase.
At the end of the night, Eva Longsworth of Corozal took the highly coveted title of Master Chef, while Mark Jacobs of Punta Gorda walked away as Bartender of the Year. Cayo's Kevin Chi is the 2016 Amateur Chef, while Orange Walk boasts both Maria Del Carmen Urbina as Top Cake Decorator and Adrienne Young as their top Cupcake Decorator.
Held at the Muffles College auditorium, the event saw cupcake and cake decorating, plus the amateur chef face-off from 9AM till 3PM. After a short break to prepare for the evening's events, the bartending and master chef competition began at 6PM. Big cash prizes, scholarships and gifts were on the line, and each category's competitors worked hard to impress judges.
Cupcake and Cake Decorating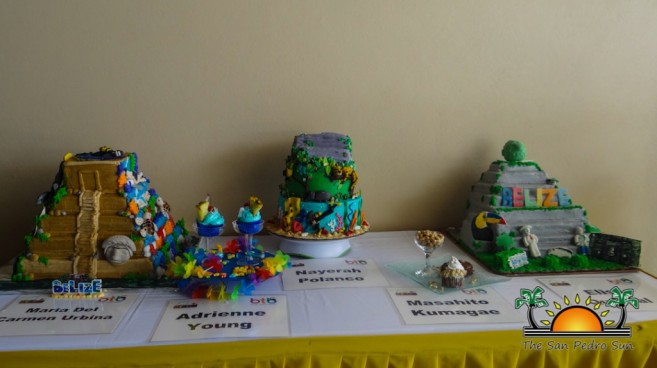 Two competitors Masahito Kumagae and Adrienne Young took on the challenge of decorating some delicious (pre-baked) cupcakes using Belizean ingredients. Kumagae opted for chocolate and cashew nuts, while Young used Belizean rum and coconut and pineapple.
Both cupcakes looked utterly delicious, but only one could win. Judges admired, then tasted the cupcakes, and after deliberation, Young's fun Blue Hole cupcakes took the top prize.
Shortly after the cupcake decoration got underway, three other competitors were fiercely slathering cakes in icing, ready to turn out a Belize-inspired masterpiece. 90 minutes of fast décor later, Nayerah Polanco, Maria Del Carmen Urbina and Elisa Quetzal had cakes depicting the iconic symbols of Belize, including the rainforest, reef, flora, fauna and even the famous Jade head found at Altun Ha archaeological site.
The judges made their deliberations, pointing out specific items they were impressed with and sharing a few other thoughts with the decorators. Urbina's fanciful, colorful masterpiece took first place, while Polanco's reef/rainforest themed creation placed second. Quetzal's archaeological site cake placed third.
Amateur Chef
The Amateur Chef competition had to be broken into two rounds, as there were five eager cooks ready to show off their culinary skills, and only four stations. Kevin Chi, Elicia Lopez and Lance Pelayo took to the stage first, quickly working their magic on their dishes, which included lobster as the protein. Judges Chef Jennie Staines (Elvi's Kitchen, San Pedro Town), Chef Robert Pronk (Chef Rob's Gourmet Café, Hopkins) and Mayor Kevin Bernard (Orange Walk Town) tasted and gave their commentary, then waited for the next two chefs to prepare their meals. Gurick Orosco and Lucelli Sam made quick work at their station as well, calmly preparing two fabulous dishes for tasting.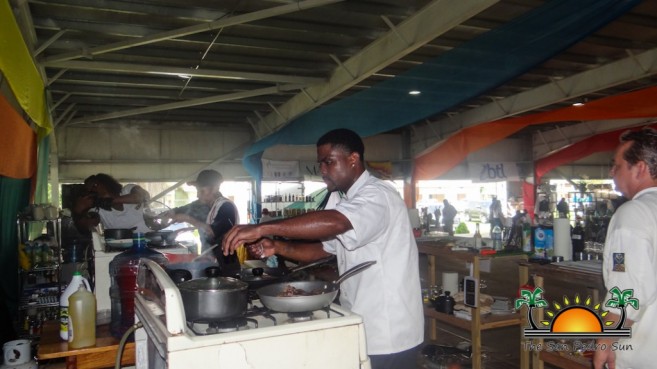 After all five chefs' work had been judged and their points tallied, the top three chefs were honored for their outstanding work.
Lucelli Chi, head chef at the brand new Crave House of Flavors in San Ignacio, Cayo, took third place.
In second place, and a mere one point away from a tie, was Gurick Orosco, of Best Western Biltmore Plaza, Belize City.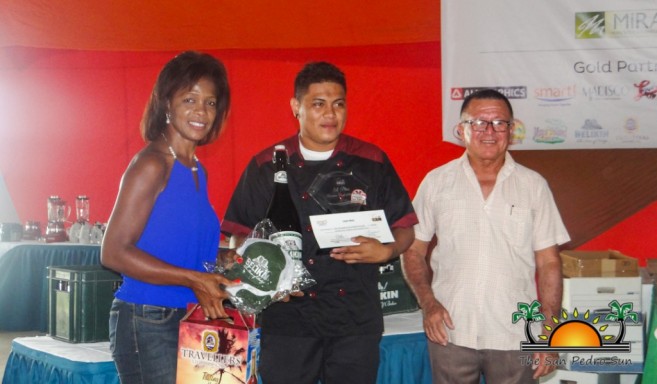 Kevin Chi, from San Ignacio Resort's The Running W Steakhouse & Restaurant took the coveted top prize.
Bartending
After the afternoon break to prepare for the big show of the night, it was time to check out the skills of some of our favorite people: the bartenders of the land! Using products from L & R Liquors, seven bartenders: Davey Berry, Adrian Cowo, Cesar Reyes, Ernestina Alvarez, Mark Jacobs, James Johnston and Ricael Moran, had to display their skills at mixology and flair as they prepared their signature drink in the first round.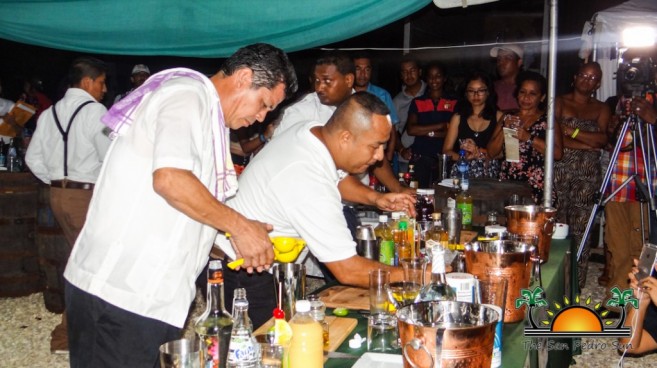 After the first round of tasting, it was on to the second round: the speed round, which required the mixologists to complete three drinks as fast as they can! Points were allotted and then it was on to the final round of bartending.
The four finalists, James Johnston, Adrian Cowo, Ricael Moran and Mark Jacobs had to use four ingredients: fresh pineapple, Chamoy, L&R's Old Fashioned Orange Soda and Old Master Rum. They were tasked with coming up with two different drinks, providing a precise recipe for each and also a unique name.
After tasting each of the drinks, judges made their decision on the winner. Taking the first prize was Mark Jacobs, followed by Ricael Moran and Adrian Cowo.
Master Chef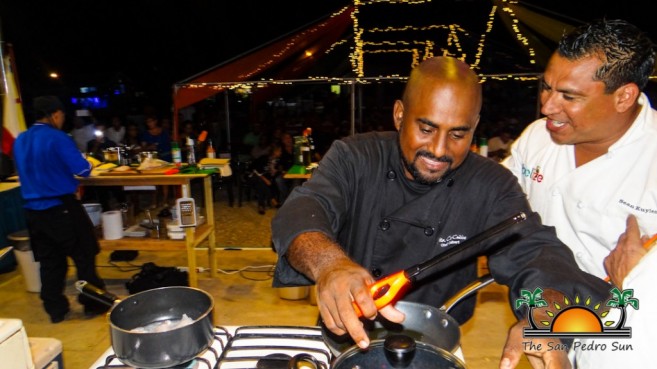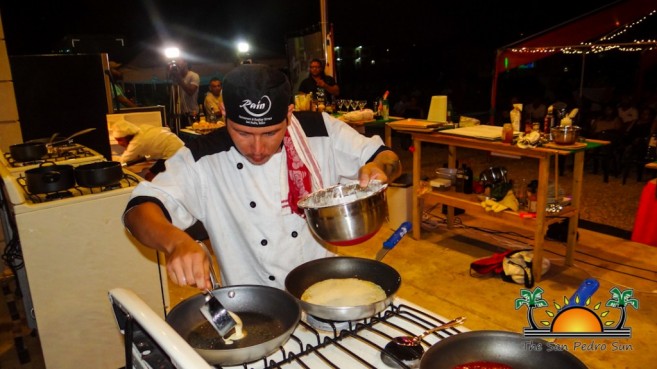 The first round of the highly anticipated cook-off amongst nine of Belize's top chefs was divided into three cooking time slots, to accommodate their large number. First to take the stage for the appetizer round were Eva Longsworth (Corozal), Reuben Cano (Cayo) and Emel Valdez (Cayo). Their mystery basket contained Traveller's Liquors Nance liquor, fresh okra and sugar cookies. Each contestant had to use three out of the four items. The second group of chefs included Carlos Hernandez (Placencia), Maresha Reid (San Pedro Town) and Calbert Santiago (Belize City). Their mystery basket contained Belikin Stout, Fish, Chayote (Chocho) and Belizean Chocolate. Finally, to finish off the appetizer round, Samuel Gonzalez (San Pedro Town), Coretta Ciego (Belize City) and Alejandro Mendez (Cayo) had to prepare dishes featuring chicken, Gallon Jug coffee, mango and green plantains.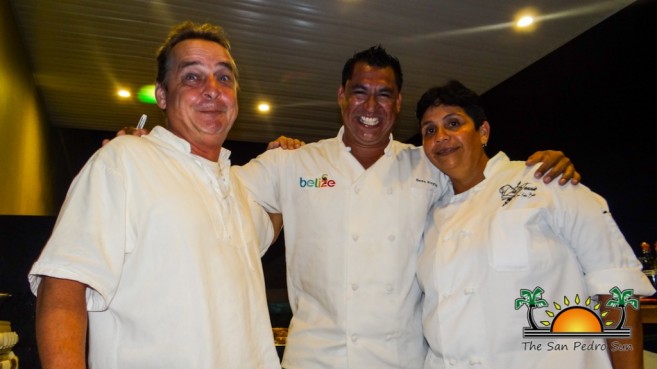 Judges for the main event included three fabulous chefs, and experts in their own right: Rob Pronk, Sean Kuylen and Jennie Staines. The four contestants to move on to the entrée round were Eva Longsworth, Maresha Reid, Reuben Cano and Samuel Gonzalez. They faced a basket containing cassava, skirt Steak, blackberry wine and papaya. Four delicious entrees later, it was time to decide the final three to enter the dessert round.
In the end Eva Longsworth, Maresha Reid and Samuel Gonzalez had to prepare a sweet treat using bacon, banana liqueur, cashew and L&R Liquors' Old Fashioned Lemonade. The pressure was definitely on, and the stage was full of frenzied activity. After presenting their final dishes to the judges, it was simply a waiting game as final points were tallied.
Minister of Tourism and Civil Aviation Manuel Heredia Jr., Dr. Carla Barnett, First Female Deputy Secretary-General of CARICOM, and Director of the BTB Karen Bevans had the great pleasure of presenting the winners with their prizes.
Taking third place was San Pedro's very own Samuel Gonzalez (Rain Restaurant & Lounge), and second place was another San Pedro chef, Maresha Reid (Pirate's Treasure Restaurant), with the Master Chef for 2016 award going to Corozal's Eva Longsworth!
Congratulations to Eva, and all the participants for taking on such an incredible challenge.
Follow The San Pedro Sun News on Twitter, become a fan on Facebook. Stay updated via RSS