New emerging destinations launch as tourism continues to rise
Friday, July 22nd, 2016
As a part of tourism development, the Ministry of Tourism and Civil Aviation (MTCA), with support of the Inter-American Development Bank (IDB), along with other stakeholders will be launching new Destination Plans in four areas of Belize: Toledo, Caye Caulker, Corozal and the Mountain Pine Ridge/Caracol/Chiquibul. The plans identify key tourism organization projects and priorities that are considered crucial for further sustainable development of tourism in each respective destination.

The Destination Plans are a part of an ongoing process that was initiated in 2015, with the intention to bring together private and public stakeholders, and the community to develop an integrated approach to tourism development. This approach follows the recommendations of the National Sustainable Tourism Masterplan 2030 (NSTMP). It also highlights the need for greater involvement of multiple stakeholders in destination coordination and management, and encourages local stakeholder leadership within all aspects of tourism development including planning, branding and promotion, and quality management.
According to the Belize Tourism Board (BTB), Belize is delivering impressive tourism standings for 2016. "Overnight arrivals for January to June, 2016 has seen 213,430 visitors to Belize. This is an incredible 16.5% increase over the same period of 2015. Never before has the first six months of a year seen figures surpassing 200,000. All six months of 2016 have seen double digit increases, with January having the highest increase at 24%, followed by May, with a 19.6% increase," stated BTB in a press release.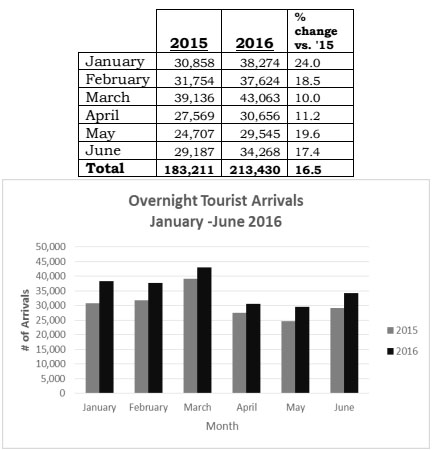 The United States market still continues to hold the highest share of travelers to Belize, registering close to 70% of our travelers. The first half of 2016 has seen 25.9% increase in US travelers. The European market has the second largest market share, making up 10.4% of visitors to Belize. So far, 2016 has had 22,109 European travelers, which is a 3.9% increase over the same period of 2015. The cruise industry has seen an overall increase of 2.6% for the first half of 2016. There has been an increase 16.1% in the 2nd quarter alone, with the months of May and June accounting for an increase of 41.4% and 28.8% respectively.
Various activities identified in the plans will be supported through investments for a five-year program for sustainable and strong tourism development. The program has many benefits, and aims to increase income and employment from tourism and stimulate private sector investment, while recognizing the significance of the natural assets and cultural diversity upon which each local tourism product is based.
Although each of the four destinations are being promoted for tourism development, they face challenges that include climate change and disaster risk. However, the Sustainable Tourism Program (STP II) will fully integrate ecosystem health, environmental and disaster risk management within its program for tourism development.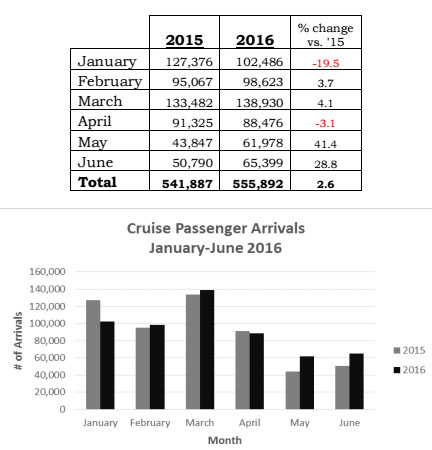 Those who support the sustainable development of tourism are encouraged to attend the launching of plans. The launch of the Destination Plan for Punta Gorda Town is scheduled for Friday, July 22nd at 10AM, Corozal is scheduled for Saturday, July 23nd at the Corozal Town Hall at 3PM. Cayo will launch at the Center for Employment Training on Thursday July 28th at 2PM; and in Caye Caulker on Monday, August 1st on the new beach in the Palapa Gardens area at 6PM.
The Tourism Industry in Belize continues to achieve impressive results and will work towards maintaining this increasing trend throughout 2016. For more information on the Destination Launch or the STP II project, please contact the Ministry of Tourism and Civil Aviation by emailing [email protected] or visiting the new website at www.tourism.gov.bz
Follow The San Pedro Sun News on Twitter, become a fan on Facebook. Stay updated via RSS