Tropical Wave expected to make landfall in Belize; NEMO activates
Monday, August 1st, 2016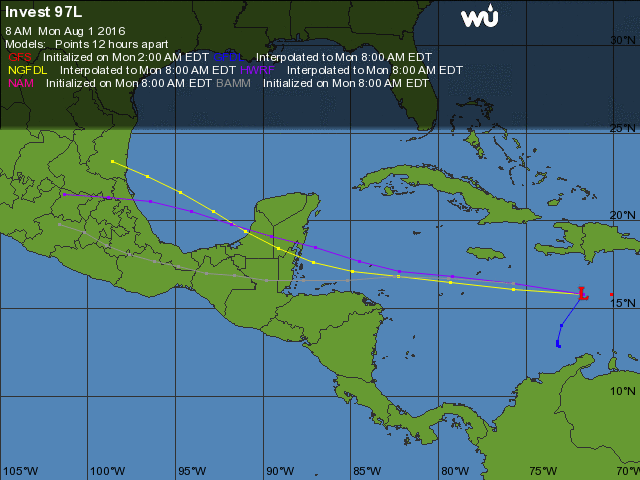 The National Emergency Management Organization (NEMO) is advising all Belizeans and visitors to start making preparations for a possible tropical storm. A tropical wave in the eastern Caribbean named 'Invest 97L which became an organized weather system on Sunday night, July 31st, and will likely become a tropical depression or tropical storm today Monday, August 1st. As it moves into the western Caribbean, it is expected to intensify as a tropical storm over the next days. Its projected path predicts its landfall on Belize by Wednesday, August 3rd.
The current location of the storm as of Monday, August 1st was about 350 miles east-southeast of Kingston, Jamaica. 97L's surface winds are close to tropical storm strength on the north side of the system. The tropical wave continues moving westward at 20 to 25 miles per hour, and carries a 70% chance of intensifying into a Tropical Storm within 24-48 hours. Earlier satellite wind data indicate that the system is producing winds of 40 to 45 mph, and recent satellite and ship observations suggest that a circulation is gradually becoming better defined.
Extremely warm waters on the storm's path decreases the chances that there will be any major changes to the actual path of Invest 97L. The warm temperatures on the water surrounding the Invest 97L expected path are around 84-86 F. This would give a more favourable atmospheric regime for the tropical wave's development into a stronger storm.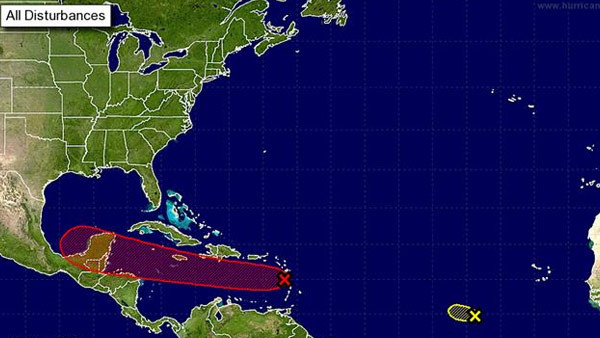 The National Hurricane Center in Miami Florida, USA warns residents of Nicaragua, Honduras, Belize, Guatemala and eastern Mexico to keep a close watch on Invest 97L. The storm is expected to pass south of Jamaica by tomorrow Tuesday, August 2nd, possibly in the category of a moderate strong tropical storm. If the wave develops it will be named 'Earl', and will be the fifth major storm of the 2016 Hurricane Season. Regardless of development, locally heavy rainfall and gusty winds, perhaps to tropical storm force, are expected.
In Belize, NEMO is on high alert. Local authorities have already started to discuss their emergency plans for any possible threat by the storm. The latest NEMO advisory has indicated that preparation for shelters and evacuation plans are underway. All persons, particularly those ones living on the cayes, in flood- prone areas, fisher folks, and farmers are advised to monitor this tropical wave and to be prepared to take the necessary precaution. NEMO continues to monitor the situation. All District Emergency Committees have been activated.
NEMO Emergency Coordinators can be reached as follows; Corozal, Mr. Williard Levy at 623 0237; Orange Walk, Ms. Suliema Celiz at 605 5046, Northern Regional Coordinator, Mr. Aragon at 6152264; Belize District, Mr. Lionel Tillett at 630 4830 and Mr. Kevin Pollard at 621 2275; San Pedro, Ms. Timrose Augustine at 600 8672; Belmopan, Ms. Clare Moody at 630 9791; Cayo, Mr. Al Westby at 630 3224; Stann Creek, Mr. Victor Castillo at 630 9780; Toledo, Mr. Kenton Parham at 630 9787 and the Southern Regional Coordinator, Mr. Keith Emmanuel at 6309711. The NEMO Emergency Hotline is 936.
Follow The San Pedro Sun News on Twitter, become a fan on Facebook. Stay updated via RSS