BTB's key performance indicators show continued growth in the Tourism Industry
Thursday, February 1st, 2018
As one of the leading industries, Belize's Tourism Industry continues to grow, exhibiting record-breaking figures for 2017. According to the Belize Tourism Industry (BTB), overnight tourism arrivals registered 10.8% increase in 2017 when compared to 2016. Also on the rise was cruise ship arrivals, which registered a steady 3.7% this past year. Overall, BTB key performance indicators for tourism show a total of 427,109 visitors came to the country for the calendar year for 2017.


According to BTB's report, 322,200 tourists arrived at Belize in 2017 via the Philip Goldson International Airport; an 8.1% increase when compared to the 298,157 figures of 2016. The remaining, 104,909 tourists registered to have entered the country via the Santa Elena Northern Border, the Western Border or through San Pedro Town's international boat terminal. Similar to the figures of 2016, March and December remain the most active tourism months for the country, registering overnight arrivals of 44,475 and 49,131, respectively.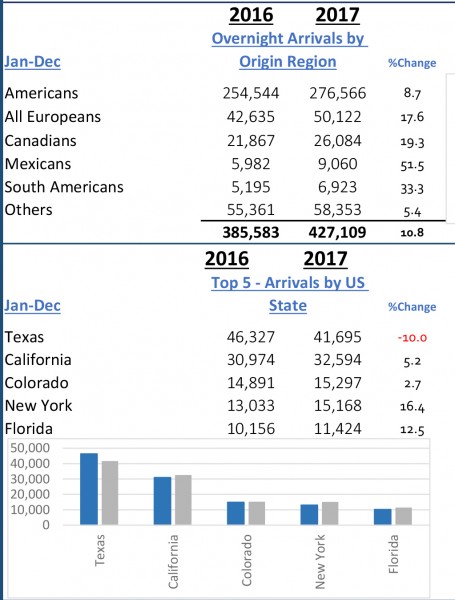 Visitors from the United States of America (USA) remain the largest group of overnight arrivals with a number of 276,566 in 2017, an 8.7% increase when compared to 2016. The second largest demographic of visitors to Belize are Europeans who total for 50,122 in 2017. Belize also saw 26,867 Canadian visitors, 9,060 Mexican visitors and 6,923 South American visitors in 2017.


Of important note, Ambergris Caye remains the top tourism destination in Belize, welcoming a total of 181,443 visitors in 2017. This figure shows an 11.6% increase when compared to the 162,548 tourists that visited Belize in 2016. Other top destinations included Caye Caulker, which received 140,223 visitors and the Cayo district receiving 116,319 visitors. BTB also noted that Belmopan City saw a remarkable increase of 85.3% in tourist visitors with a total of 37,832 arrivals in 2017.
The number of visitors to Belize in 2017 accounted for 8,177 hotel rooms, a slight decrease to the 8,282 rooms booked in 2016. BTB credits this decrease to the use of AirBnB and private home rentals.
As for cruise ship arrivals, in 2017 Belize registered a total of 1,014,231 visitors a 3.7% increase when compared to 2016. A total of 336 cruise ship calls were made in 2017 with Carnival Cruise Line being the leading brand in Belize. Norwegian Cruise Line made a total of 93 calls. Out of the total number of cruise ship arrivals registered for 2017, only 610,891 passengers arrived on shore from calls made to the Front Street Tourism Village in Belize City with a lesser figure of 396,917 booking a tour to one of the many tourist attractions in Belize. In 2017, Harvest Caye saw 267,306 arrivals.
BTB indicated that the analysis of these figures show a promising tourism season for 2018.
Follow The San Pedro Sun News on Twitter, become a fan on Facebook. Stay updated via RSS