San Pedro BTIA holds membership mixer on Ambergris Caye
Monday, November 20th, 2017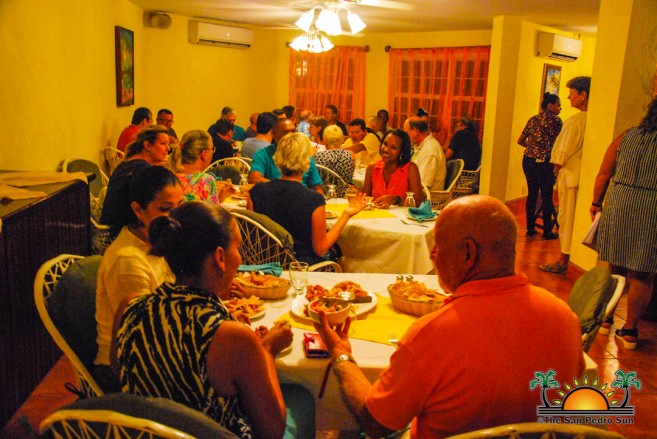 It was a full house at El Divino Restaurant, as the Belize Tourism Industry Association San Pedro Chapter (BTIA-SPC) hosted a membership mixer on Thursday, November 16th. The event, held in part to increase the San Pedro Chapter's membership had an impressive turnout. Not only did business and tourism stakeholders attend, but even local and national authorities were present, eager to participate in the event.
Invited guests began arriving by 6:30PM, proceeding to the second-floor lounge of El Divino where they mingled for about an hour, socializing and enjoying some refreshments. Mistress of Ceremonies and Chairwoman of the BTIA-SPC, Tamara Sniffin delivered the welcome remarks. Sniffin thanked everyone for attending the event and explained the importance of making the local chapter bigger and stronger. "We are all in the tourism business one way or another," said Sniffin. "It is very important as well, as stakeholders, to find ways to improve our tourism product in every way possible so that the island continues to be the place everyone wants to come to." She stated that it is essential that the tourism industry thrives on Ambergris Caye.
Sniffin mentioned one of the main issues affecting the island besides traffic, crime and sub-standard health services are garbage. Of particular concern are the larger pieces. "Trash has become a problem," she said, "but we have come up with a plan to get rid of large appliances such as refrigerators, and air conditioning units, which just rot in the environment when improperly disposed of. This will be possible with the collaboration of the San Pedro Junior College. Its business students will now be tasked with researching the business, and finding ways how to get these large appliances off the island." It is hoped that such a project is sustainable and long-term. Sniffin also indicated that the San Pedro High School has also stepped up to the challenge by involving their students, who are obligated to do 30 hours of community service. Their service will be in assisting the clean-up program which results in the betterment of the island. "We are all in this together. We cannot depend on the local authorities of the government to solve all our problems. Everyone must do their part to make the island trash free and a better place for tourism. We are a small island, and we can be a big group! We can make a big difference," said Sniffin.
Next to the microphone was BTIA President and 13th Senator representing the non-governmental organizations (NGO) Osmany Salas. He greeted everyone in attendance, announcing that as of next month he will be stepping down as president. Taking the reins of the organization will be San Pedrano Reynaldo Guerrero, who is stepping down as first Vice-President of BTIA. Salas also spoke about an upcoming slate within the institution for three vacant posts. One of these posts is for first Vice-President, and Tamara Sniffin has been nominated.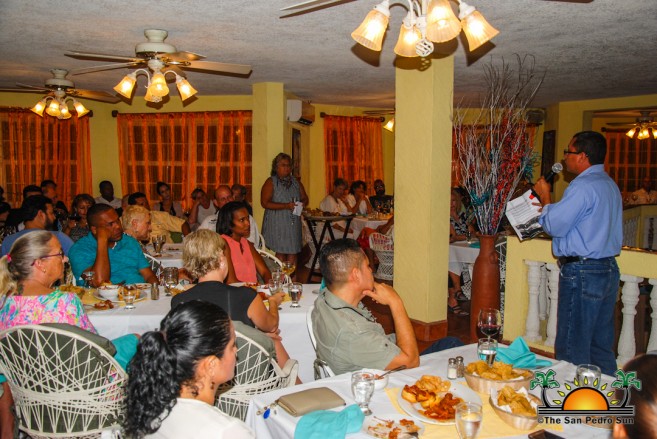 Salas then addressed the audience pointing out that the membership has now grown to 45 members, 15 more from the last mixer held in March of this year. He stressed on the fact that Placencia has 150 members, but he is hopeful that eventually, the membership on Ambergris Caye will continue to increase. Salas is convinced that Ambergris Caye will achieve the largest membership in the country. "With 171 hotels registered on the island, 78 registered tour operators, and 321 licensed tour guides this can be done," said Salas.
Salas hopes that within the next five years, BTIA will become a highly influential organization. There is also a plan to strengthen the secretariat and the chapters nationwide. "We have ten chapter destinations nationwide," Salas said. "They are at different levels of strength and effectiveness. This is another reason why we need to increase membership and make all chapters be on the same level. The stronger and more successful each chapter becomes, the stronger BTIA becomes too."
Another achievement that BTIA is looking forward to is becoming the respected voice of the nation's tourism industry. "This does not mean that we will be militants or anything like that. We expect to continue working as a group with our partners to try and solve all issues affecting the tourism industry. Again, we cannot leave everything to the government," Salas said. "As the private sector, there is a lot we can do." He added that there are ongoing plans with the Ministry of Tourism in strengthening the tourism product countrywide through the BTIA.
In addition, BTIA plans to increase the availability of research, education, and marketing for the tourism industry. "We need to know how many people visit Belize, where they come from and what their interests are, to know where needs more focus," he said. "I have always said that we need to look closer at the Mexican market. Right across the border, a hundred million plus people, with the right adjustments such as voiding certain restrictions, we could increase the number of people visiting Belize." Salas said that there is a lot of curiosity from the Mexican side about Belize, and by making it easier for them to visit the country, the Belizean tourism industry can become a dynamic one, catering to all sorts of visitors in a flexible manner. Salas called on everyone to work together. The job cannot be done alone. "We can be a big group to make a big difference so consider joining the BTIA," he stated.
Before the formalities wrapped up, Minister of Tourism, Honorable Manuel Heredia Jr., shared a few words as well. "For the first time, BTIA is having a better relationship with the Belize Tourism Board and the Ministry of Tourism," Heredia said. "You guys have made a difference in the tourism sector and we continue to market Belize. If things go well, we all benefit, and if things go bad, then we all suffer. So we need to have more people like you all working together in partnership to get things done." Heredia pledged his support to the San Pedro Chapter and looks forward to a fruitful relationship with the new BTIA president.
At the end of the successful evening, everyone was invited to enjoy more refreshments, while BTIA members mingled and answered any questions the guests had. The next BTIA meeting, which is their Annual General Meeting has been scheduled for November 29th at the Sunbreeze Hotel at 6:30PM.
Anyone interested in becoming a member or needs additional information is asked to contact Tamara Sniffin at 226-2070 or email her at [email protected]
Follow The San Pedro Sun News on Twitter, become a fan on Facebook. Stay updated via RSS