Minister of National Security meets with San Pedro BTIA
Thursday, May 3rd, 2018
The crime situation on Ambergris Caye was discussed on Thursday, April 26th, during a meeting between the Ministry of National Security and the San Pedro Chapter of the Belize Tourism Industry Association (SP BTIA). Held at the conference room of the Sunbreeze Hotel, some of the topics discussed included the increase in tourism police, foot patrols, and police personnel on the island, 24-hour police manned substations, the introduction of a water-taxi boat manifest, better lighting on the roads, reducing gun-related issues and gang violence.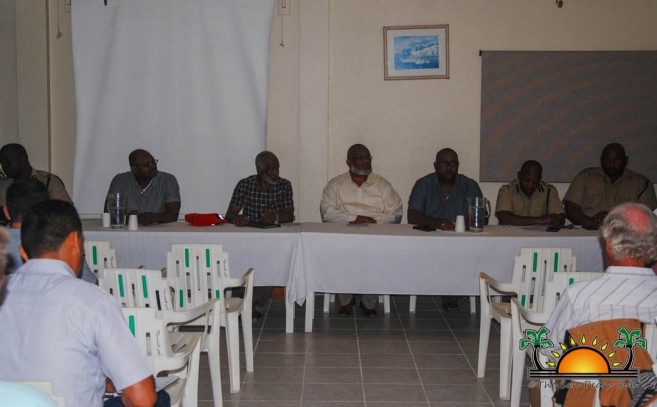 Present at the meeting was Minister of National Security, Honourable John Saldivar, Commissioner of Police, Allen Whylie, Chief Executive Officer of the Ministry of National Security, George Lovell, Deputy Commissioner of Police Chester Williams, Eastern Division Regional Commander, Robert Mariano, and Officer in Charge of Coastal Executive Unit, Superintendent Henry Jemmott, among other representatives from the Belize Coast Guard and the Belize Defence Force.
SP BTIA Chairwoman Tamara Sniffin welcomed BTIA members and stakeholders to the meeting and thanked the Ministry of National Security for the invitation to participate in an open discussion. Minister Saldivar opened the meeting by stating that Ambergris Caye plays a major role in the tourism of Belize and acknowledged that the island faces many challenges when it comes to crime. "Especially in northern Ambergris Caye which is a major playground for illicit activities which has an effect of what happens in Belize and other countries," said Saldivar. The Minister added that one of the main reasons for his trip to the island was to meet with stakeholders on northern Ambergris Caye to discuss solutions to the illicit activities taking place there. One goal is to install a Belize Coast Guard substation somewhere near Rocky Point where they can increase security and watch over the drug trafficking activities in the area. "Funding and personnel have been acquired and we now just need to find a suitable location to start the construction," he said.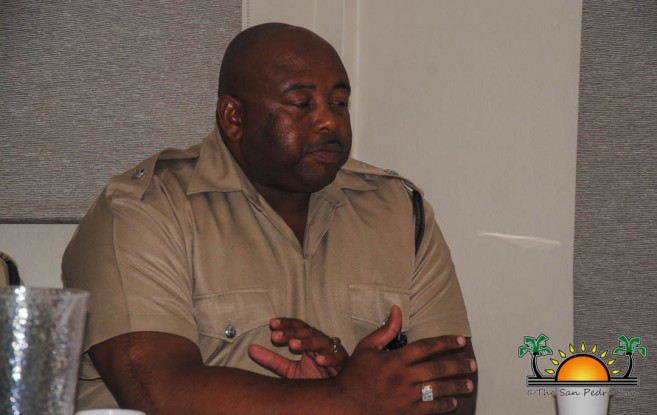 Commissioner of Police, Whylie stated that they are working hard to deter gang members from traveling to Ambergris Caye. He spoke about an anti-gang task force that will investigate gang associates and those who finance them. "It will take us some time to get such kind of evidence to get the successes we envision, but this unit has a national responsibility and whilst their concentration is in Belize City, from time to time it will be focusing in San Pedro as well," said Whylie. He mentioned that it is obvious that some members of the San Pedro community are facilitating or are associates of gang members, hence the reason they are on the island. The Commissioner of Police also addressed firearm-related incidents. The senior officer stated that when an incident occurs they will gather the necessary specimens in order for their forensic department to identify who the weapon or expended ammunition belongs to. Whylie mentioned the changes in Belizean legislature and addition of new laws that will ensure offenders of firearm crimes receive proper punishment while giving him more power to deal with police officers involved in illicit activities. Whylie also spoke of the recently passed legislation that protects witnesses. "Under this new legislation when officers take a statement from a witness they will not retain any information that will lead to the identity of the said witnesses." He added that under this new law evidence would be allowed to be given through a video conference and that witnesses would be able to remain anonymous while giving their statement.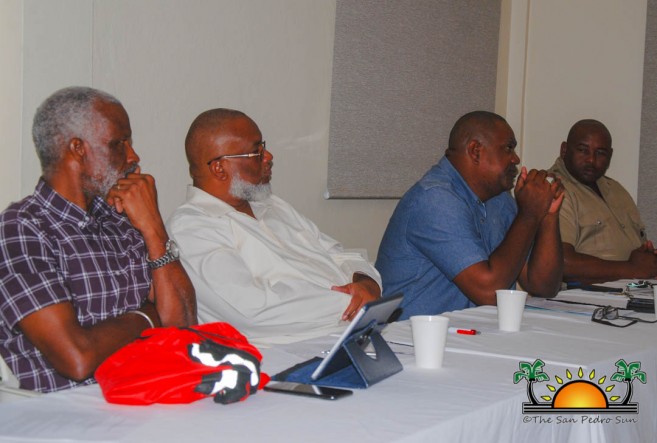 The meeting was an interactive discussion where the audience poised candid questions to the panel such as what are the rights of licensed-gun owners, concerns about the operation of unlicensed tour-guides, tourists targeted by police officers and the lack of respect women receive when filing a complaint at the police station. There was also sharing of possible strategies that the island community can participate in to help alleviate some of these issues. OC Jemmott indicated that everyone should work together and assist the police whenever it is needed to solve a crime. He pointed out that to continue combating the crime they are looking forward to opening new police substations in the north part of the island. "We'll ramp up staff for the north which will result in 24-hour manned booths. There will also be a vehicle attached to that unit and motorcycles as well," said Jemmott. He added that patrols will not just be along the northern road but also on the beaches. Jemmott also clarified the inquiry about less police foot patrols. He explained that since they have been receiving more motorcycles, they use these to cover more ground. Jemmott said that they continue to check every neighborhood, and businesses in order to make their presence known and deter any criminal activity. Jemmott also touched on the ongoing work for a boat passenger manifest, which will increase in traveler's safety and help to monitor who travels to the island. They believe that if someone who is a wanted criminal decides to travel to the island via water taxi he can be quickly identified by the means of the manifest and a detention can be made before the suspect gets off the boat at the respective terminal.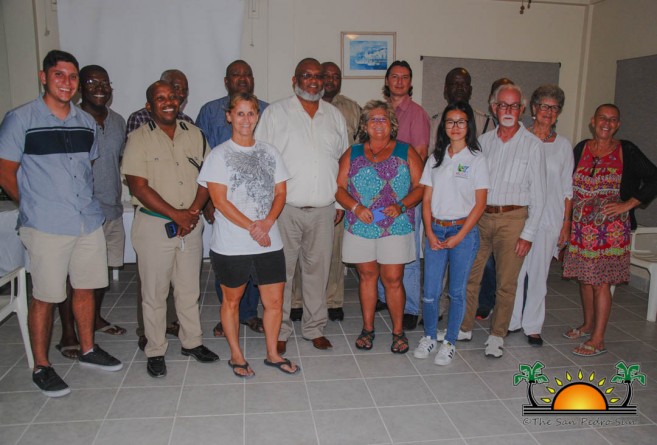 According to Deputy Commissioner of Police Chester Williams, there is a concerted effort to install more surveillance cameras in areas of concern. This method has already been implemented in strategic areas in Belize City where over 100 cameras had been installed to better monitor criminal and gang-related activities.
At the end of the meeting, Saldivar thanked the San Pedro BTIA for hosting the event and committed to conducting more meetings with stakeholders. "We are so pleased that the Ministry of National Security extended an invitation to the SP BTIA to discuss these important issues. The meeting was a great opportunity to hear what our leaders are concerned about and how they plan to resolve criminal issues on the island" commented Sniffin, "our SP BTIA Chapter is ready to assist in any way we can."
Hon. John Saldivar believes that such gatherings are needed in order to build a strong relationship with the community and work together to address concerns affecting the local population. The Minister ended his visit to the island by meeting with stakeholders in northern Ambergris Caye the following day.
Follow The San Pedro Sun News on Twitter, become a fan on Facebook. Stay updated via RSS