Aero Mexico launches direct Belize flights
Thursday, November 22nd, 2018
Belizeans may now fly direct to Mexico City D.F., and by the same token Mexicans can now visit Belize, thanks to a new direct weekend flight introduced by Aero Mexico on Saturday, November 17.


Minister of Tourism and Civil Aviation Hon. Manuel Heredia Jr joined Aero Mexico's senior vice president for corporate strategy Loren Aandahl in welcoming the new flight when it touched down at the Philip Goldson International Airport at 10:30 last Saturday morning. Aero-Mexico's Embraer E-190 aircraft seats 99 passengers and five crew, connecting to Mexico City in two hours for USD$477 round trip, on Saturdays and Sundays. The flight takes off from Mexico City at 8:30am, lands in Belize at 10:30am, and takes off at 12 noon.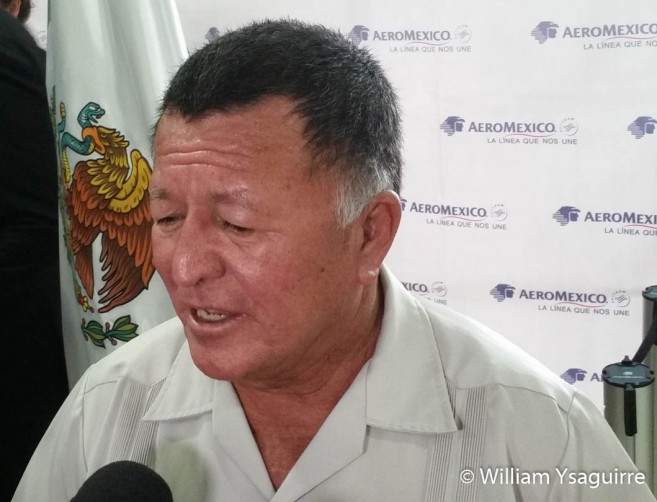 Heredia said the new service further strengthened the bonds of friendship and Belize's bi-lateral agreements for cooperation with Mexico "in areas of education, culture, agriculture, science and technology, tourism and trade, among many others." He said the new service is expected to open new areas for further cooperation between our two countries, offering new and "greater opportunities for Mexicans and Belizeans alike."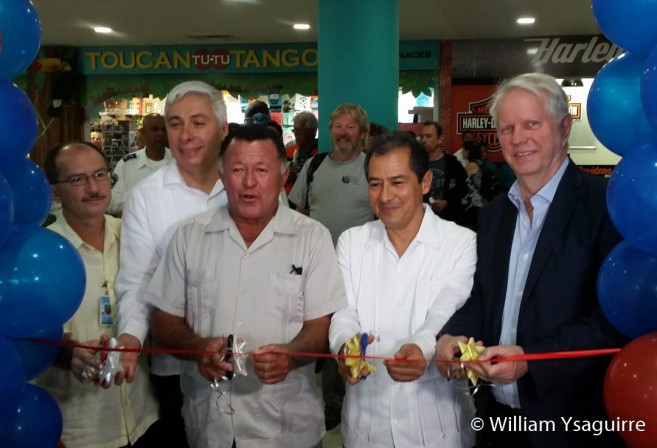 Belize is fast becoming a popular destination for Mexican tourists, Heredia noted, citing BTB statistics of 9,060 Mexican visitors to Belize in 2017, a 51.5 percent increase over the 5,082 Mexicans who visited Belize in 2016, and Mexico is an important market for the Belize tourism industry. The new flight also offers an alternative route for European travelers and those from the United Kingdom to come to Belize, Heredia added.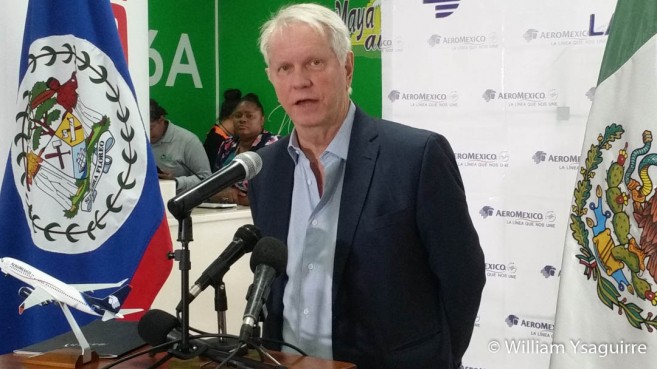 SVP Aandahl said the new service was long overdue and offers a gateway not just for European travelers, but also visitors from South America to come to Belize. He added that the new service is also a portal for Belizeans to visit North America – the United States, and for travel to Canada without the need of a U.S. visa; since Aero Mexico offers direct flights from its Mexico City hub to Canada and Europe. He said Aero Mexico was only too happy to offer its customers this new access to Belize's fantastic offshore islands, its beautiful beaches, and the diving, which are among the best in the world.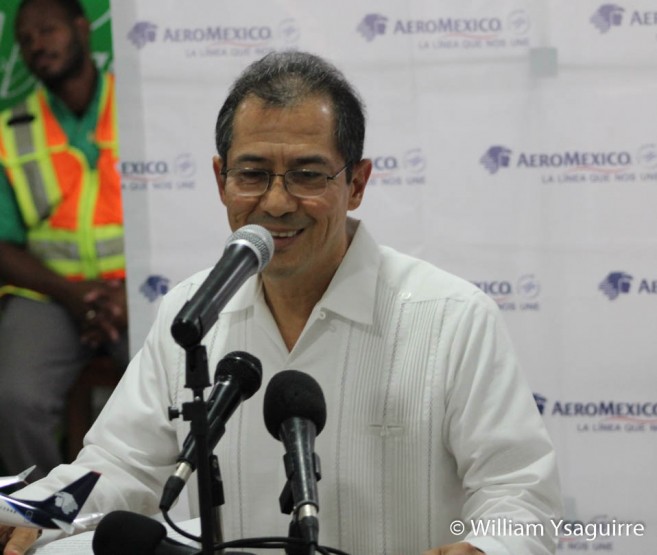 Mexico's Ambassador to Belize. H.E. Carlos Quesnel Melendez also welcomed this new service; even as Mexico celebrates the 36th anniversary of establishing diplomatic relations with Belize. He foresaw that it would offer opportunities to increase tourism and trade and to promote investment and commercial opportunities for economic development. He congratulated Aero Mexico on introducing the new service, which would further fulfill the promise made by President Enrique Nieto Pena during his visit a year ago and heralds the possible visit of Mexico's new President-elect next December.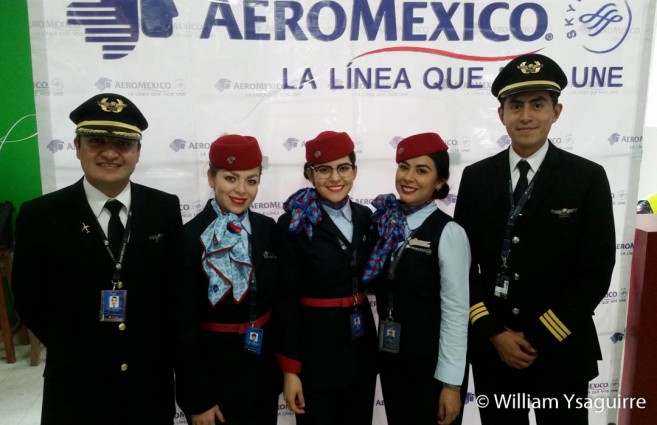 Chief Executive Officer Jorge Espat of the Belize Airports Concession Company Ltd was among the first to welcome the new flights, saying it offered Aero Mexico's passengers the chance to see the second largest living barrier reef in the world, and that Belize's many other delights would now be more accessible other visitors.
Espat joined Minister Heredia, SVP Aandahl and Ambassador Quesnel in raising a toast to Aero Mexico's future success and joined them in a ribbon-cutting ceremony to officially inaugurate the service. The Lerisi Garifuna drummer group provided cultural entertainment for the new arrivals.
Follow The San Pedro Sun News on Twitter, become a fan on Facebook. Stay updated via RSS