Energy from Waste is a go for Belize
Wednesday, November 16th, 2016
Belizean businesses and industry can achieve large energy cost savings, become more environmentally friendly and sustainable, and less dependent on fossil fuels, by investing in biogas/biomass energy systems and/or solar energy. This was the message communicated by the experts from the Dutch think-tank TNO (Nederlandse Organisatie voor Toegepast Natuurwetenschappelijk Onderzoek), the Netherlands Organisation for Applied Scientific Research, at an energy seminar and expo held at the Belize Biltmore Plaza Hotel in Belize City on Wednesday, November 9th.


The Caribbean Community Climate Change Center (CCCC) commissioned the study with funding from the United Nations Development Programme, to help Belize become more resilient and to adapt to climate change and to reduce the country's carbon footprint. TNO's Johan van Groenestijn, Robert de Kler and Marco Linders presented the findings of their study of Belize's potential for energy from waste. Their study had considered various sources of waste: citrus waste, shrimp shells, fisheries waste, Sargassum, banana stems left over after harvesting, sewer waste, roadside and yard waste, manure from agricultural livestock, cohune palms and nuts, and liquid waste after distillation of rum.
TNO's company motto is "Innovation for Life", and they invited Belizeans to join them in finding innovative ways to cut their energy bills, by using waste to make fuel and energy. The TNO study found that city garbage and sewage offered a great potential to produce power and heat. Taking the Belmopan sewage treatment plant as an example, they found it could yield263 Nm3 biogas from 1500 m3 of sewage per day. Converted to electricity, it would yield 23kW of power or 192 MWh per year, and 270 MWh of heat, enough to heat 3106 tons of water from 20 to 95 degrees Celcius.
Shrimp waste from the aquaculture farms and chicken manure are also a very viable feedstock for a biogas generator, but their digestion would produce rather high concentrations of ammonia, which would need to be washed out of the gas.
Banana waste has the greatest potential in that it's easily digestible, available throughout the year, and digestion into biogas does not produce many different pollutants. There are 24 banana farms in Belize, and the stems and leaves from eight farms alone would provide enough biomass, 56 tons per week, to fuel one biogas plant, which would then produce 13 Nm3 biogas per hour. This fuel could run a generator to produce 28 kilo-Watts of power as well as 39 kWh of heat, to heat 0.13 Kg of water per second from 20 degrees Celcius to 95 degrees.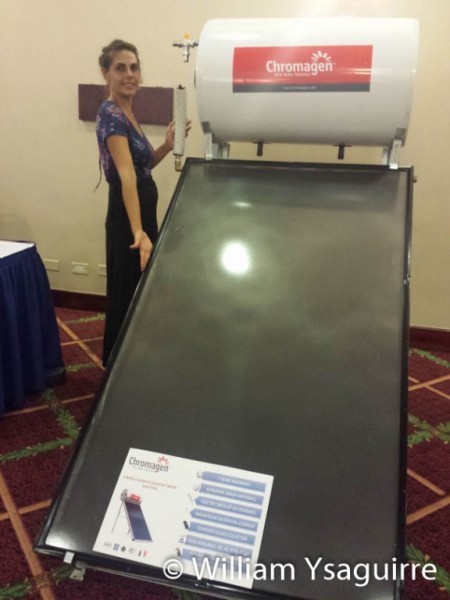 Citrus waste could also be used to make energy, but the Citrus Products of Belize Ltd has already invested in plant modifications to make marketable products from their waste, such as animal feed, and the essential citrus oils are also extracted and are used to make various cleaning agents.
In the tourism industry, solar and wind energy are the cleanest and most attractive options, as pioneered by the Essene Way Resort on northern San Pedro 20 years ago. For island resorts, having a source of electricity that does not require shipping fuel from the mainland is particularly attractive; since it removes the attendant possibility of a fuel spill during loading/ unloading, or if a fuel barge should go sink at sea.
At the conclusion of the presentation, the seminar continued with an expo of local agents/marketers of green energy systems. GoGreen Ltd of Belmopan exhibited the solar panels they market in conjunction with air conditioning units which run off the power provided by the sun; which offers the advantage of having no need for storage batteries. This means no lead batteries to dispose of or recycle.
Energy Management Ltd of Mile 4.5 on the Philip Goldson Highway exhibited the induction lighting systems they offer which produce the same amount of light as other more conventional lighting but at far lower energy cost, with a fraction of the heat generated, for much greater energy efficiency and substantial savings on your light bill.
GreenSun Ltd of Cayo exhibited their Chromagen solar water heater and small affordable biogas generators which work with household waste and from sewage, to yield cooking gas for your household needs.
Follow The San Pedro Sun News on Twitter, become a fan on Facebook. Stay updated via RSS