Overcrowding causes a pier to collapse into the sea on Caye Caulker
Friday, April 25th, 2014
A large crowd of visitors to Caye Caulker got the scare of their lives when a portion of a docking facility on the island plunged into the sea. The incident occurred around 4:45PM on Saturday April 19th at the San Pedro Belize Express (SPBE) water taxi pier. Luckily no one was seriously hurt. However, many people who fell into the water, damaged and lost their personal items, including electronics.

According to a press release issued from SPBE, the portion of the dock that collapsed was due to "overwhelming overcrowding." Hundreds of people had been moving to and from the island for the long Easter Weekend. "The SPBE team, Police, Port Authority and Coast Guard that were present made every effort to enforce safety and crowd control procedures to ensure passengers were boarded safely and appropriately by vessel.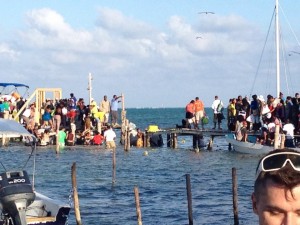 The SPBE team and relevant authorities requested that passengers wait on the beach to improve accessibility and ease the stress on the bridge; however, this request was met with rebuttals as the crowds continued to move onto the bridge against the directives of the authorities resulting in a portion of the bridge buckling under the pressure." The company explained that they took all the necessary measures including increasing their fleet of vessels to ensure all passengers would be accommodated for during the Easter Festivities.
"SPBE water taxi takes this opportunity to express our sincerest apologies. SPBE truly values its passengers and is making every effort to fortify its ports and implement additional safety features to ensure this incident is not repeated," ended the release. The visitors who landed in the water, including a large number of children, were pulled out of the water with the assistance of people in the general area as well as other law enforcement agencies.
The Commissioner of Ports, Merlene Bailey Martinez is quoted as indicating that the Belize Port Authority is reviewing the incident, but at this time has no sanctions planned against the company. This is not the first time that a portion of a dock has collapsed due to overcrowding. Last year, a similar incident occurred when a portion of a bar establishment collapsed over open waters in San Pedro Town.

The incidents highlight the need for local authorities to conduct regular inspections on docking facilities, especially in anticipation of a large number of visitors.
Follow The San Pedro Sun News on Twitter, become a fan on Facebook. Stay updated via RSS