SP Lions Easter Pancake Brunch A Hopping Success!
Wednesday, April 23rd, 2014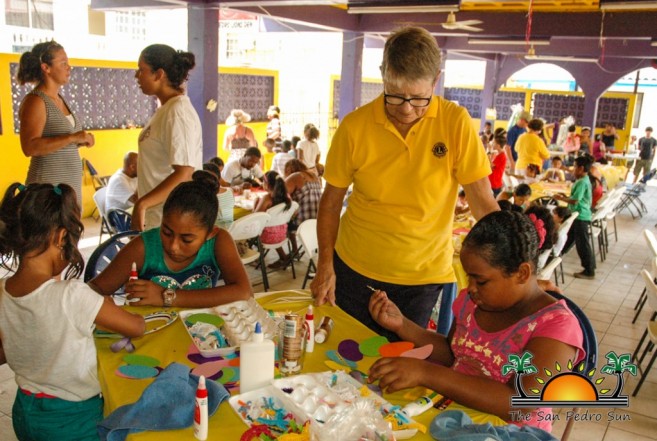 On Saturday morning, April 19th the San Pedro Lions hosted their third annual Pancake Brunch with the Easter Bunny fund raiser. Over 100 children and half as many adults enjoyed a fun-filled morning of pancakes, craft activities, games and of course a visit from the Easter Bunny himself.
Event organizer Lion Tamara Sniffin commented, "We couldn't be happier with the turn out we get each year for this Easter event, it is clear most of the grown-ups are having as much fun as the kids! Of course none of this would be possible without the donations we receive from local businesses and individuals to off-set the expense of hosting the breakfast. With their support, this fund raiser is even more profitable, and in turn we give this back to our community."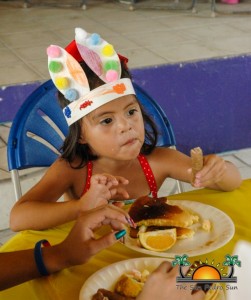 The pancake breakfast included sausage, orange slices and juice, with the ever popular topping table. Kids of all ages enjoyed loading their pancakes with butter, syrup, sprinkles, jelly, chocolate syrup, shredded cheese, marshmallows, sliced bananas and even jellybeans! The dining tables were supplied with crayons and coloring sheets with some parents even trying their artistic skills! Games included 'Pin the Tail on the Bunny', dunking for Easter Eggs, Go Fish, Egg and Spoon races and puzzle races. Three large Easter baskets were raffled off and at the craft tables children made Bunny Ear Headbands and Easter Egg Wreaths to carry home. Parents enjoyed photographing their children with the guest of honor, the one and only Easter Bunny, while some children were not so sure about the oversized hare!
The San Pedro Lions would like to thank the club members and Leos who assisted with the event, and Peace Corp volunteers from the mainland, Jason and Krystal who were very helpful. The Lions also extend a heartfelt thanks to Caye Mart, The Greenhouse, Cost Less, Madisco, Super Value Store, Dalia's, The San Pedro Sun, MASH, Local Grocery Store, Best Price, Running W Meats, Big Tree, Liquor Stop, Liquor Box, Marina's, Mermaid Supermarket, Rocks, Al Maza, San Pedrano Store, Paradise Market, Best Price and Island Supermarket for their generous donations. With support from the community, the San Pedro Lions can continue their mission TO SERVE, and thank all who made the event a huge success!
Follow The San Pedro Sun News on Twitter, become a fan on Facebook. Stay updated via RSS