Women in Art Exhibit launches at the Bliss
Monday, March 11th, 2013
In celebration of Women's Month 2013, the Institute of Creative Arts, in conjunction with the National Institute of Culture and History, held its annual Women in Art exhibit launch at the Belisle Art Gallery inside the Bliss Institute. 20 female artists are featured in the exhibit curated by Melissa Quan-Nuñez, and on Thursday, March 7th, the display was officially launched in the presence of artists, media and art lovers.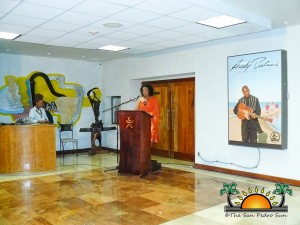 An impassioned, uplifting speech by keynote speaker and artist Gayla Fuller urged women to encourage each other, to uplift each other. Her remarks were met with enthusiastic applause, and set the precedent for the mood of the evening, where encouragement and praise was the order of the night for those who submitted their pieces to be on display for the month of March. But before the launch could be complete, there was an order to the business of this launch, and next up was a model wearing a dress by one of Belize's premier designers, the young and extremely talented Rebecca Stirm. A poetry reading by (writer) Kim Vasquez followed. She was tasked with reading "I Am" written by Christina Sallsbury.
Despite a light blowing out halfway through her reading, Vasquez persevered nonetheless. Then, as she was nearing the end of the reading, all the lights went out.
There was an orderly sort of move from where smoke poured, but panic had not quite set in when suddenly the music started pounding. Then, from seemingly nowhere, three New Generation dancers in ninja style suits came out dancing and calming the fears of those who thought the bliss was under siege. It was not technical difficulties, but rather, a clever trick of the program. Everyone breathed a sigh of relief, laughing at their momentary panic, and with the dance number finished, the exhibit was officially launched.
There was a variety of artwork on display, from the sweet embroidery and sewing patterns, to full scale dressed by the aforementioned Stirm, jewelry, sawdust art, bottle art, photography, a gorgeous array of paintings, pencil art, screenplays, poems and prose. To cap it all off, the talented female deejay Linda Blease was in the house, spinning the great tunes as guests mingled and took in all the creativity on display.
The San Pedro Sun is proud to note that Associate Editor Mary Gonzalez, who moonlights as a writer under the penname Tia Chocolate, submitted a few pieces, and found one of them in the installation called the "Writing's on the Wall". Titled "The Fanny Pack", it is one of her favorite pieces, and is the personal style of writing that her readers have come to know and enjoy.
The exhibit will be on display throughout March, so those looking for a bit of art while in the city can head over to take in the works of the many talented women throughout Belize.
Photo Gallery
Follow The San Pedro Sun News on Twitter, become a fan on Facebook. Stay updated via RSS