Belize Tourism Industry Association launches 2013 Destination Belize Magazine
Wednesday, February 20th, 2013
The Belize Tourism Industry Association BTIA launched the 2013 edition of "Destination Belize" on Friday, February 15th at the Radisson Fort George Hotel & Marina. The launching took place in the Caracol Room and commenced shortly after 10AM. Presenters at the event included: President of the BTIA, Mr. Herbert Haylock; Executive Director of BTIA Mr. Efren Perez and Publisher of Destination Belize, Mr. Demian Solano of Idea Lab Studios.
The 2013 edition of Destination Belize marks the 17th edition of the travel magazine and was published for the second year by Belize's IdeaLab Studios.Titled, "The Best of Both Worlds", the tourism magazine was aimed to capture the best of all that Belize has to offer. "The Best of Both Worlds" cover image captures the beauty of the islands, the aqua waters that line our shores, the world's second longest barrier reef and the sandy beaches,all contrasting with the towering waterfalls and pristine jungles of the Maya Mountains.The featured models are San Pedro's very own Paul and Kelly German, residents and businesspeople.Their photos were taken in two places: San Pedro, Ambergris Caye and the Mountain Pine Ridge, Cayo, both are locations that, according to Publisher Demian Solano, showcase how much there is to do in Belize.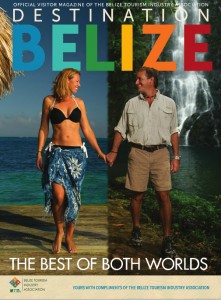 Destination Belize 2013 is all about Belize. The writers are all either Belizean born; have made Belize their home or have had wonderful experiences in Belize. Writers include well known journalist Janelle Chanona who also doubled as writer recruiter for this project; and contributing writers are Joshua Samuel Brown, Lucy Fleming, Jaime J. Awe, Ph. D., Chef Rob Pronk, Kate Joynes-Burgess, Scott Lone, Brent Toombs, Mike Heusner, Joshua Berman, Sharon Matola, Therese Martinez, Evan "Mose" Hyde, Glen Wilson, Linda Searle, Erin De Santiago – Domue, Victoria Day – Wilson and Ingrid Cayetano.
Janelle Chanona spoke to The San Pedro Sun of her experience writing for Destination Belize 2013. "We had a powwow and we talked about things that were exciting, really grabbing attention. So Prince Harry was the biggest thing last year so that was very easy. Rebecca [Stirm]had just returned from Jamaica and the same thing with Miss [Linda]Blease. I had done the whale shark dive and that was something that I thought was just so tremendous and very much needed to be shared." This marks the second year that Chanona has contributed to Destination Belize, and she was also involved in the planning phase of the magazine.
So, what does it take to be a contributing writer in Destination Belize? Well, if you feel your story is worth sharing and impacts the country positively, then you could be a contributing writer. For example, a visitor was at Hatchet Caye with his son, and reading through the 2012 copy of the magazine, thought that their story would be a good one to share. So, he contacted the publishers and what do you know - it's now featured in 2013 Destination Belize!The father and son story entitled "Where would you like to go?" is featured on pages 66-68.
Chanona commented that the biggest pleasure derived from the final product is seeing individuals carrying around the magazine as if it were a popular magazine in the states. "I think it's definitely a labour of love. I believe that this time around this is definitely the best. The magazine is more than just a guide book; it's something that people want to keep reading."
Destination Belize 2013 includes articles such as Our Underwater World, Hearing the Voice of Belize, Wishes for Whale Sharks, Rising from the Ruins, See your Belizean Bliss and much more, including a piece on Fashion and Music in Belize.For more information on Destination Belize orhow you can be added to their mailing list - visit destinationbelize.com or contact the Belize Tourism Industry Association via email at [email protected]
Follow The San Pedro Sun News on Twitter, become a fan on Facebook. Stay updated via RSS