US University Celebrates Garifuna Culture
Thursday, May 2nd, 2013
Press Release – Rutgers Office of Media Relations, New Brunswick, New Jersey USA – April 27, 2013 –
The New Jersey Folk Festival paid tribute today to the remarkable resilience of the Garifuna people, a community that has survived wars, exile and deprivation – and which today is flourishing.
"I believe this is due in great part to their absolute refusal to surrender against incredible odds," said Camillo Gonsalves, permanent representative to the United Nations for St. Vincent and the Grenadines,
who spoke earlier this afternoon at the 39th annual gathering of the festival.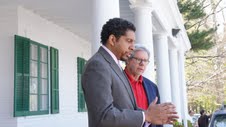 The festival is part of Rutgers Day, the annual open house showcasing the best the university has to offer, which this year drew a record-breakingcrowd of 83,000.
St. Vincent is the ancestral homeland of the Garifuna people, who todayare found largely in Belize,Nicaragua, Honduras and Guatemala. A largeGarifuna diaspora also exists in New York and New Jersey, the ambassadorsays.
Among the performers on the Skylands Stage was GAMAE Garifuna, aBrooklyn-based group that brought some 25 members to New Brunswick toshare their lively, percussion-based art.
"Audience! We want you up here dancing!" The words came from EleanorCastillo, a founder of the troupe who exhorted Rutgers Day visitors toleave their lawn chairs and blankets to move to the lively and persistentbeat.
By noon, more than 25,000 people had gathered to share the musicexperience, according to festival coordinator Angus Gillespie, whoanticipated that critical mass would rise as the afternoon winds on.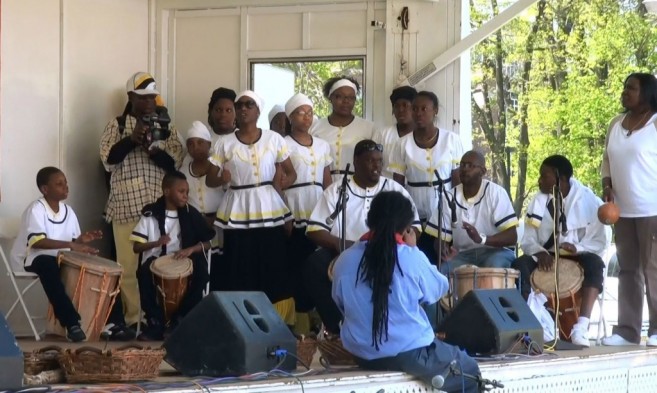 Among the offerings that afternoon were an exploration of the folk roots of New Jersey favorite son Bruce Springsteen, and a celebration of Irishsea songs and pirate ballads.
Follow The San Pedro Sun News on Twitter, become a fan on Facebook. Stay updated via RSS