Belize Fisheries Department reports on 2014/2015 Lobster Season
Wednesday, February 18th, 2015
Lobster season closed on Sunday February 15th, and The Belize Fisheries Department is reporting 0.45% decline in the total production when compared to that of the 2013-2014 season. The Spiny Lobster (Palinuridae) remains as one of the top marine exports for Belize, with earnings for the 2014-2015 season amounting to an estimated $15,270,000BZ.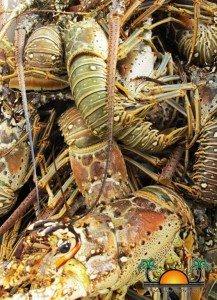 According to Fisheries Officer, Mauro Gongora, there was very little change in comparison of this season to the last. Fisheries recorded a total of 484,891 pounds of lobster being caught out of Belizean waters during this season. "The 2014/2015 lobster fishing season is considered a good one and the fishery has remained relatively stable over the past 28 years within the production range of 400,000 – 600,000 pounds. In 2014, lobster catch landings amounted to 484,891 pounds, which represents a decline of merely 0.45% when compared to the 2013/2014 season when 487,066 pounds was produced," said Gongora. He also stated that there were less violations to the law on lobster fishing this year as compared to other years. "In 2014, violations of the lobster fishery regulations were low and only a few cases are still being dealt with in court. The Belize Fisheries Department remains adamant that all regulations be followed to ensure the continued prosperity of the industry," said Gongora.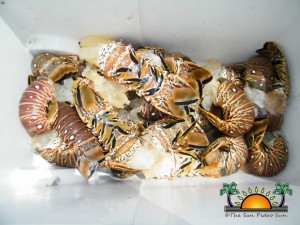 Some 452,930 pounds of lobster tails was exported this season, mainly to the United States of America. Other lobster exports included 31,840 pounds of lobster head meat, 3,102 pounds of lobster head and 77,911 pounds of whole lobster. Gongora explained that while the majority of earnings still come from the sale of solely the lobster tail, income was made from other parts of the lobster that are usually discarded. The export of lobster tails alone made $13,587,900 in income, more than a million more than last season's earning of $12,460,780. $264,880 was made in lobster head meat exports, $5,640 on lobster head exports and $1,416,563 in whole lobster exports.
Fisheries reports that most of the export product was fished from the northern waters of Belize, while the majority of the product fished in Placencia, Ambergris Caye and Caye Caulker was consumed as tourism product instead of being exported by the national market. The amount of lobster consumed in the tourism sector is unknown.

The lobster season will remain closed until Sunday, June 14th. This time is given to allow lobster populations to breed. "The general public and fishermen are advised that it is illegal to fish, attempt to fish, possess, buy or sell any lobster or lobster products during the closed fishing season, which runs from February 15 to June 14, 2015. All lobster fishing gears, including traps, drums and shades must be removed from the sea floor during the closed fishing season. It is important that we follow regulation to ensure that next season is equally as productive," said Gongora.
Persons can assist the Fisheries Department by calling 224-4552 or 223-2623 or by writing an email fisheries_dep[email protected] to report any illegal fishing activity.
Follow The San Pedro Sun News on Twitter, become a fan on Facebook. Stay updated via RSS