Living Word and Baltimore Church bring Spiritual Enlightening to the Island
Friday, March 9th, 2012
A team of nineteen volunteers from the Eastern Assembly Church of Baltimore (EACB), in Maryland, USA, along with volunteers from the Living Word Church were at the San Pedro Lions Den sharing the Ministry of God with children and residents of San Pedro. The four day Community Outreach activities were done under the theme "The Fruit of the Spirit" and took place from Monday March 5th through Thursday March 8th.
Lourdes Zaldivar of Living Word Church spoke of the event.
"We're doing a Vacation Bible Study (VBS) during the daytime from 3 to 4pm with the kids and then at night we have for the adults from 7:30 to 9pm. Activities include sing-along's, story-telling using puppets, face painting, question and answers sessions during which the kids can win little prizes, and at the end of each day's activities, we raffle off a bicycle."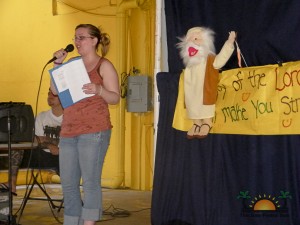 Organizer of the Baltimore team, Tracy Stuenes spoke about her group's trip to the island.
"This is our second trip down here as a church. We're doing some construction work at Living Word Church with Pastor Ian, as well as two community outreaches. During the day we reach the children through a Vacation Bible School, teaching kids to have good values and to allow Jesus to be alive in their hearts and lives. In the evenings, we partake in worship services where we praise the Lord with contemporary worship and just thank God for how good He is to us and for all that He's done for us. We try to give the community an opportunity to come to know Christ or Jesus as their personal Saviour."
Attendees to the night worship are invited to hotdogs and a drawing at the end of each session, whereby they have the opportunity to win a cell phone. This is the second of what has now become a yearly Community Outreach visit by the volunteers, in collaboration with LWC.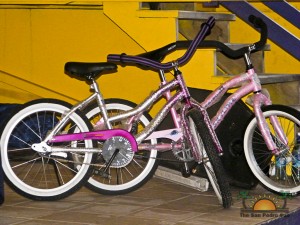 Children that attend the VBS, apart from leaving with a deeper knowledge of the Gospel and maybe a brand new bicycle, also leave with gift bags containing school supplies.
Tracy concluded saying,
"My personal gain is just to reach out and love the children of San Pedro, to share Jesus. It's just so good to give back. It fills you with such joy and I have so much compassion and love for the island and for the children here. And it's so humbling to see children run around and just play innocently."
Funding for these yearly trips is provided by the EACB and members. The organizers would like to extend special thanks to the Hon. Patrick Faber and the Ministry of Education for their assistance in facilitating customs and allowing all items to enter the country duty free. Preparations are already underway for next year's visit around the same time.
Follow The San Pedro Sun News on Twitter, become a fan on Facebook. Stay updated via RSS