FC United and Joker FC take the lead in the SPSC Football Tournament
Wednesday, March 5th, 2014
Top football teams are starting to take the lead as the San Pedro Sports Committee (SPSC) Football Tournament advances. After just four rounds of the tournament, rankings are being set among the 14 participating teams. It is crucial for each team to deliver at every game to ensure a winning spot in their grouping. Taking this to heart are teams FC United and Joker FC.
Friday, February 28th saw two games. In the first game, Joker FC faced the Warriors, in a blowout game that ended in a 6-0 point game in favor of Joker FC. The second game was between FC United and the Veterans, which ended in a 4-0 crushing defeat for the Veterans.

Four matches were played on Sunday, March 2nd. San Juan FC and Caribbean Depot were the first teams to take to the field, and after 90 minutes of play, San Juan FC took the win with a 4-1 score. The second game was between Legends and Communicaciones. It was a struggle for the win, but Legends edged out their competition and came out ahead with a 3-2 score. The third match was between Caye Caulker and UH Bombers. Even though UH Bombers played well defensively, Caye Caulker still managed a win with a 3-2 point game. The final game of the day was between Southwind and Dorados. After a long, match, both teams had to concede to a 1-1 tie.
In Group A, Joker FC is leading with 10 points. Followed by Legends (2nd) with seven points, Island Pure (3rd) with seven points, Caye Caulker (4th) with seven points, UH Bombers (5th) with four points, Communicacion (6th) with no points and Warriors (7th) with no points. Jordy Craft of Joker FC is the leading scorer in Group A with seven goals.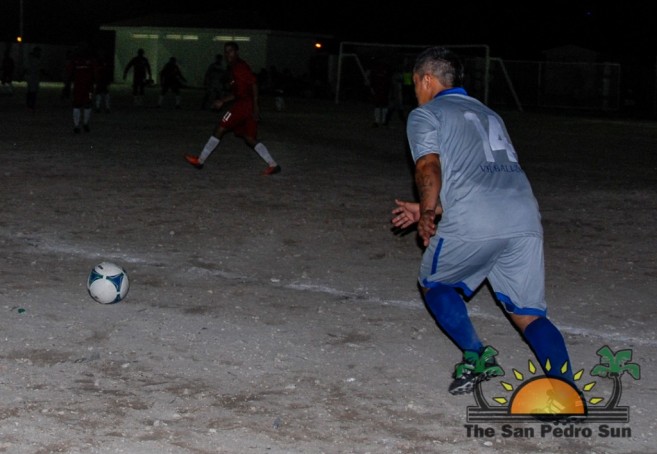 FC United is currently in the lead of Group B of the tournament with 10 points, followed by Southwind (2nd) with seven points, Veterans (3rd) with six points, Dorados (4th) with five points, San Juan (5th) with three points, Costa Blue (6th) with two points and Caribbean Depot (7th) with no points. Joel Banner is the leading scorer of Group B with seven goals as well.
SPSC invites everyone to come out and support their favorite team as the tournament gets tougher and tougher. Games are scheduled for Saturday, March 8th starting at 7PM between Southwind and Costa Blu and UH Bombers and Island Pure.On Sunday, March 9th games will start at 1PM between Communicacione vs. Warriors, Joker FC vs. Legends, Veterans vs. Caribbean Deport and San Juan FC vs. Dorados.
Follow The San Pedro Sun News on Twitter, become a fan on Facebook. Stay updated via RSS