Ambergris Caye registers second murder for 2014
Monday, April 28th, 2014
43-year-old Dennis "Chingy" Palacio, a laborer of San Juan Area of San Pedro Town is the second murder for the year 2014 on Ambergris Caye. The incident occurred on Saturday April 26th, sometime around 11:20PM on Seaweed Street, not too far away from Palacio's apartment room and a short distance away from the San Pedro Police Station.

According to residents in the San Juan area, they heard over six gunshots sometime around 11:20PM but ran for cover. When they came out, neighbors found a badly injured Palacio fighting for his life. According to the Station Manager of the San Pedro Police Department, Sergeant of Police Raymond Berry, when police visited the residence of 84-year-old Francisco Arceo a few moments after the shooting, they found Palacio already dead. "In the yard of Mr. Arceo, we found the motionless body of a dark-complexioned male person, later identified as Dennis Palacio. He was seen lying on the ground with four apparent gunshot wounds; one to the left side of his lower back, two wounds to the right upper back and one entry to the right pinky finger," said Berry. At the time of the incident, Palacio was wearing a white T-Shirt and khaki three-quarter short pants.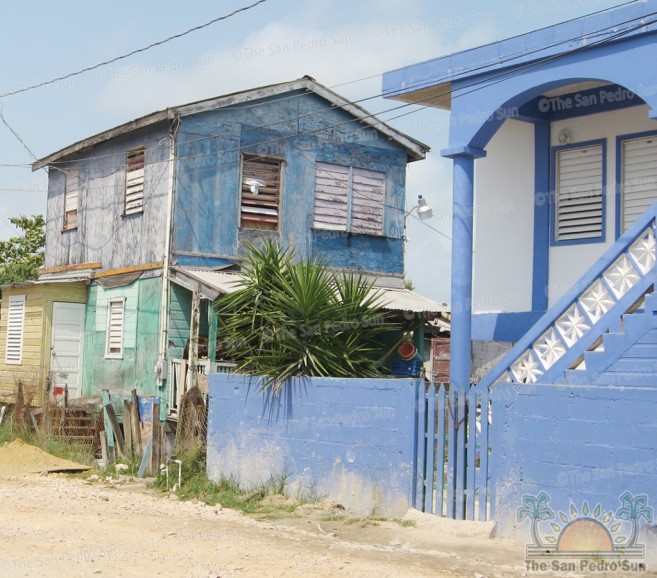 Berry explained that Palacio was repordedly standing alone on Seaweed Street and ran into the yard after he was shot, collapsing moments later. "Investigation reveals that he was standing against Mr Arceo's fence at about 11:25PM when a male dark-skinned person wearing a in black shirt approached him and fired five shots, four of which caught him." Police recovered five expended 9-millimeter shells from the scene.
Palacio was just about 100 feet from the alley off Seaweed Street, where his apartment is located. According to one of his neighbors, Palacio was known as a local drug dealer in the area. "He used to drink and do drugs a lot. I always used to tell him to change his life, but he would not listen to our advice, because he was living a complicated lifestyle. A few hours before his death, about 9:30PM, he was out searching the garbage behind the yard. I will not lie to you, he used to sell drugs and a lot of people used to come by to look for him," said a neighbor. She said that despite his habits and his activities, he was cool with everyone in the area.
While neighbors said they believe that Palacio's death is drug related, Berry said the victim was no stranger to local police. "Palacio was known to police since he always had run-ins with the law. However at this time we do not have any information to suggest that his death is drug related."
Palacio's shooting death is just one of three shooting incidents in a span of three days on the island. "We are very much concerned about these shooting. We hear gunshots everyday in the San Juan Area and it is something that worries us. While I cannot go into details at this time, we are working with the Police in looking at ways to address these issues," said the Mayor of San Pedro Town, Daniel Guerrero.
Palacio's body was taken to the Karl Huesner Memorial Hospital morgue where it awaits a post mortem examination. Police have detained two people who they believe can assist them in their investigation.
Palacio's murder is the second for the 2014. A little over a month ago, on March 6th Jeffery Eiley was gunned down a few yards from his home and Police have been unable to arrest anyone for his murder.
Follow The San Pedro Sun News on Twitter, become a fan on Facebook. Stay updated via RSS